Booking Options at Lessonface
Lessonface offers multiple booking options so students and teachers can choose their preferred lesson cadence and commitment level. More commitment usually comes with greater discounts. Discounts are set by each teacher and are shown on their profile pages and in the booking process for maximum transparency.
When you sign up for lessons, you'll have options for booking a single lesson or trial, booking a lesson package, and subscribing.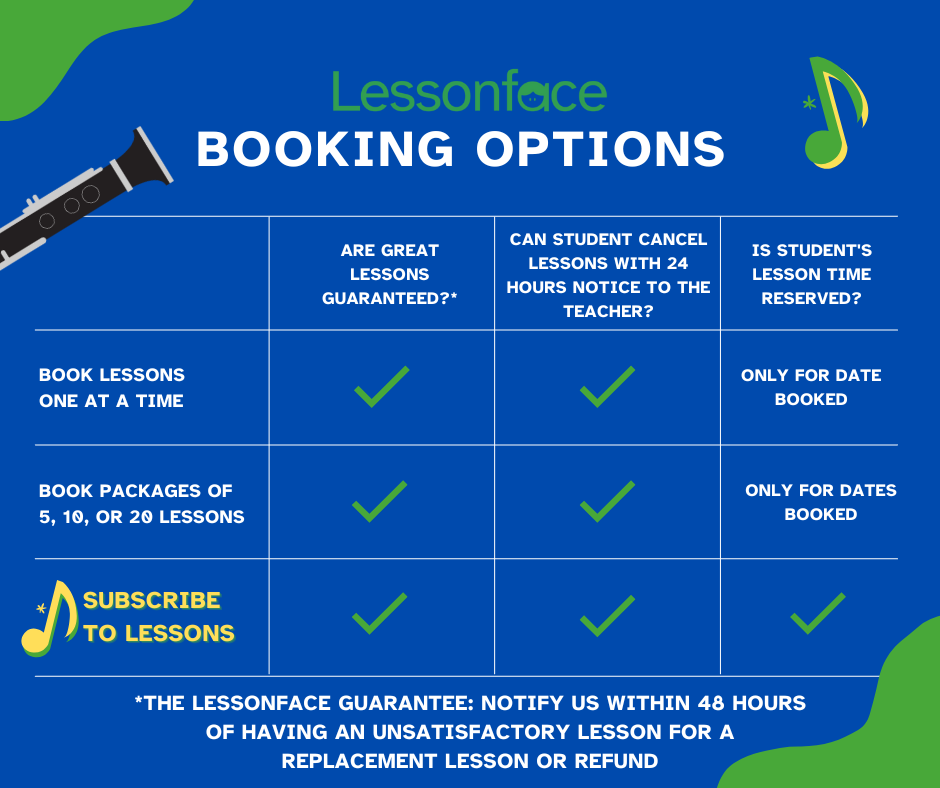 15-Minute Free Trial
• Some teachers offer this option as an initial introductory lesson.
• Aimed at new students looking for the right teacher-student fit.
• Only one free trial per teacher!
Book Lessons Individually
• The default option at checkout.
• Good for students who are trying out an instrument or teacher.
• Convenient for some students who want lessons occasionally.
• Pay for only one lesson at a time.
• Your lesson time is reserved only for that particular lesson.
Book Packages of 5, 10, or 20 Lessons
• Excellent option for students ready to commit to many lessons.
• Reserve your lesson time for the duration of the lesson package.
• Schedule lessons one at a time or at varying times if you prefer.
• Pay for the entire package at checkout.
• Many teachers offer discounts for packages of lessons.
Subscribe
• Best option for regular long-term lessons.
• Reserve your lesson time indefinitely.
• Stay motivated and advance quickly with consistent lessons.
• Pay one month at a time.
• Enjoy subscription discounts offered by some teachers.
All options allow rescheduling as needed, provided you make the changes at least 24 hours before lesson time.
---
More On Subscriptions and Lesson Packages
Once you've found a teacher you click with at Lessonface, you'll want to sign up for more lessons. It's possible to schedule lessons individually every time you want a lesson. However, most students find that subscribing to weekly lessons or booking a pack of multiple lessons works out best. That way you can reserve your lesson times in advance and take advantage of multiple-lesson discounts. Any discounts your teacher offers for lessons will be displayed along with the package options.
Weekly Subscriptions
1. How to Subscribe
Click 'Book a Lesson' on your teacher's profile page, select your lesson category and length, and click 'Next'. Select the 'Subscribe' option, schedule your first weekly lesson, and proceed to checkout.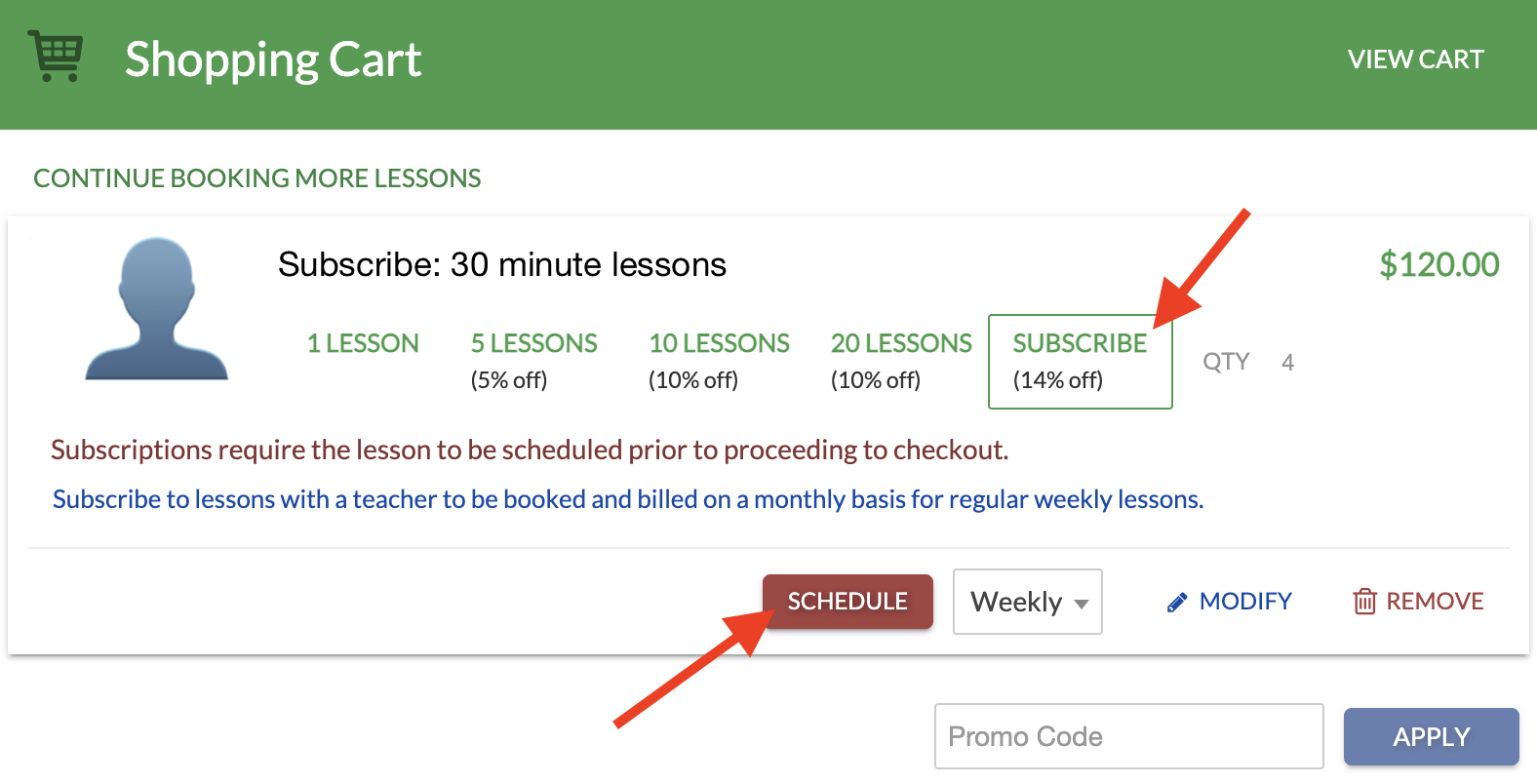 2. How Subscription Payments Work
Three days before the end of each month, we assess the upcoming month's lesson schedule. We account for any changes you've made to the upcoming month's schedule and whether your lesson day occurs 4 or 5 times that month. We deduct any credits and prepaid lessons, process the charge, and continue to reserve your designated recurring lesson time on your teacher's future calendar. You will receive an email describing this accounting every month. At any time, you can view your upcoming subscription lessons and the payment status of each at Lessonface.com/Subscriptions.
3. How to Reschedule Lessons
As long as you take care of the change before the 24-hour mark, it's no problem to reschedule the lesson to another day or time. View your 'Lesson Schedule' section of your dashboard, click the lesson that you want to change, click 'Reschedule', and select your new time.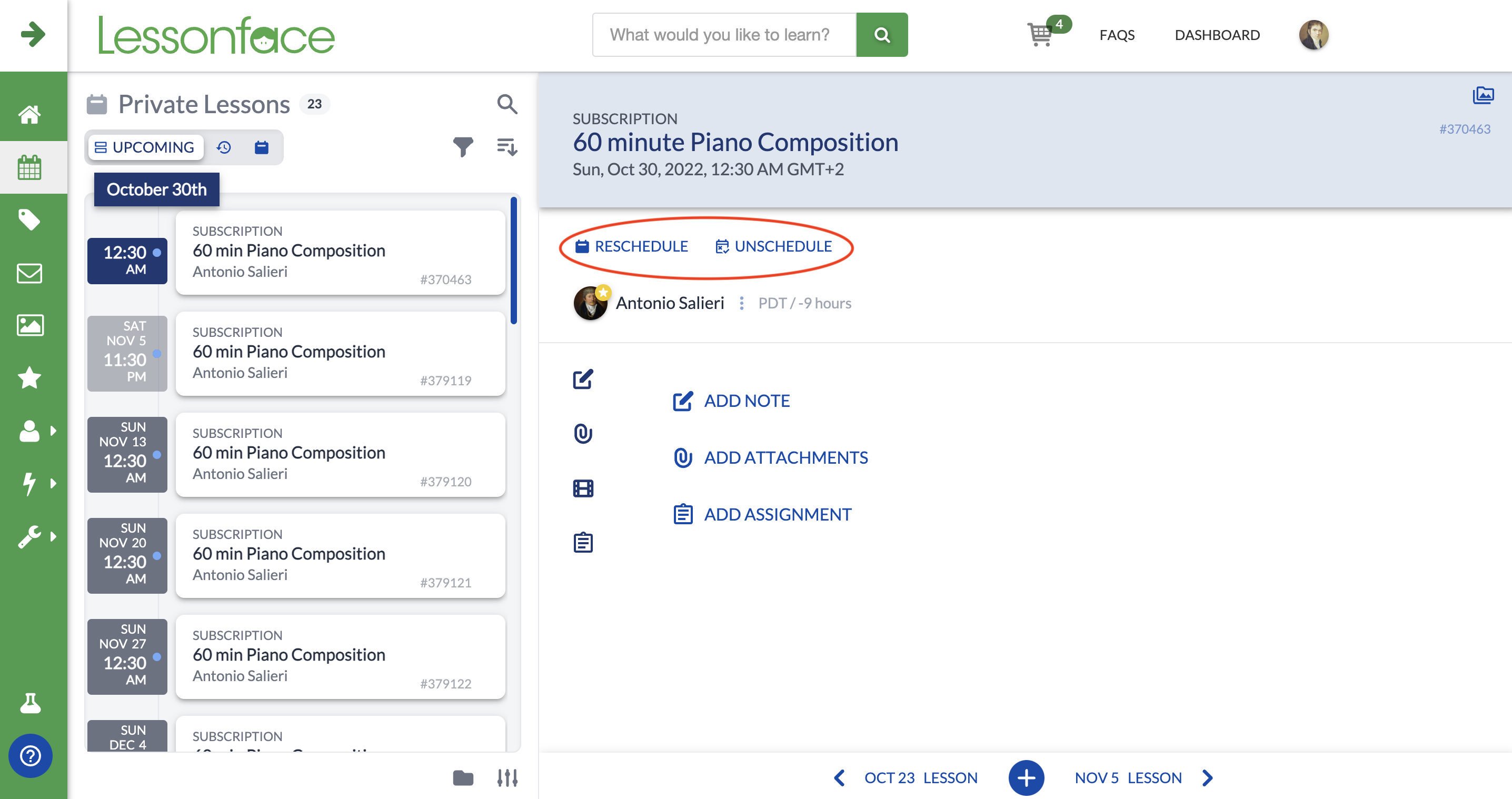 If you're not sure yet when you're available, choose the 'unschedule' option. Once you've unscheduled a lesson, you can find it at the bottom of your 'Upcoming Lessons' labeled 'Schedule Pending', as shown in the image below. Click 'Schedule' when you're ready to set a day and time.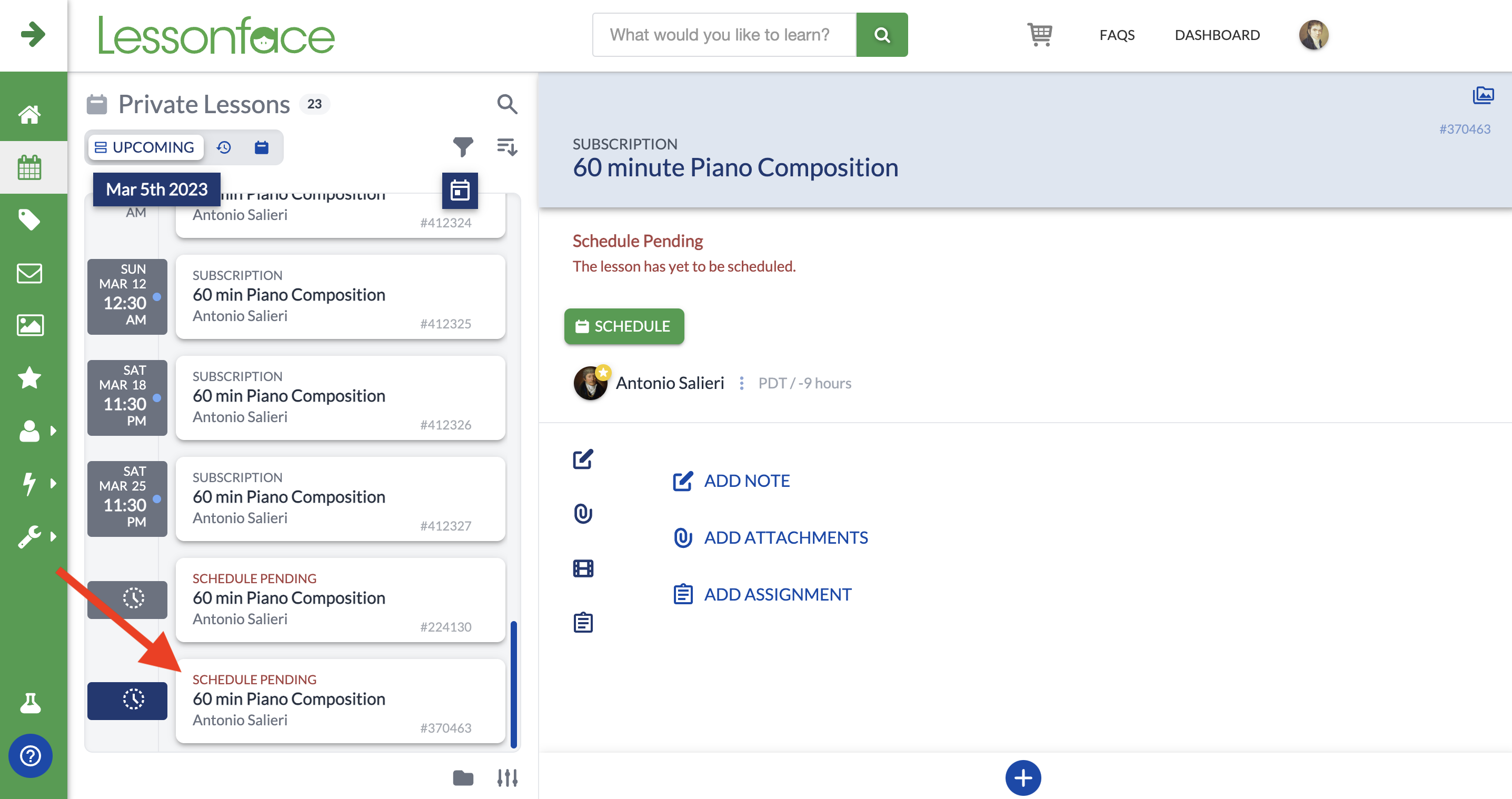 4. How to Cancel Subscription Lessons
If you're unable to find another time and prefer to cancel the lesson entirely, request a change from your subscription page (lessonface.com/subscriptions) or email support@lessonface.com. It's fine to cancel subscription lessons occasionally, but if you frequently need to cancel rather than reschedule, a lesson pack may be a better option for you.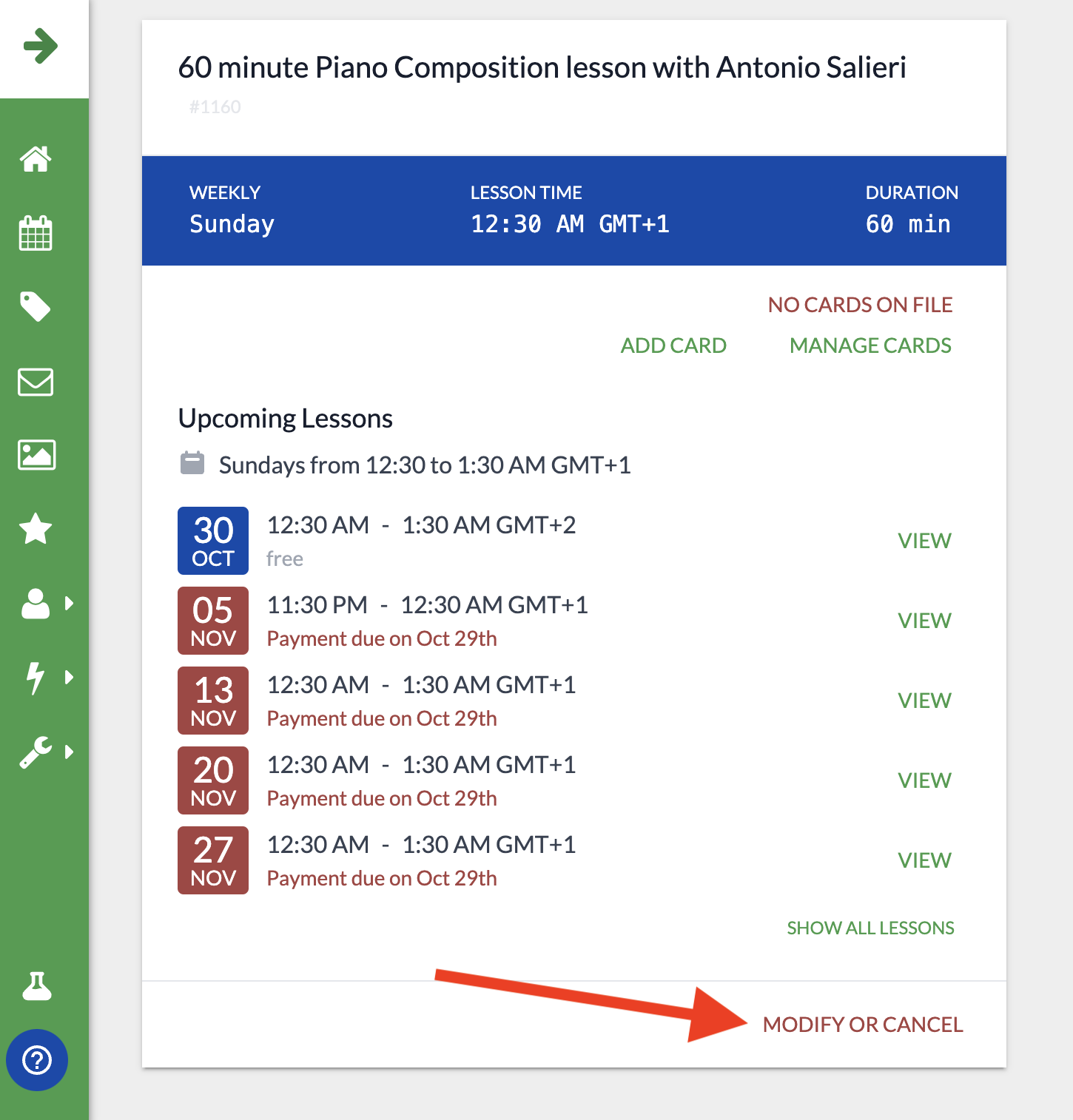 5. How to Pause or Cancel Your Subscription
If you'll be traveling for several weeks or months, you can pause your subscription from your subscription page or by emailing support@lessonface.com. If you no longer wish to subscribe, you can cancel through the same channels.
Lesson Packs and Biweekly Subscriptions
If your schedule is not regular enough for a weekly subscription, you can still receive discounts and benefit from frequent lessons by booking a lesson pack or biweekly subscription.
Lesson Packs
Many teachers offer lesson packs of 5, 10, or 20 lessons at discounts of 5%, 10%, and 20% respectively. Not all teachers offer all three options. If you purchase a lesson pack and set a day and time for the first lesson, subsequent lessons will be booked for the same weekly time, as long as it's available on your teacher's schedule. If you prefer, you can leave blank the date and time of the first lesson, and schedule each lesson individually.

Biweekly Subscriptions
Biweekly means every other week. If you prefer to have two weeks between lessons and want a consistent time, you can subscribe biweekly. Just choose the biweekly subscription option at checkout as shown below.

Reschedules, Unschedules, and Cancelations
Schedule changes work the same way for packs and biweekly subscriptions as they do for weekly subscriptions. Modifications must be made before 24 hours of the lesson time. If you need help with canceling lessons, email support@lessonface.com.
---
Other questions?