Beginner Flute: Vibrato and Articulation
Learn fundamental vibrato and articulation techniques for the flute with Celina Charlier, former NYU professor and renowned touring Brazilian flutist.
 
Topics Covered:

Vibrato techniques using larynx and diaphragm
Vibrato rhythm
Articulation vowels
Articulation consonants
---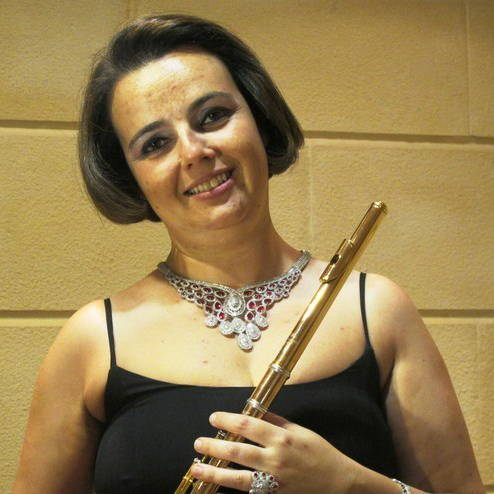 ABOUT CELINA CHARLIER
Celina Charlier is a Brazilian flutist , living in New York for almost 20 years. She holds an international concert career, having performed professionally since 1989, as a chamber musician, orchestra musician and soloist, throughout Brazil, USA, Italy, France, Malta, Switzerland, Mexico, Argentina, Uruguay, Sri Lanka and the United Arabic Emirates. Her repertoire encompasses from Early Music to electronic avant garde, including Brazilian genres.
She taught for 16 years at New York University, and put together from scratch the entire music program for NYU Abu Dhabi, the first global university. At NYUAD, she was the Director of Music Performance, until 2015, when she made her way back to the Western world and has focused on performing, teaching, and recording. 
Her areas of expertise as a professor/mentor: 
1-teaching flute all levels (beginner to professional), Early music, avant-garde New Music, Brazilian genres.
2- breathing, posture and sound production techniques for wind players and singers (all levels and without interfering with "schools" of interpretation; enhancing technique).
3- teaching/guiding people how to choose a flute: assessing individual needs/goals, and explaining subjective and objetive paramenters. Subjective parameters relate to each individual (shape of face, mouth, type of embouchure; taste for type of sonority; budget). Objective matters relate to the characteristics and possibilities of each flute (materials such as silver, gold or wood, tubing, design, types of headjoint and mouthpiece, mixing and matching body and headjoint; c foot versus b foot; mechanism, soldered or drawn holes, etc).
ENROLLMENT INFORMATION
Enroll to receive immediate, lifetime access to this 94-minute video-based course.
For a limited time, we are offering a 30-day license to this course for free. No payment information necessary.
We also offer an option above to get lifetime access to the course for $5.95.
---
WHEN
This course was recorded on July 2018 at the Lessonface studio in the West Village, NYC.
Watch this course at your convenience. You will receive immediate access upon enrollment.
---
HOW IT WORKS
After enrolling, you can watch this course anytime by logging in to your Lessonface account.
The class is also covered by the
Lessonface Guarantee
.
---
RELATED CLASSES AND LESSONS