Loog Guitar Camp - Starts July 14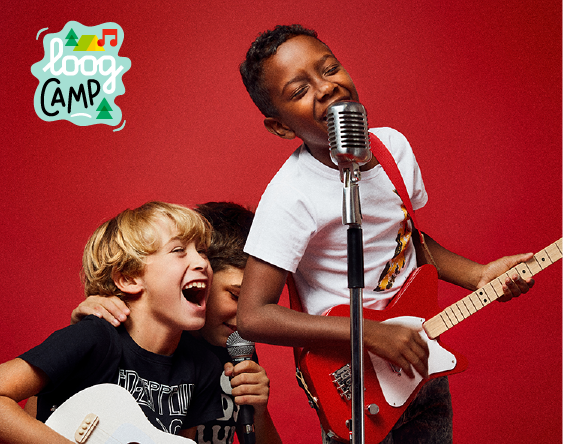 Loog Guitar Camp is a beginner-level camp built for kids 8 and under with Loog guitars!  Students will learn to play simple chord songs and melodies, in addition to participating in fun music games.
Materials needed: a Loog guitar, an amplifier (at low volume) for Loog electric guitars, picks, Loog flash cards, and the provided sheet music.
---
Camp Schedule
This camp starts July 14 and will meet twice a week on the following schedule:
Tuesdays and Thursdays, at 1 pm EDT | 10 am PDT | 17:00 UTC
July 14, 16, 21, and 23
Each camp day campers will meet for two 30-minute sessions with their counselors and fellow campers with a 10-minute break between parts. Campers can also attend other activities on Lessonface that will be just for campers, including a talent show!
---
Age Range and Skill Level
Kids Age 8 and Under
Beginners
 
Camps have sliding scale enrollment options. Choose your pricing level from the following:
• Suggested per student:$99
• Minimum per student: $39
• Buy one, give one: $129 to cover yourself and a friend, or sponsor another student
• Apply for a free, sponsored seat by filling out this short form
By enrolling for the price you can afford, you can make music education more accessible for others. Learn more about how Lessonface Camps work here.
---
How It Works
Students can connect to the online platform using a tablet or computer with reliable internet. To actively participate online students also need a webcam with microphone. This camp is capped at 50 students. The camp is covered by the Lessonface Guarantee. 
---
Signed up already? Click
here
.
Need to get a Loog Guitar? Order it
here
.
---
ABOUT EMILY ZIMMER
Hi, I'm Emily. Since 2002, I've played music professionally as a solo artist, band member, composer, session musician, and hired touring musician in many genres including rock, blues, country, r&b, folk, and metal. While obtaining my Bachelor's Degree and my Associate's Degree, I studied jazz and classical music. It is my pleasure to bring what I've learned from these experiences to my students.
Emily's been Lessonface Teacher of the Month for May 2019; Lessonface Rock Guitar Teacher of the Year for 2019. She's a college music graduate with 12+ years teaching experience, an active session musician, performer, songwriter, and recording artist.
---
STUDENTS SAY
Super fun camp! Em is awesome & my daughter really enjoyed learning from her in the group setting. Thanks Lessonface.
— Verified Camp Student on Lessonface
Lessons with Em are a Life Changing experience. That may sound a little over the top but think about this... If music is a way to speak directly to your soul (and it is) then getting fluent in the language of music is going to make for some great 'soul talking!" Em will get you there and it is guaranteed to be a fun journey.
— Chuck D., Private Student on Lessonface
Really enjoyed learning about the framework for songwriting. It helped clear things in my mind and made me feel more positive about future writing sessions I plan to have.
— Evelyn E., Private Student on Lessonface
---
About Lessonface, PBC
Since 2013, Lessonface has connected more than 10,000 students with over 1000 great teachers for live music & language lessons online, delivering on our mission to help students achieve their goals while treating teachers equitably.
Join us for a summer of musical fun!
---
RELATED