Lessonface Teacher of the Year for 2018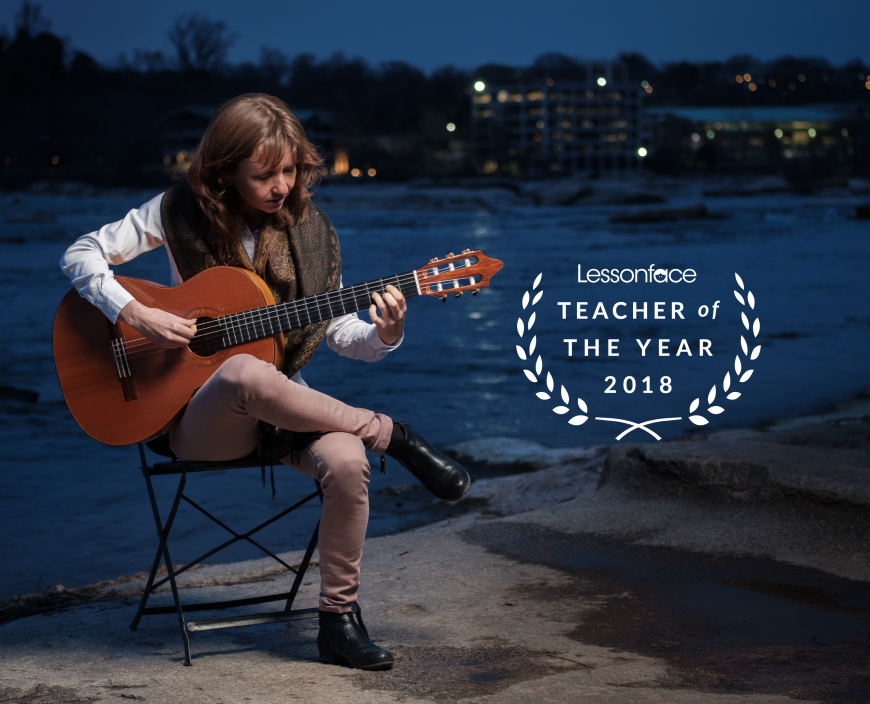 Most popular teacher per instrument in 2018:
Leah Kruszewski is our 2018 Teacher of the Year!  Anyone who has interacted with Leah will know that she is a truly thoughtful and inspiring educator, as well as a dynamite guitarist. Thank you, Leah, for all of the expertise and care that you share with your students!
About her online teaching, Leah writes:
I'm really grateful for a growing studio of talented, fun, and dedicated guitarists.  The students I connect with on Lessonface tend to be an exceptionally good fit in both musical and teaching styles.  I love sharing my flamenco guitar knowledge with aficionados in all corners of the world, guiding classical guitarists as they take their musicianship to a new level, and seeing how technical and interpretive guidance can improve a fingerstyle guitarist's playing.  My students are all so different in their specific interests, personalities, and approaches to music.  They keep me on my toes and constantly learning.  I'm excited to keep teaching my current students as they continue to advance, and look forward to getting to know the new students that 2019 has in store! 
Learn more about Leah on her profile page.
2018 was a really good year here at Lessonface, and 2019 is already off to a great start, with lots of new students and teachers joining into our community. We wanted to wait til the end of the year (and then it took us some time to pull the stats together), but we for the first time would like to recognize the teachers who taught the most lessons on Lessonface in the year, in their respective areas of expertise, in the list to the right. It is truly a privilege for us to work with so many excellent teachers, and we thank the excellent teachers on this list, as well as the many other wonderful teachers on Lessonface who do so much for students.