Jazz Lab with Khabu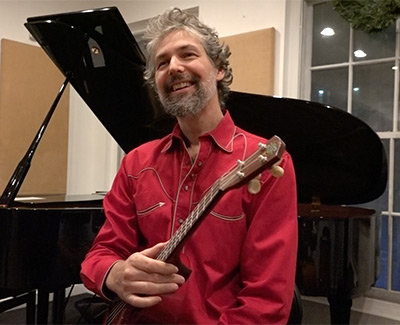 Join master teacher Khabu and the community of jazz uke-ists in NYC and beyond. In this workshop, you will learn the theory behind all the basic 7th-chord inversions and how to apply them over the entire neck of the ukulele. We will use these shapes to play turnaround progressions commonly found in thousands of songs from many styles, transposed into every key. Then, we'll apply these new tools directly to three popular songs from different eras. Each session will include Q&A. The sessions are also recorded, so enrolled students can review after the live class.
---
WHY
​Studying basic 7th chord harmony will help you:
-Ready chord charts that don't have uke chord diagrams
-Create your own chord voicings and substitutions on the fly
-Voice-lead chord shapes up & down the entire fretboard
-Strengthen your ear-training skills
-Create your own chord-melodies
-Deepen your musicianship
-Understand melodic improvisation through chord changes
---
SEMINAR SYLLABUS
Session 1 - Tuesday, February 3 will cover the following:
-How 7th chords are built & relate to the major scale
-The four natural 7th-chord qualities & the four inversions
-How to transpose the basic shapes along the fretboard
-Using the circle of 4ths
-Open Q&A
Session 2 - Tuesday, February 10 will cover the following:
-How to use the chord shapes to play a basic turnaround (I-iv-ii-V)
-How to transpose the basic turnaround into all 12 keys
-Variations on the basic turnaround
-Applying the turnaround shapes to three popular songs
-Open Q&A
---
ABOUT KHABU
Khabu teaches ukulele, guitar, and improvisation for all instruments. He has held numerous workshops and clinics at colleges, universities, and music schools throughout Europe and North America. Khabu has been commissioned by the Armour Foundation to compose new works for ukulele for two consecutive years.
-
​View Khabu's complete teaching profile to learn more and schedule one-on-one classes.
- Are you a uke beginner?
We have another great course for you. Click here to check it out.
---
WHEN
Tuesdays, February 3 & 10, 2015.
Classes will be held from 7:00-8:00 pm EST. The live sessions are also recorded for later review by enrolled students.
---
WHERE
Attend online OR at Michiko Studios, at 149 W 46th St., New York, NY. You can combine in-studio and online attendance. Please be in touch to let us know which dates to expect you in person.
---
LEVEL
Intermediate. Players should know most of the standard open chords, some barre-chord (moveable) shapes, and be able to comfortably connect chords through a variety of songs.
---
HOW IT WORKS
These are live classes that are taught from Michiko Studios in midtown Manhattan. Students can attend by physically coming into the studio (in-studio) OR over the Lessonface high performing video conference platform. Students can connect to the online platform using a tablet or computer with reliable internet. To actively participate online students also need a webcam with microphone. The live sessions are recorded so that all enrolled students and auditors can review the class sessions following the live class. Class recordings will be available for viewing within 48 hours of the live class.​
---
CONTACT
If you have questions, please contact us by emailing jess@lessonface.com or by calling 1-800-211-7058.