Ali Ryerson Jazz Flute Seminar Fall 2017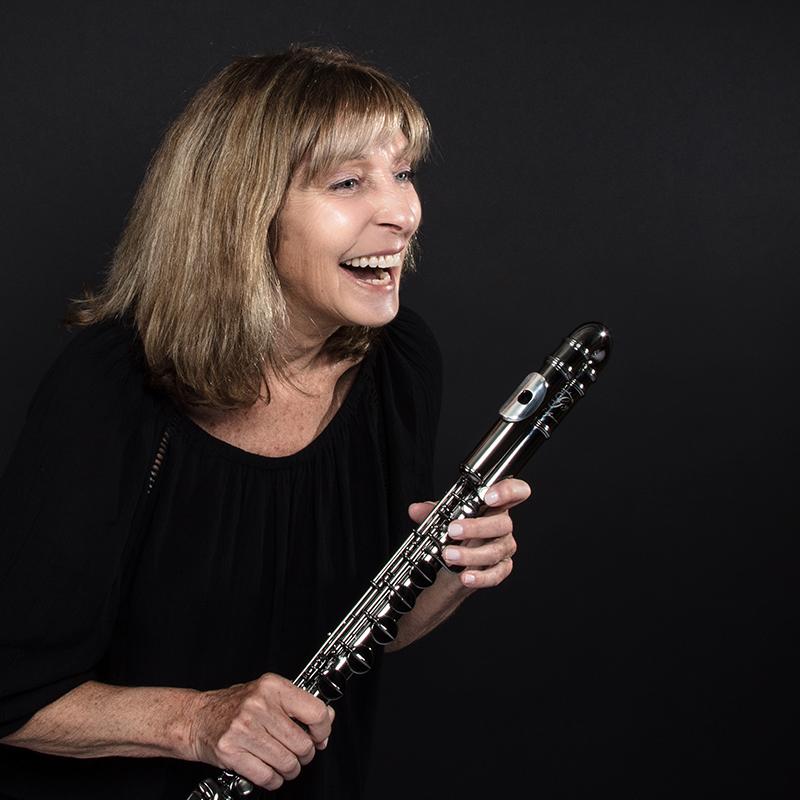 Photo by Dennis Guillaume
The Ali Ryerson Jazz Flute Master Class, an online program of intensive jazz flute study, offers a unique opportunity for aspiring and experienced jazz flutists to develop their technical skills and musical reflexes necessary for jazz improvisation.
The class will be accompanied by Joyce DiCamillo on piano.
 
---
MORE ABOUT ALI RYERSON
With a career spanning over four decades, world renowned jazz flutist Ali Ryerson consistently ranks among the top jazz flutists in the Downbeat Jazz Poll and has been nominated as Jazz Flutist of the Year by the Jazz Journalists Association. Ali performs, records and teaches internationally, having toured the US, Canada, Europe, Japan, New Zealand and North Africa. Her concert performances range from Carnegie Hall to the Kennedy Center in Washington, DC, London's famed Ronnie Scott's to the Blue Note in both New York and Japan. Festival appearances include the Galway Flute Festival, the International Flute Festival of Peru, Monterey Jazz Festival, Miami Beach Jazz Festival, and Ireland's Guinness Jazz Festival, to name but a few. A Gemeinhardt Artist with an Autograph Series of flutes she helped design, Ryerson's 2013 CD release, Game Changer – The Ali Ryerson Jazz Flute Big Band (Capri Records), features guest soloist Hubert Laws. This highly acclaimed recording hit the 'TOP 10' on the US Jazz Charts for six straight weeks. 
 

 

Ryerson has released nearly two dozen albums on major jazz labels such as Concord Records, DMP, Capri, and legendary jazz producer Bob Thiele's Red Baron. She has recorded and performed with jazz greats Kenny Barron, Frank Wess, Joe Beck, Mike Mainieri, Roy Haynes, Danny Gottlieb, Red Rodney, Stephane Grappelli, and Art Farmer, as well as classical artists Julius Baker and Luciano Pavarotti (while principal flutist with the Monterey Bay Orchestra). Musical director of the Hudson River Regional Jazz Festival (2001-'04), Jazz chair of the National Flute Association (2005-'10), and founder of the NFA Jazz Flute Big Band, Ryerson is the author of a highly acclaimed book, the "Jazz Flute Practice Method." In addition to her annual master class held at Hidden Valley Music Seminars in California every summer, Ms. Ryerson conducts master classes at universities worldwide, has been on the faculty of the Litchfield Jazz Camp, the IJAM JAZZ summer camp in Italy, and is a visiting faculty member at The California Jazz Conservatory in Berkeley, California. Ryerson studied flute with Harold Bennett (NY Metropolitan Orch) and John Wion (NYC Opera Orch) and is a cum laude graduate of the Hartt School of Music at the University of Hartford.
 
---
WHEN
Fall 2017 Series: Live classes held on Tuesday, September 12, October 10 and 24, and November 14, from 7-8 pm ET.
All sessions are recorded, so enrolled participants can also watch afterward. Enrollment fee is for all four sessions. Late enrolling students will receive immediate access to view recordings for past sessions.
---
WHERE
Attend online OR at the Lessonface Studio, at 451 West St, NY, NY 10014. You can combine in-studio and online attendance. Please be in touch to let us know which dates to expect you in person.
---
LEVEL
Advanced beginners to advanced students ages 14 and up.
---
STUDENTS IN PAST LESSONFACE SEMINARS SAY
 
I thought the class was perfect. Ali really moved into it perfectly. I liked the participation and having the opportunity to play with such great pianists too. Thanks. 
-PENNY SCHNELL
I loved the class! Thanks Ali!
-SUSAN MACLAGAN
I really enjoyed this class. Ali is a wonderful player and teacher. The pianists that accompanied her in the class were the best!
-MATT RILEY
---
VIDEO CLIPS FROM A SUMMER 2014 SESSION
---
HOW IT WORKS
These are live classes that are taught from the Lessonface Studios in the West Village. Students can attend by physically coming into the studio (in-studio) OR joining over the Lessonface high performing video conference platform. Students can connect to the online platform using a tablet or computer with reliable internet. To actively participate online students also need a webcam with microphone. The live sessions are recorded so that all enrolled students and auditors can review the class sessions following the live class. Class recordings will be available for viewing within 48 hours of the live class.