Beginner Guitar for Singers Camp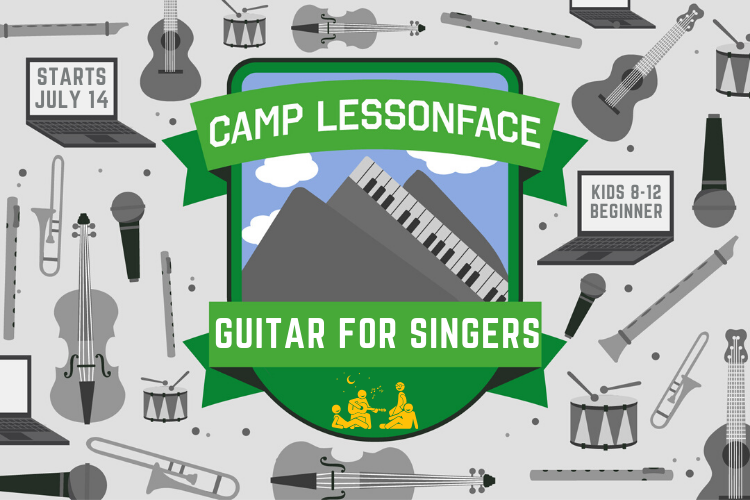 Students in this camp will learn the basics of beginning guitar, focusing on chords and rhythm, with kid-specific approaches to chords so they can be successful even with smaller hands. Campers will learn beginning transposing, and how to use a capo.
Kids will be playing songs by the end of the first camp day. 
This camp will provide an easy way of getting around the guitar so when you want to practice your vocals and need some organic backup you'll be ready to go, and a stepping stone to learning more guitar in the future!
Materials needed: an acoustic or electric guitar in tune, a capo, and a pen and notebook to take notes. All other materials will be provided.
---
Camp Schedule
This camp starts July 13 and will meet thrice a week on the following schedule:
Mondays, Wednesdays, and Fridays, at 3 pm EDT | 12 pm PDT | 19:00 UTC
July 13, 15, 17, 20, 22, and 24
Each camp day campers will meet for two 45-minute sessions with their counselors and fellow campers with a 10-minute break between parts. Campers can also attend other activities on Lessonface that will be just for campers, including a talent show!
---
Age Range and Skill Level
Students 8 through 16, Beginner
Camps have sliding scale enrollment options. Choose your pricing level from the following:
• Suggested per student:$129
• Minimum per student: $59
• Buy one, give one: $179 to cover yourself and a friend, or sponsor another student
• Apply for a free, sponsored seat by filling out this short form
By enrolling for the price you can afford, you can make music education more accessible for others. Learn more about how Lessonface Camps work here.
---
How It Works
Students can connect to the online platform using a tablet or computer with reliable internet. To actively participate online students also need a webcam with microphone. This camp is capped at 50 students. The camp is covered by the Lessonface Guarantee. 
---
Signed up already? Click
here
.
---
About Inês Maria
Although I only recently joined Lessonface, I have been teaching children since 2014. I have started by teaching guitar in the Music Academy of Pinhel, Portugal and, after moving to London, i have been tutoring music to students, in person and online. My student's ages go from 5 to 65 years old.
I have played solo, with orchestras or with other chamber music groups in different contexts and venues all over Europe like Centro Cultural de Belém (CCB) in Lisbon, Barbican and the Roundhouse in London, festivals like "Allegromosso European Youth Music Festival" in Italy, "Serralves em Festa" in Portugal and others.
---
About Lessonface, PBC
Since 2013, Lessonface has connected more than 10,000 students with over 1000 great teachers for live music & language lessons online, delivering on our mission to help students achieve their goals while treating teachers equitably.
Join us for a summer of musical fun!
---
RELATED