How to Write Your Own Songs Camp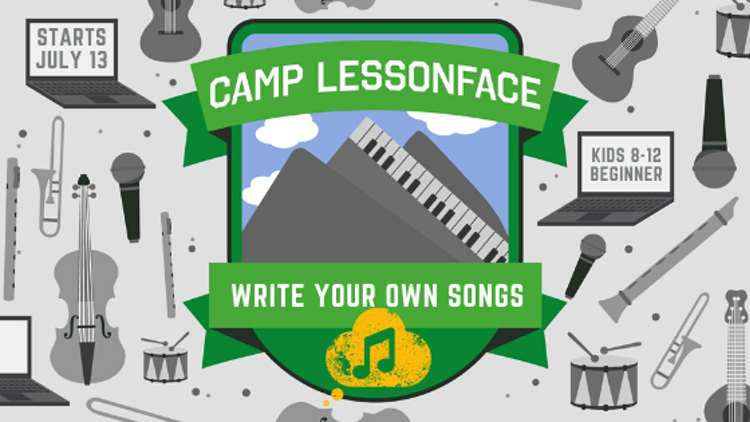 The primary focus of the How to Write Your Own Songs Camp is lyricism and how to write your own lyrics in various genres, the emotion, purpose, and power of songwriting, composing a melody, and composing accompaniment. Depending on whether you play an instrument, various approaches will be offered, varying on skill level and learning interest in relation to songwriting.
The goal of this camp is to have fun, to develop confidence in your artistry (individually and around your peers), and to learn about the various aspects and techniques of songwriting. Above all, though, my goal is to guide you towards and help you develop the inherent abilities you already have. When this camp ends, my hope is to have helped you discover how fun, powerful, and how wonderful of an outlet songwriting is in order to express emotions, themes, and ideas. 
The first hour will solely be dedicated to writing. For the rest of the lesson we will discuss melody and instrumentation. If you don't play an instrument and/or are not interested in forming melodies and instrumentals, you are absolutely welcome to only attend the first hour and will not miss anything in the remaining time. 
Some of the things we will cover: 
1. Developing confidence in our writing abilities through simple exercises such as free-writing, writing with a certain time frame, writing about a specific object, emotion, or subject, and re-writing simple songs in our own words. 
2. Strengthening our vocabulary by discussing synonyms, antonyms, how to choose words based on the emotions we feel, and by playing some word association games. 
3. Learn a bit about metaphors, similies, imagery, and literal writing and how that can be useful when we write our own songs. 
4. The basic structure the majority of songs follow and the most common rhyme schemes and how to form ideas for songs when you feel stuck. 
5. Above all we will focus on you writing your own songs! There will always be time set aside to share your writing, thoughts, or questions, and the amount you would like to share/if you'd like to share at all is entirely up to you. 
The only material you need for this course is something to write with (notebook, pen, pencil any electronic device, etc.) If you play an instrument and and are interested in learning about different ways to form melodies and instrumentation, you will need your instrument. If you sing, just bring your voice. If you simply want to observe the second portion of the lesson, you don't need anything! 
---
Camp Schedule
This camp starts July 13 and will meet thrice a week on the following schedule:
Mondays, Wednesdays, and Fridays, at 2 pm EDT | 11 am PDT | 18:00 UTC
July 13, 15, 17, 20, 22, and 24
Each camp day campers will meet for two 45-minute sessions with their counselors and fellow campers with a 10-minute break between parts. Campers can also attend other activities on Lessonface that will be just for campers, including a talent show!
---
Age Range and Skill Level
Kids 8-12, Beginner
Camps have sliding scale enrollment options. Choose your pricing level from the following:
• Suggested per student:$129
• Minimum per student: $59
• Buy one, give one: $179 to cover yourself and a friend, or sponsor another student
• Apply for a free, sponsored seat by filling out this short form
By enrolling for the price you can afford, you can make music education more accessible for others. Learn more about how Lessonface Camps work here.
---
How It Works
Students can connect to the online platform using a tablet or computer with reliable internet. To actively participate online students also need a webcam with microphone. This camp is capped at 50 students. The camp is covered by the Lessonface Guarantee. 
---
Signed up already? Click
here
.
---
About Rose Devika
Rose Devika is an award-winning singer-songwriter, guitarist, and spoken word poet. First place winner of the 2017 Say Word LA poetry competition, Rose was awarded a book publishing deal and placement on a poetry team. After five months performing across Southern California, she and her teammates competed at the international slam poetry competition, Brave New Voices, where Rose performed in front of an audience of 3,000. Rose became a Los Angeles County Youth Poet Ambassador and was 1 of 12 finalists selected out of an estimated 600 applicants for the L.A. Youth Poet Laureate Program in June of 2017.
---
Students Say
Teacher and content were great! Sebastian enjoyed his first lesson and is looking forward to more!!
— Renuka S.
---
About Lessonface, PBC
Since 2013, Lessonface has connected more than 10,000 students with over 1000 great teachers for live music & language lessons online, delivering on our mission to help students achieve their goals while treating teachers equitably.
Join us for a summer of musical fun!
---
RELATED