Improvisation for Classical Musicians!: Starts Oct. 23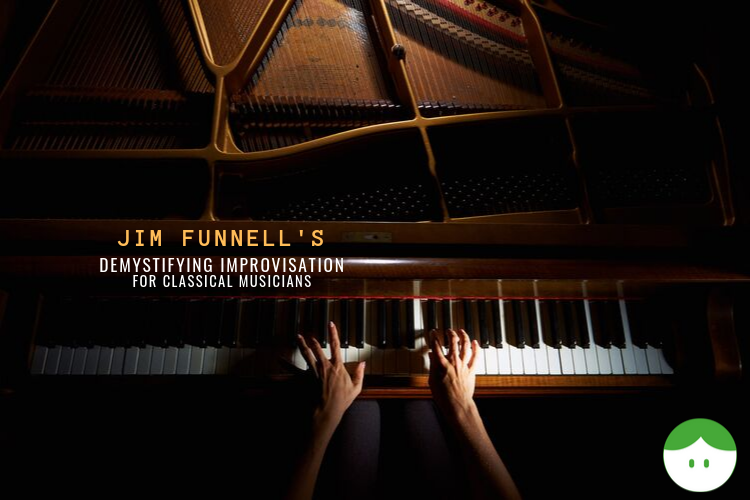 Improvisation can sometimes feel daunting, even to the best musicians, simply because of the infinite amount of possibilities out there. Questions like "where should I start?" or "is what I am playing any good?" are indeed uttered far too often, when in fact there is no right or wrong... Everyone is capable of improvising (we all do it in speech for example).
Most of the time, all that is needed to overcome such blockages is to gain a little self-confidence. In a musical context, this can easily be done by breaking things down: when too much information is available and too many possibilities are at hand, we can voluntarily set certain rhythmic and melodic limitations that will help us explore musical language in a fun and playful way. Learning how to feel free under such restrictions - along with the basic workings of harmony - is often also the deepest and fastest way to improvisational fluency.
So let's get the ball rolling! Classically trained musicians are especially welcome (since you are the ones who usually express the most interest in breaking these boundaries!). However, all instrumentalists with some level of proficiency and from all stylistic backgrounds are of course welcome and encouraged to join these workshops.
Looking forward to making music together!
---
MORE ABOUT JIM FUNNELL
Jim Funnell is a jazz pianist/keyboardist and composer. He leads his own ensemble, with which he has released two albums (Word Out and Spirit of the Snail) and won the Composition Prize at the "Trophées du Sunside" in Paris. Jim also co-founded AfuriKo, a colorful and atypical African infused jazz duo, with percussionist Akiko Horii. The unit has produced two albums since 2014 (On the Far Side and Style), both of which were chosen to receive full funding from SACEM (French Society of Authors, Composers, and Music Publishers).
Notable performances as a band leader/co-leader include venues and festivals such as Jazz Alley (Seoul), London Jazz Festival, Le Baiser Salé (Paris), Rockwood Music Hall (New York City), Theater Vrijburcht (Amsterdam), JazzLab (Hamburg, Germany), Kathmandu Jazz Festival (Nepal), Kanazawa Jazz Street (Japan), Jazz en Touraine (France), and Malta Jazz Festival. As a sideman, Jim has also played and recorded with jazz vocalist Jade Choi, percussionist Marcelo Woloski (Snarky Puppy), saxophonist Philippe Lopes de Sa, singer-songwriter Benjamin de Roubaix, electro/nu-reggae artist Flox, and contemporary microtonal jazz-rock guitarist David Fiuczynski.
Since graduating from Berklee College of Music, which he attended on a full tuition scholarship, Jim has been active as an educator, teaching both privately (currently at Lessonface.com) and in workshop/masterclass settings (BRICKS Music Salon in Tokyo, Cardiff University School of Music in Wales, Improphile in France, Koyo Conservatory in Kobe, Euro Institute of Music and Arts in Malta…)
In addition to music, literature, and art, Jim is into nature, languages, anthropology and all things human, shamanism, Taoism, Zen, qigong, jogging, and wholesome food!
ENROLLMENT PROCEDURE
Enroll in Demystifying Improvisation for Classical Musicians by clicking the "Add to Cart" button above and completing the sign-up process. If you have a promotional code you may enter it on the shopping cart page. The class is covered by the Lessonface Guarantee. 
---
WHEN
This class will meet for four live sessions on 
Wednesdays, October 23, 30, Nov. 6, 13, from 8-9 pm ET.
---
HOW IT WORKS
Students can connect to the online platform using a tablet or computer with reliable internet. To actively participate online students also need a webcam with microphone. The live sessions are recorded so that all enrolled students can review the class sessions following the live class. Class recordings will be available for viewing within 48 hours of the live class. This live online class is capped at 8 students. 
---
STUDENTS SHOULD BE
Intermediate and advanced classical musicians. All instrumentalists are welcome.
---
JIM'S STUDENTS SAY
Great teacher. I'm am going to learn allot from Jim.
-SHAUN B
⭐⭐⭐⭐⭐
-VERIFIED STUDENT
⭐⭐⭐⭐⭐
-MANUEL O.
Jim Funnell's lessons are rated five stars in 13 verified reviews.
---
RELATED