Harmonic Substitutions with Gary Smulyan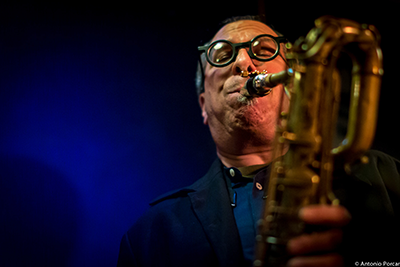 Downbeat Critics Poll First Place for Baritone Saxophone (2014), Gary Smulyan is teaching a one-time, 90 minute seminar on Harmonic Substitutions Sunday, October 26, 2014, from 1 - 2:30 pm EST. The course will cover the use of substitutions in standards, and Gary's approach to substitutions.
---
ABOUT GARY SMULYAN
Baritone saxophonist Gary Smulyan was born April 4, 1956, in Bethpage, New York. The gifted multi-instrumentalist started his music career by first learning alto saxophone during his teenage years on Long Island. Today he is critically acclaimed across-the-board and recognized as the major voice on the baritone saxophone. His playing is marked by an aggressive rhythmic sense, an intelligent and creative harmonic approach - and perhaps most importantly - a strong and incisive wit.
Smulyan has played with luminaries Chet Baker, Dizzy Gillespie, Chick Corea, Tito Puente, Ray Charles, BB King, and Diana Ross. He has repeatedly been named the best Baritone Saxophonist by the Downbeat Critics poll, most recently in July 2014, as well as many other top honors and awards.
---
FOR YOUR LISTENING PLEASURE
---
WHEN
Sunday, October 26, 2014, from 1 - 2:30 pm EST. 
Sessions are recorded, so enrolled participants can also watch afterward. 
---
WHERE
Attend online OR at Michiko Studios, at 149 W 46th St., New York, NY. 
---
LEVEL
Advanced beginners to advanced students ages 14 and up.
---
HOW IT WORKS
These are live classes that are taught from Michiko Studios in midtown Manhattan. Students can attend by physically coming into the studio (in-studio) OR over the Lessonface high performing video conference platform. Students who attend in-studio will all be considered active participants. Online participants have the option of actively participating or auditing. Active participants will have the opportunity to submit work for feedback, and ask questions and demonstrate to the class. Auditors will watch and listen online, but not ask questions or submit work for feedback. Students can connect to the online platform using a tablet or computer with reliable internet. To actively participate online students also need a webcam with microphone. The live sessions are recorded so that all enrolled students and auditors can review the class sessions following the live class. Class recordings will be available for viewing within 48 hours of the live class.
---
CONTACT
If you have questions, please contact us by emailing jess@lessonface.com or by calling 1-800-211-7058.