Jazz Violin Masterclass with Zach Brock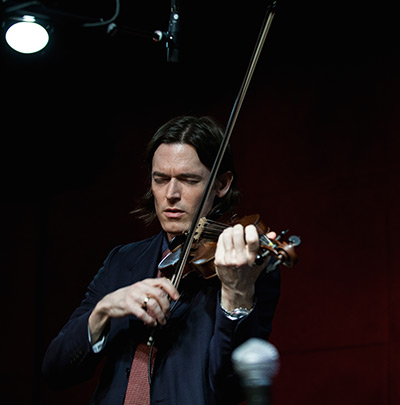 For this masterclass Zach Brock will discuss string-specific strategies for assimilating new harmonic and melodic vocabulary across the entire instrument as well as non-traditional bow techniques that are useful for playing swing and "pocket" time feel. This class is suitable for any string player who has developed the ability to shift up and down the neck of their instrument, can pull a straight bow, and is interested in developing an approach for more advanced improvisation.
---
MORE ABOUT ZACH BROCK
One of the most virtuosic and emotive voices of contemporary jazz violin, Zach Brock has followed a path which embraces not only jazz, but also classical, world, and popular music. From critical acclaim as a bandleader to collaborations with Stanley Clarke, Snarky Puppy, and Phil Markowitz, Zach has been heralded as "the pre-eminent improvising violinist of his generation." The Chicago Tribune recognized Zach's recording "Almost Never Was" as one of the top ten jazz recordings of 2012 and Downbeat Magazine's 61st Annual Critics Poll named Zach it's "Rising Star" Violinist of 2013. In addition to recording and touring as both a leader and sideman, Zach teaches for The New School in New York City and is currently an "Artist In Residence" at Temple University in Philadelphia.
---
FOR YOUR LISTENING PLEASURE
---
WHEN
November 8, 1:00 pm EST - 75 min.
This class will be recorded, so enrolled participants can also watch afterward. 
---
WHERE
Attend online OR at Michiko Studios, at 149 W 46th St., New York, NY. 
---
HOW IT WORKS
These are live classes that are taught from Michiko Studios in midtown Manhattan. Students can attend by physically coming into the studio (in-studio) OR over the Lessonface high performing video conference platform. Students who attend in-studio will all be considered active participants. Online participants have the option of actively participating or auditing. Active participants will have the opportunity to submit work for feedback, and ask questions and demonstrate to the class. Auditors will watch and listen online, but not ask questions or submit work for feedback. Students can connect to the online platform using a tablet or computer with reliable internet. To actively participate online students also need a webcam with microphone. The live sessions are recorded so that all enrolled students and auditors can review the class sessions following the live class. Class recordings will be available for viewing within 48 hours of the live class.
---
CONTACT
If you have questions, please contact us by emailing jess@lessonface.com or by calling 1-800-211-7058.