Software Set-Up and Test
Getting Ready for Your First Lesson
In case you don't have it installed yet, it should take under 5 minutes to install Zoom, the videoconferencing software used on Lessonface.
You can download the latest version of Zoom here: zoom.us/download - please choose the top option: Zoom Client for Meetings.
Once you have Zoom installed and running, you can launch the lesson in a few seconds from your 24-hour reminder email - which will have a link for joining - or from your Dashboard on Lessonface.
The link in your reminder email and the join button in your dashboard are available to use 35 minutes before your lesson start time.
---
Video Test Room
If you would like to test ahead of time - a great idea! - go to your Video Test Room in the menu at the top right hand side of the page.
Here's also a direct link to the Video Test Room: Lessonface.com/VideoTestRoom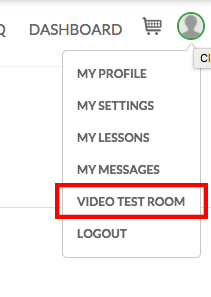 ---
Lessonface Tech Support
Questions, or want to do a live test with Lessonface staff? Contact us.
---
Lesson or class starting in the next 30 minutes?
Go to your Lessonface Dashboard, and you will see a Join button next to your lesson or class. Click that button and the Zoom meeting will start. If you don't have Zoom installed yet, the site will prompt you to download and install it.
---
Lessonface Dashboard
From your Lessonface Dashboard you can view your upcoming schedule, messages, contacts, and more.