Lessonface for Schools and Organizations
Lessonface is a great option for bringing high-quality music lessons and classes to your school, library, or community organization -- without the need for travel. Introduce students to bagpipes via an instructor in Scotland, tabla from a teacher in New Delhi, and blues from a teacher in Memphis, Tennessee.
 
Our students and parents are loving the violin lessons this year.  Thank you for providing such a fantastic program.  The teachers are AMAZING at connecting with the children and making them feel special.
--Alicia Mitchell, Principal of Austin Elementary School in Pecos, Texas, where Lessonface has been providing Suzuki violin lessons for 2017-2018 school year
Lessonface provides complete semester, year-long music programs, or one-time events, based on your needs. Programs could include:
One-on-one lessons with your choice of instruments and topics, with great, highly qualified teachers
Group classes with instructors and experts at the top of their fields in specialized and kid friendly topics, from beatboxing to ukulele
Cultural experiences with musical experts all over the world 
Interactive sessions with successful performers to inspire and motivate young aspiring musicians
Self-paced courses from our catalog
Lessonface is fully COPPA compliant and designed for safe and fun use for all ages.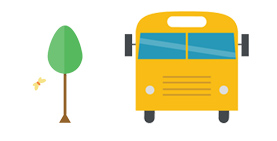 Park that school bus and access world-class music education with Lessonface.
Contact Claire Cunningham at cc@lessonface.com to assemble a great music program that fits your needs.