Lessonface for iPad and Tablets
Getting Ready for Your First Lesson on a Tablet
To join a lesson from a tablet, you will first need to install the Zoom app.
You can download the latest version from your app store, or from here: zoom.us/download
To join your lesson or class, use the link in the lesson reminder email or the Join button in your dashboard. Those links are available 35 minutes before the lesson start time.
---
Video Test Room
To test ahead of time log into your Lessonface account in your tablet browser, and go to the menu at the top right hand side of the page - shown below - to join your Video Test Room. Here's also a direct link: Lessonface.com/VideoTestRoom
If you don't have Zoom installed yet, the site will prompt you to download and install it.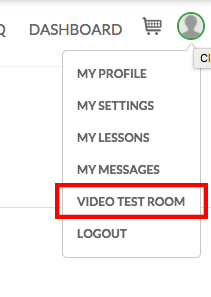 ---
Lessonface Dashboard
From your Lessonface Dashboard you can view your upcoming schedule, messages, contacts, and more.
---
Advanced Audio Settings on Zoom
Visit the page below to find the optimal settings in order to get the best audio in your Zoom meeting.