Designing in Huck Lace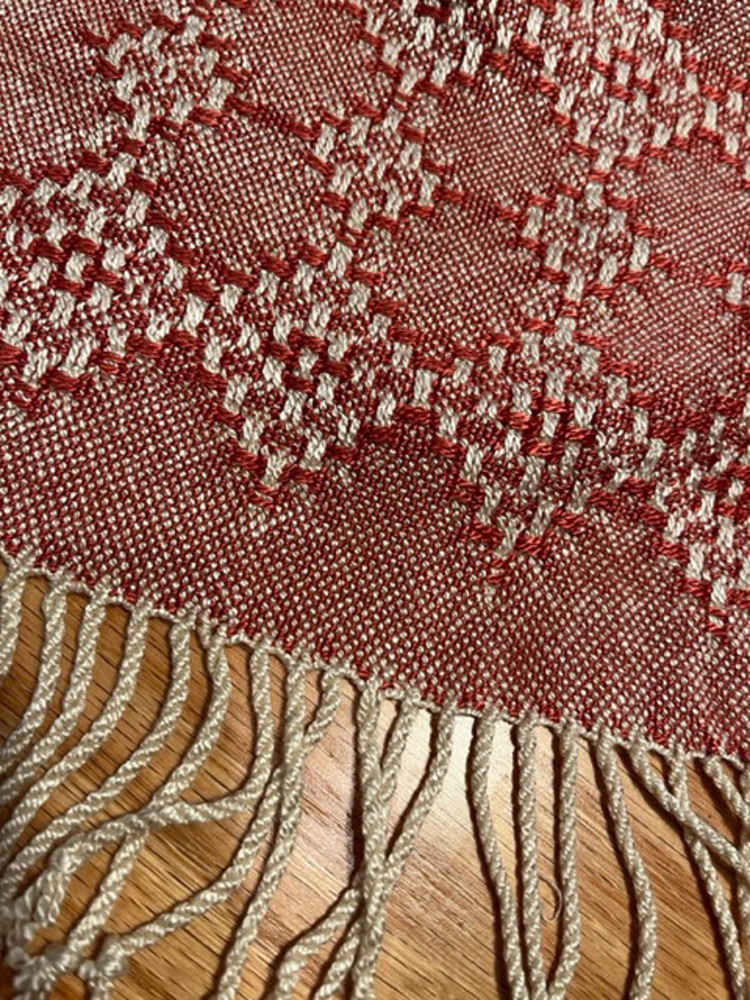 About Designing in Huck Lace
It's easy to design Huck Texture and Huck Lace! After all, it is simply alternating those plain weave tabby picks, adding or subtracting along the way, to make those beautiful horizontal and vertical floats. Whether you are interested in designing with 4 shafts or 8 shafts, I will show you how easy it is to design Huck Lace!
We will begin with the foundations of 4 shaft Huck texture/lace through the threading, tie ups and treadling so that we can explore all combinations for designing two blocks on 4 shafts. Then we transition into designing with all six blocks on 8 shafts. As a class, we will design a Huck Lace pattern and draft it live, demonstrating on my weaving software. There is a template in the booklet for participants to design more drafts independently after the session.
The class fee includes an in-depth instructional pdf booklet designed with step-by-step instructions for understanding and designing four and eight shaft Huck as well as helpful illustrations. The booklet is a great resource to add to any weaving reference library. Jill encourages interaction throughout class, and welcomes questions and comments as part of the interactive learning process.
This class is limited to 15 students.
---
Homework
Download and review the PDF class booklet that will be sent to you prior to the class.
Age Range
Teens and Adults
Skill Level
Intermediate Weaver - comfortable with equipment, experienced in a variety of techniques, able to plan, draft, and design work.

---
Contact the Teacher
Send a direct message from the teacher's profile page with any questions you might have about the class.
---
When
Single session on Saturday, March 4, at 2 pm ET | 11 am PT | 19:00 UTC.
Enrolled students receive 30-day access to the video recording of the class.
How It Works
Enroll above to save your spot in the class. Lessonface will send you a confirmation right away, and a Zoom link 24 hours before the class start time. You can log into your Lessonface dashboard to access class materials, communicate with your instructor, join the live Zoom session, and access the class recordings and chat transcript afterward. This class, and all lessons and classes on Lessonface, are covered by the Lessonface Guarantee.
---
Jill has been teaching online virtual weaving classes since the start of the pandemic. Her greatest joy is teaching weavers to design cloth through understanding individual weave structure's unique rules for threading, tie up and treadling. She has taught virtual workshops and lectures on multiple weaving topics such as blocks and profile drafting, turning a draft, blending a draft, as well as exploring structures like overshot, laces, summer and winter, and twills.
Visit Jill's website at http://modernweaver.com/.
The MidAtlantic Fiber Association (MAFA) represents and supports a community of fiber arts guilds in the greater Mid-Atlantic region. Although MAFA is best known for its biennial conference - and now for virtual programs - the all-volunteer, not-for-profit organization also provides ongoing financial grants, fellowships and scholarships to promote education, development and public outreach in the fiber arts.  Find out more about MAFA at https://mafafiber.org/.
About Lessonface, PBC
Lessonface's mission is to help students achieve their goals while treating teachers equitably. Since 2012, we've hosted more than 30,000 students and 2,000 teachers for live music, language, and arts lessons and classes online.