How to Sing Falsetto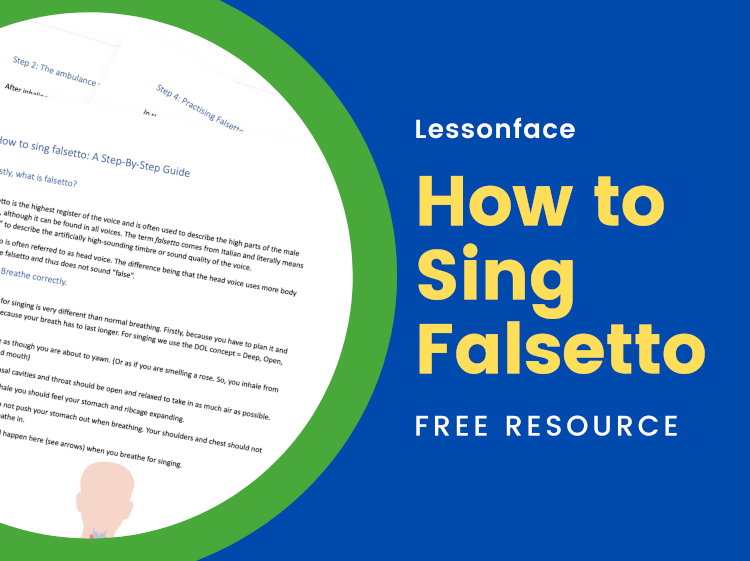 About How to Sing Falsetto
Are you looking to expand the higher range of your voice? Falsetto gives a singer additional range, but for many it can be tough to access, especially if you've primarily been singing in chest voice. This free downloadable PDF guide vocalists through a series exercises designed to help train your skills in this upper register.
Sign up for a free Lessonface.com account to get lifetime access to this free PDF resource, and most importantly: have fun!
---
Students Say
---
Natali
on July 14, 2023
Class:
How to Sing Falsetto
I really enjoyed it, very useful resource.
---
L. G.
on July 13, 2023
Class:
How to Sing Falsetto
Ms. Sitz is an outstanding teacher. Her patience while guiding "non-professional" hobbyists such as myself, demonstrates just how effective she can be at getting the best out of a student. I keep all of her lesson printouts in a handy notebook for ease of reference as I continue my singing "adventures"! Kudos to this wonderful singing partner😎
Sonnie graduated from the University of Pretoria with a Bachelor degree of Music, specializing in music education, music therapy and singing. She received this degree with distinction and academic honors in 2015. In the same year she started her Master's of Musicology degree and received a bursary to study music education in Finland for six months. During this time she specialized in music education, music therapy and indigenous music. In 2016 she was part of a team that compiled music textbooks for the South African CAPS (Curriculum Assessment Policy Statements)  for grades 10-12.
Throughout her career she has performed as a soloist at various events and in 2017 she was part of th...
About Lessonface, PBC
Lessonface's mission is to help students achieve their goals while treating teachers equitably. Since 2012, we've hosted more than 30,000 students and 2,500 teachers for live music, language, and arts lessons and classes online.