Introduction to Inkle Weaving
Introduction to Inkle Weaving with Angela Schneider
Inkles – warp-faced woven narrow bands - have dozens of applications, including straps, handles, trim, leashes, material for constructing larger items, and accents for other handwoven cloth. Learn to use the simple, portable inkle loom to make your own unique creations. Classes will cover reading inkle patterns, setting up the loom, and weaving. Once we have covered the basics, move on finishing, designing bands, and using some advanced techniques. Beginners and experienced weavers are welcome. No experience necessary to get started playing with the bands!
The capacity for this class is 16 students. This class is presented in collaboration with the John C. Campbell Folk School. There will be an optional Orientation and Closing Ceremony hosted from the Folk School campus that students can attend online.
---
Class Materials Needed
• Inkle loom
• Heddles or smooth strong cord
• Belt shuttle
• Sewing gauge or small ruler
• Scissors
• Colored pencils
• 3-5 colors of smooth, strong yarn such as 3/2 or 5/2 perle cotton, 8/4 carpet warp, crochet cotton, 20 yd each.
Students can also order inkle looms directly from the instructor after enrollment. Schacht and Ashford looms are available.
About the John C. Campbell Folk School & Lessonface
For 96 years, the John C. Campbell Folk School in Brasstown, North Carolina has transformed lives, and brought people together in a nurturing environment for experiences in learning and community life that spark self-discovery. Since 2012, Lessonface has connected more than 30,000 students with over 2,000 great teachers for live music, language, and arts lessons online, delivering on our mission to help students achieve their goals while treating teachers equitably.
---
When
The class will meet for four weekly 120-min live online sessions on Thursdays at 6:30 pm ET | 3:30 pm PT | 23:30 UTC on the schedule below. The first session is on March 9.
(Convert to my time zone)
Enrolled students receive 30-day access to the video recordings of the classes.
Introduction to Inkle Weaving
How It Works
Enroll above to save your spot in the class. Lessonface will send you a confirmation right away, and a Zoom link 24 hours before the class start time. You can log into your Lessonface dashboard to access class materials, communicate with your instructor, join the live Zoom session, and access the class recordings and chat transcript afterward. Class enrollments may be cancelled for full refund up to five days before the class start date, with the exception of the materials kit fees which are non-refundable.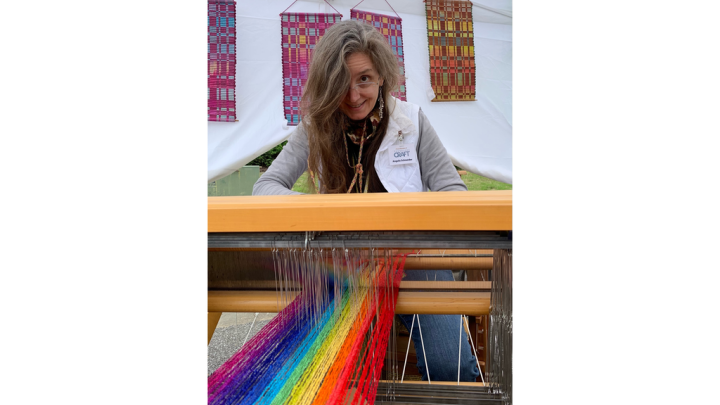 Angela Schneider is a weaver, spinner, knitter, and enthusiast for all textile structures from the common to the esoteric. She has degrees in engineering, math, and art, and a Master Spinner certificate from Olds College, Alberta. Angela worked in the tech industry as a programmer, network engineer, and trainer, and is now the Project Editor for Long Thread Media. Angela uses math and language as design inspiration and explores improvisation in weaving. She teaches multiple fibers arts and is known as a patient and encouraging teacher. She teaches in the mid-south and nationally, including the John C. Campbell Folk School. Angela is also a swing and contra dancer, instructor, and contra d...