John C. Campbell Folk School
Online Classes and Workshops for 2021
Learn with the instructors you love from wherever you are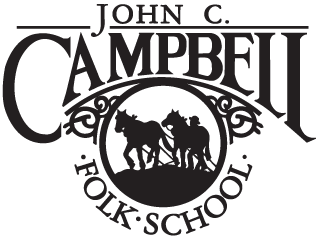 John C. Campbell School transforms lives, bringing people together in a nurturing environment for experiences in learning and community life that spark self-discovery. Now, for the first time, the school is offering online classes in a variety of lengths and subjects in collaboration with Lessonface. Find your class listed by subject area below. Enroll and learn more details like materials, dates, and times on the linked class pages.
More About the Classes
Click the class links above to see complete details for each class, and feel free to contact us with any questions. We are available seven days a week.
*Classes marked with an asterisk will be broadcast live from the John C. Campbell Folk School Campus. Student attendance will all be online.
Students can connect to the online classes using most any tablet or computer with reliable internet.
Most of the classes will be recorded. Those classes will be available for access by enrolled students for 30 days following the live class.
Class enrollments may be cancelled for full refund up to five days before the class start date.
Optional Orientation and Closing Ceremony hosted from the Folk School campus will be offered for all classes that students can attend online.
Many John C. Campbell Folk School instructors are available for 1:1 online lessons.
How Lessonface Works
Lessonface has been connecting students with great music, language, and arts teachers for live lessons online since 2013. Our mission is to help students achieve their goals while treating teachers equitably. We are thrilled to be working with the John C. Campbell Folk School staff and instructors to bring you these classes.
More about Lessonface here.