Singing French Art Songs with Style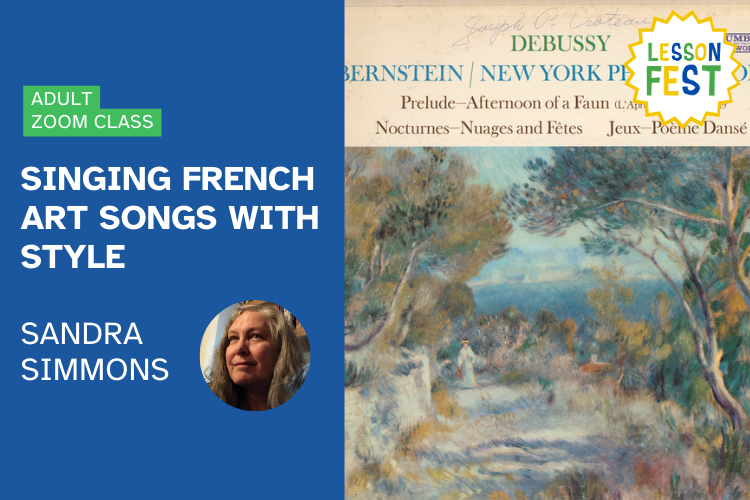 About Singing French Art Songs with Style
Take your singing in French to a new emotional level and pronounce those vowels with confidence. Learn tips about interpreting poetry that will infuse your performance with depth. You will learn about poets like Mallarmé, Leconte de Lisle, Paul Verlaine, and others. My background includes a PhD in French poetry as well as a lifelong interest in singing and interpreting poetry aloud in university settings, conferences, and among poets. You will take with you pointers on inflection and a cheat sheet on French phonetics, as well as resources for understanding French poetry. The class will be taught in English, so no language skills necessary, although a familiarity with art songs is helpful. See you there!
This class is limited to 40 students.
Class Goals
Goal 1: Learn to read French using phonetics;
Goal 2: Learn to sing using more nuanced French inflection;
Goal 3: Learn to interpret the poetry in songs you sing;
---
Contact the Teacher
Send a direct message from the teacher's profile page with any questions you might have about the class.
---

Join Singing French Art Songs with Style for Free
This class will be offered on April 23 as part of LESSONFEST, our weeklong festival of free classes and activities.
Enroll above for free and we will send you the link to join.
---
Optional Four Lesson Bonus Pack ?
Kick off your learning in the free group class and stick with it with the Four Lesson Bonus Pack. Purchase three 45-min private lessons with Sandra while signing up for this free group class and get a bonus 45-min private lesson free! Private lessons can be used within one year of booking. Use the dropdown option above the enroll button to add lessons to your free class enrollment.
---
When
Single session on Sunday, April 23, at 2 pm ET | 11 am PT | 18:00 UTC.
Enrolled students receive lifetime access to the video recording of the class.
Singing French Art Songs with Style
How It Works
Enroll above to save your spot in the class. Lessonface will send you a confirmation right away, and a Zoom link 24 hours before each session's start time. You can log into your Lessonface dashboard to access class materials, communicate with your instructor, join the live Zoom session, and access the class recordings and chat transcript afterward. Contact us with any questions. This class, and all lessons and classes on Lessonface, are covered by the Lessonface Guarantee.
Passionate about French language, culture, and the broader francophone community, I have been a professor and teacher for over 20 years. I also lived in France for 10 years while working in the music business for an independent record label. While teaching high school, I taught all levels of French, including 4AP and French 5 along with French 1 for absolute beginners. One year I taught at a French university in Tours, l'Université de François Rabelais, in the music school (la conservatoire), giving English lessons to a group of jazz musicians. I am a fan of opera, which I taught about in a graduate level class at the University of Texas at Arlington, focusing on the adaptation of Frenc...
About Lessonface, PBC
Lessonface's mission is to help students achieve their goals while treating teachers equitably. Since 2012, we've hosted more than 30,000 students and 2,000 teachers for live music, language, and arts lessons and classes online.