Carving Wooden Spoons & Bowls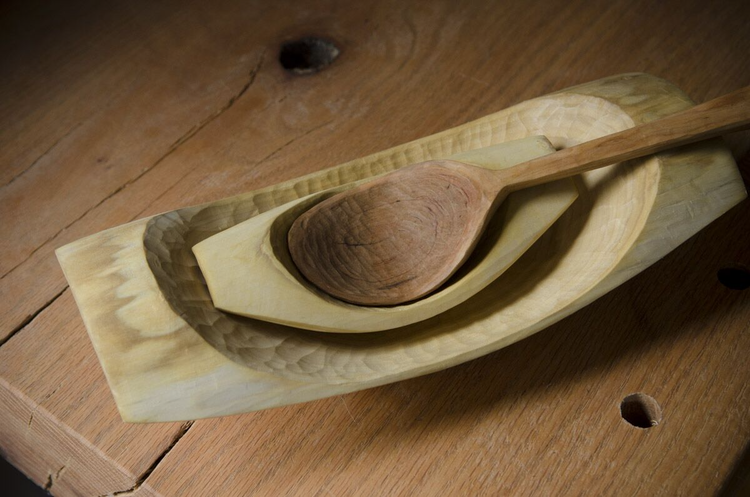 Carving Wooden Spoons & Bowls with Mike Cundall Jr.
Learn how to create a beautiful and durable bowl from a log and spoons from wood you can find during a hike. This class will cover the basics of creating bowls, ladles, spoons, and spreaders from a green (freshly cut and still wet) log. We will cover how to source and choose wood, what tools we will need to use, how to use them, proper tool techniques, sharpening, the basics of layout and design, and the care and use of woodenware. At the end of the class each student should have at least two spoons finished and ready for use, and at least one bowl taken to the drying state.

The capacity for this class is 12 students. This class is presented in collaboration with the John C. Campbell Folk School. There will be an optional Orientation and Closing Ceremony hosted from the Folk School campus that students can attend online.
---
Class Materials Needed
There are a variety of tools available for purchase from smaller makers to large companies. There is also a range of prices for the various tools. Spoon carving has a smallish kit, and really one only has to have the carving axe/hatchet, a sloyd knife, and a hook knife. A pruning saw is also helpful. I try to support smaller makers. I want them to keep making good quality, small-batch materials, so the extra money for me is well spent, not just in the performance of the tool, but the support of maker community as well.
Skill Level
Beginner/Intermediate
About the John C. Campbell Folk School & Lessonface
For 96 years, the John C. Campbell Folk School in Brasstown, North Carolina has transformed lives, and brought people together in a nurturing environment for experiences in learning and community life that spark self-discovery. Since 2012, Lessonface has connected more than 30,000 students with over 2,000 great teachers for live music, language, and arts lessons online, delivering on our mission to help students achieve their goals while treating teachers equitably.
---
When
The class will meet for four weekly 120-min live online sessions on Wednesdays at 7 pm ET | 4 pm PT on the schedule below. The first session is on February 1.
(Convert to my time zone)
Enrolled students receive 30-day access to the video recordings of the classes.
Carving Wooden Spoons & Bowls
How It Works
Enroll above to save your spot in the class. Lessonface will send you a confirmation right away, and a Zoom link 24 hours before the class start time. You can log into your Lessonface dashboard to access class materials, communicate with your instructor, join the live Zoom session, and access the class recordings and chat transcript afterward. Class enrollments may be cancelled for full refund up to five days before the class start date, with the exception of the materials kit fees which are non-refundable.
Mike Cundall has been woodworking for 15 years as an amateur/hobbyist and carving bowls and spoons for six years. He has taught classes at John C. Campbell Folkschool for three years, and also taught at Wood and Shop Traditional Woodworking School. His style is best described as descending from the northern European tradition. He has done intensive studies under David Fisher and Jojo Wood. His interest in teaching is to give students the fundamentals so that they can work and develop their own styles.