Easy Classical Piano: Pieces for the Seasons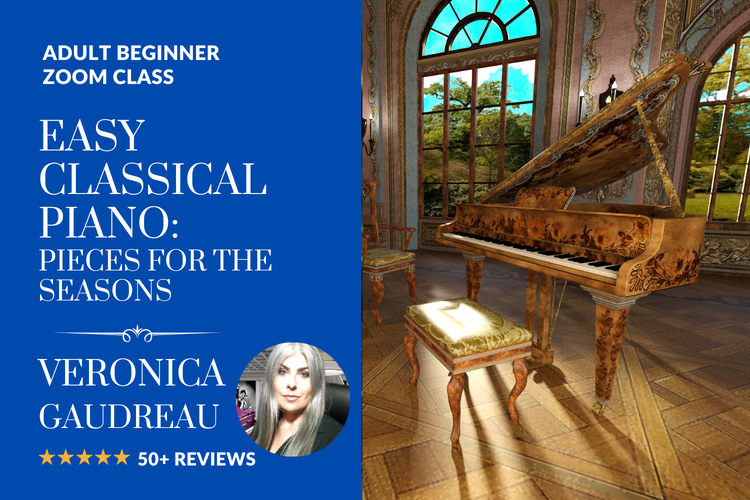 About Easy Classical Piano: Pieces for the Seasons
Go on a musical tour through the seasons! This class explores the scenic world of classical music through the perspective of the changing seasons. Learn about the composer, the story about the piece, and listen to musical examples. Learn how to play a short easy piece and play along!
Class Goals
• Learn classical pieces

• Add new music to your repertoire

• Learn about composers and their inspiration

• Explore how different composers express their ideas about the seasons
---
Age Range
12 and up
---
Skill Level
Beginner+ (prerequisite: basic music reading skills)
---
Contact the Teacher
Send a direct message from the teacher's profile page with any questions you might have about the class.
---
Watch To Learn More
---
When
The class will meet for four 55-min live online sessions each month on Mondays at 7 pm ET | 4 pm PT on the schedule below.
(Convert to my time zone)
Enroll for one month at a time, or use the drop-down menu above to subscribe for recurring monthly payments and save. Cancel your subscription anytime.
If you sign up mid-month, you will have access to the recordings and materials for the earlier classes that month, and receive pro-rated credits for use towards a private make-up lesson or the future month's subscription payments.
Enrolled students receive lifetime access to the video recordings of the classes.
Easy Classical Piano: Pieces for the Seasons (January 2023)
How It Works
Enroll above to save your spot in the class. Lessonface will send you a confirmation right away, and a Zoom link 24 hours before each session's start time. You can log into your Lessonface dashboard to access class materials, communicate with your instructor, join the live Zoom session, and access the class recordings and chat transcript afterward. Contact us with any questions. This class, and all lessons and classes on Lessonface, are covered by the Lessonface Guarantee.
---
⭐⭐⭐⭐⭐
Virginia S. on April 5, 2022
Private Classical Piano Student

I couldn't attend the lesson in person, so Veronica prepared videos (one for left hand, one for right hand) for me that demonstrated a way to approach a new piece of music she selected for me. This was terrific!!
⭐⭐⭐⭐⭐
Virginia S.
on November 16, 2021
Private Classical Piano Student
Once again, Veronica had a great suggestion helping me understand the rhythm in a complicated (to me) section of a new piece. Her instructions vary to the needs of the problem--very creative!
⭐⭐⭐⭐⭐
Claire M.
on August 24, 2021
Private Piano Student
Great first lesson, thanks so much Veronica! Playing boogie woogie already. Looking forward to next week.
⭐⭐⭐⭐⭐
Robyn H.
on February 2, 2021
Private Classical Piano Student
My son got off the computer and said he loved her and the lesson.
⭐⭐⭐⭐⭐
Ackra K.
on January 1, 2021
Private Rock Piano Student
Veronica is a great teacher my piano playing and understanding has improved greatly since I began working with her
⭐️⭐️⭐️⭐️⭐️
Mandy C.
on December 30, 2020
⭐⭐⭐⭐⭐
Tobias D.
on April 3, 2020
Private Piano Student
Veronica based her teaching strategies on my goals and input. She was organized and the lesson was appropriately paced. Her recommendations were clear and helped me greatly.
⭐⭐⭐⭐⭐
Gregory F.
on February 17, 2020
Private Piano Student
So far, it seems like Veronica is a great teacher!
⭐⭐⭐⭐⭐
David D.
on December 5, 2019
Private Keyboard Student
Very nice lady. Veronica is as she is on her You Tube. She stripped a song for a beginner but it sounds like orginal song.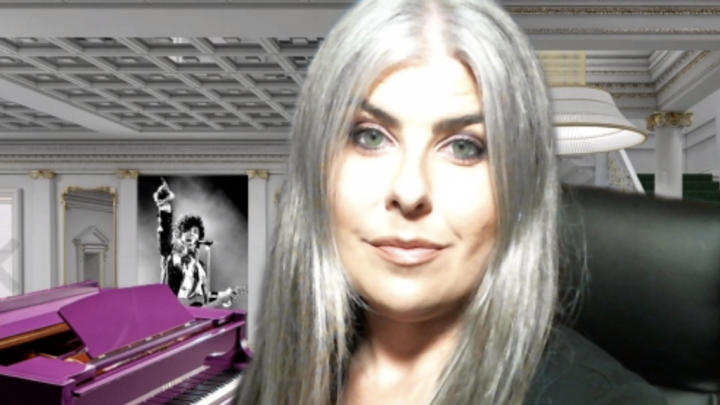 Students who enjoy lessons practice more, accomplish more, and have more fun! Interactive lessons with on-screen: sheet music, games, exercises, theory and more -- that both teacher and student can draw/write on.
I often make video recordings for students right in the lesson!  Imagine having a full recording of the song you're working on, or a recording of the theory that we talked about -- these videos get attached to the lesson and you can view them at any time after the lesson
My main areas are:  Classical, Pop, Rock, Metal, Indie, New Age, Easy Listening   
A Little about me:  I'm at the piano listening to and writing music daily; I love arranging and teaching p...
About Lessonface, PBC
Lessonface's mission is to help students achieve their goals while treating teachers equitably. Since 2012, we've hosted more than 30,000 students and 2,000 teachers for live music, language, and arts lessons and classes online.