Fiberworks - The Advantage of Using Software to Create Your Weaving Drafts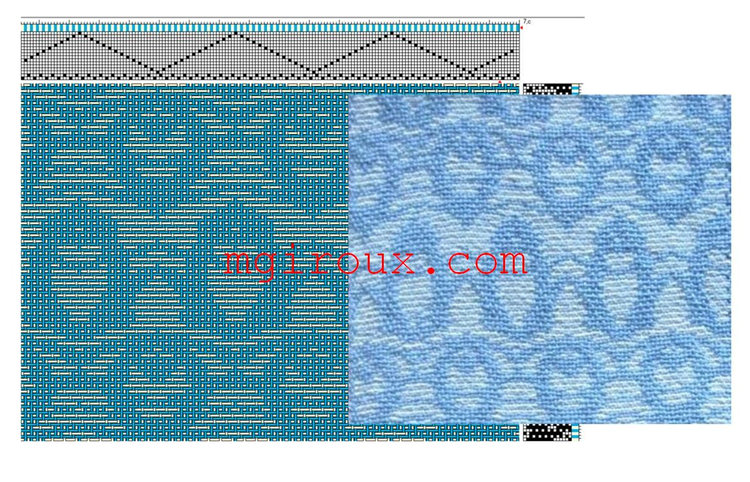 About Fiberworks - The Advantage of Using Software to Create Your Weaving Drafts
Creating your weaving patterns and drafts requires a lot of inspiration, but also trial and error before you get the results you want.
Weave design software like Fiberworks can help you do different tests before you warp the loom and even after the warp is installed. In this lecture and demonstration, learn how Maryse uses Fiberworks in her design journey.
A handout will be provided.

This class is limited to 50 students.
When
Single session on Tuesday, January 17, at 7 pm ET | 4 pm PT.
Enrolled students receive 14-day access to the video recording of the class.
Fiberworks - The Advantage of Using Software to Create Your Weaving Drafts
How It Works
Enroll above to save your spot in the class. Lessonface will send you a confirmation right away, and a Zoom link 24 hours before the class start time. You can log into your Lessonface dashboard to access class materials, communicate with your instructor, join the live Zoom session, and access the class recordings and chat transcript afterward. This class, and all lessons and classes on Lessonface, are covered by the Lessonface Guarantee.
Maryse Giroux was introduced to weaving and this art allows her a wide range of creation. She also has a background as a chartered professional accountant which leads her to analyze and want to understand how to design textiles. This thirst for learning has led her to follow several training courses in Quebec, Ontario and even in the United States.
She has woven on different types of looms such as 4 shaft, multi-harness, and even Jacquard. Her taste for weaving is such that her husband Denis Séguin created Séguin Looms to facilitate her art. She is a member of the Conseil des Métiers d'Art du Québec. Finally, she has been passing on her weaving knowledge since 2012 and her involvem...
The MidAtlantic Fiber Association (MAFA) represents and supports a community of fiber arts guilds in the greater Mid-Atlantic region. Although MAFA is best known for its biennial conference - and now for virtual programs - the all-volunteer, not-for-profit organization also provides ongoing financial grants, fellowships and scholarships to promote education, development and public outreach in the fiber arts.  Find out more about MAFA at https://mafafiber.org/.
About Lessonface, PBC
Lessonface's mission is to help students achieve their goals while treating teachers equitably. Since 2012, we've hosted more than 30,000 students and 2,000 teachers for live music, language, and arts lessons and classes online.