Learn To Read Music! (With Free Flash Cards Handout!)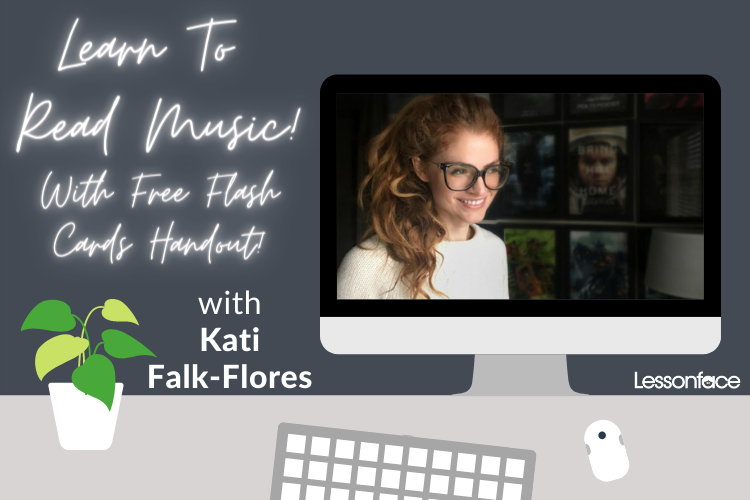 About Learn To Read Music! (With Free Flash Cards Handout!)
New to reading music? Does bass clef make no sense? We're here to help you out! Reading music will allow you to play a much richer variety in music and understand music fundamentals (scales, chords, rhythms) more easily than purely playing by ear or other notational systems. Just like reading any language, it only gets easier!
Class Goals
- learn notes on the treble clef
- learn notes on the bass clef
- learn note values
- learn time signatures
- learn sharps and flats and why we use them
---
Age Range
All ages - Kid Friendly
---
Skill Level
Beginner - No experience necessary!
---
Sign up for the Piano Pass, a new monthly program that offers daily live piano classes like this one. The Pass is only $11.99 for your first month, then $39/month going forward (or only $19/month for the Kids Piano Pass). It's easy to cancel anytime.
You can also enroll for individual sessions by using the dropdown menu above
Learn more about how the Lessonface Piano Pass works here.
---
When
Weekly 30-min sessions on Tuesdays, at 7:30 pm ET | 4:30 pm PT.
(Convert to my time zone)
See the class schedule below.
Learn To Read Music! (With Free Flash Cards Handout!)
---
How It Works
Students can connect to the online platform using a tablet or computer with reliable internet. To actively participate online students also need a webcam with microphone. This live online class is capped at 20 students. The class is covered by the Lessonface Guarantee.
---
Students Say
⭐️⭐️⭐️⭐️⭐️
Ackra K. on December 8, 2020

Kati is very knowledgeable and brings great energy with her instruction.
Composer. Vocalist. Musician. Kati Falk-Flores holds a Master's in Music Composition, and currently writes music for Hollywood's advertising campaigns, with recent placements for Star Wars Andor,  and Transformers: Rise of the Beasts. Winning Golden Trailer Awards in 2021 and 2019, other campaign highlights include Venom: Let There Be Carnage, Mel Gibson's Hacksaw Ridge and Disney's Mary Poppins Returns. 
With a Bachelor's Degree in Vocal Performance, Kati graduated Summa Cum Laude as a member of Alpha Chi Academic Honors Society, with an additional medallion awarded for Highest GPA of Graduating Class. Kati served as the Graduate Teaching Assistant during her Master's Deg...
About Lessonface, PBC
Since 2013, Lessonface has connected more than 10,000 students with over 1000 great teachers for live music & language lessons online, delivering on our mission to help students achieve their goals while treating teachers equitably.