Lessonface Presents: Rebecca Foon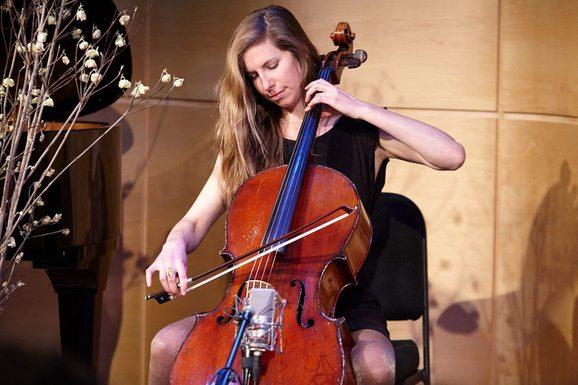 Lessonface presents Rebecca Foon, a live-streamed event where the musical artist will discuss her sources of inspiration and motivation, and share the approaches to learning and practice that have helped her attain her skills. The events are streamed, recorded, and totally free to watch live or re-watch later. Sign up on this page to send your questions or comments for Foon ahead of time, and to get access to the event recordings.
Rebecca Foon, also credited as Beckie Foon, is a Canadian cellist, vocalist, and composer from Montreal, Quebec. Foon currently records under the alias Saltland and is a member and co-founder of the Juno Award-winning modern chamber ensemble Esmerine. She is one of the founders of Pathway to Paris, a nonprofit organization dedicated to turning the Paris Agreement into reality through finding and offering innovative and ambitious solutions for combating global climate change. She has also been a member of several groups associated with the post rock, experimental and chamber music scene of Montreal and New York City, including Set Fire to Flames, A Silver Mt. Zion, Colin Stetson's Gorecki Symphony of Sorrow ensemble and the instrumental string/piano/accordion-based trio Fifths of Seven. Esmerine's Turkish folk influenced album Dalmak, released in 2013, was awarded the Juno Award for Instrumental Album of the Year in 2014. In 2013 she released her first Saltland album, which Exclaim.ca called "a captivating combination of genres from dream pop to chamber music to ambient and shoegaze."[1]
 
ENROLLMENT INFORMATION
Enrollment is free. You can sign up by choosing the "Add to Cart" button above, or check in on our Youtube channel to view the live stream.
---
WHEN
Lessonface Presents: Rebecca Foon will happen on January 24, from 8pm-9pm Eastern time.
---
HOW IT WORKS
This interview will take place at the Lessonface Studio to a live online audience. Tune in to watch live at our Youtube channel. If you would like to attend in person, reach out to us at
jess@lessonface.com
. In-studio seating is very limited.