Beginner Ukulele with Khabu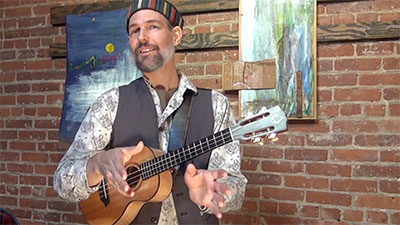 Take this one-hour starter course with favorite teacher Khabu to learn the basics of the wonderfully fun instrument, the ukulele.

This class will lead into Khabu's self-paced FingerTips course, which dives more into music theory and developing a strong understanding of the relationships of the notes and keys on the uke fretboard.
---
CURRICULUM OVERVIEW: GETTING STARTED
Instrument characteristics &

vocabulary;

exploring how to make sounds

4-finger exercises and other games;

how to interpret and use tabs

Music application basics: string names; finding the natural notes & accidentals along entire fretboard
Basic music theory: how scales are built; triads: I-IV-V; the dominant 7th: V7
---
MORE ABOUT KHABU
Khabu teaches guitar, ukulele, and improvisation for all instruments. He has held numerous workshops and clinics throughout Europe and North America, in schools such as Arizona State University (Phoenix), Bennington College (Vermont), California State University (Hayward), Denver University (Colorado), HSPVA (Houston, Texas), SUNY (New Paltz), University of Arkansas (Fayetteville), University of California (Santa Cruz), University of Northern Colorado (Greeley), Williams College (Massachusetts), Wichita State University (Kansas). Khabu has been commissioned by the Armour Foundation to compose new works for ukulele for two consecutive years.

Khabu Doug Young, guitarist, ukuleleist, and composer, has toured the U.S., Canada, Europe, and India with renowned musicians such as Art Lande and Paul McCandless. He performs with various groups around NYC with Jacob Sacks, Slog, DYGG, ok|ok, Alec Haavik, Yoon Sun Choi's E-String Band, New York Mandolin Ensemble, Kendra Shank, and Elliot Sharp in venues such as Sweet Rhythm, 55 Bar, The Stone, The Knitting Factory, Tonic, Barbes, Zebulon, Cornelia St Café, Bar Next Door, Bar4, Detour, and I-Beam Brooklyn. He plays major jazz and ukulele festivals abroad and in the U.S.

Born in Lubbock, Texas, Khabu grew up in Houston and attended the High School For The Performing And Visual Arts (HSPVA). He studied at William Paterson College (Wayne, New Jersey) and at Naropa University (Boulder, Colorado). There he soon became an adjunct faculty member and formed The Russian Dragon Band with Art Lande. In 1996 he moved to New York City and began working with artists from all disciplines (theater, dance, spoken word, and film), as well as musicians of many styles. Along with other partners, Khabu is a founding member of The Creative Music Workshop. His discography includes over 20 recordings.
Attend and interact online OR in person at Michiko Studios (149 W. 46th St., New York, NY)
---
WHEN
Choose between two live sessions:
Tuesday, August 5, 2014 - 8:30 pm EST
Tuesday, August 12, 2014 - 5:30 pm EST
Class is recorded, so enrolled students are also able to review the session afterward.
---
ABOUT THE MAKALA DOLPHIN UKULELES
We have a limited number of Makala soprano "dolphin" ukuleles that can be bundled with the class for students who will come into the studio. Makalas are nice starter/ road trip/ playing 'round the campfire ukes that come recommended by Khabu. Minimum retail price for these models is $42, so this is a great deal. We have red, mahogany, blue, black, and green options. If you have a color preference let us know in the teacher notes on the checkout page and we will confirm with you after the purchase (or you can send us a note beforehand to make sure if you really want to lock down the color you want).
---
HOW IT WORKS
These are live classes that are taught from Michiko Studios in midtown Manhattan. Students can attend in person OR over the Lessonface high performing video conference platform. Online attendees can choose to actively participate or audit. Active participants can ask questions and and get live feedback. Auditors will only be able to watch and listen. Students can connect to the online platform using a tablet or computer with reliable internet. To actively participate students also need a webcam with microphone. The live sessions are recorded so that all enrolled students can review the class sessions following the live class. Class recordings will be available for viewing within 48 hours of the live class.
---
CONTACT
If you have questions, please contact us by emailing jess@lessonface.com or by calling 1-800-211-7058.