What's in Your 2020 Writing Folder?
About What's in Your 2020 Writing Folder?
We are living in interesting times. Stories have been stockpiling in our heads, on paper, or in files here and there. Mold those writings into usable form. Work with your preferred genre – fiction, nonfiction, poetry, essay, etc. – at any level of completion or writing experience.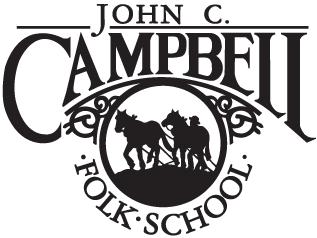 Students will workshop pieces together and meet individually with the instructor for in-depth editing. This class will be taught from the Folk School Campus, offering an opportunity for an immersive folk school experience.
This class is presented in collaboration with the John C. Campbell Folk School & is limited to 8 students. There will be an optional Orientation and Closing Ceremony hosted from the Folk School campus that students can attend online.
---
Class Materials Needed
no materials are needed for this class
When
The class will meet for five days on the dates below. Each day starts with a 90-minute live demonstration session at 10 am ET | 7 am PT | 15:00 UTC and meets again for a 30-min check in at 6 pm ET | 3 pm PT | 23:00 UTC. The first session is on February 1.
(Convert to my time zone)
Enrolled students receive 30-day access to the video recordings of the classes.
What's in Your 2020 Writing Folder?
Students can connect to the online platform using a tablet or computer with reliable internet. To actively participate online students also need a webcam with microphone. Class enrollments may be cancelled for full refund up to five days before the class start date.
Dana has been a Folk School instructor since 2004. Her most recent collection of poems is One Light, Texas Review Press. Her environmental memoir, "Back to Abnormal: Surviving with an Old Farm in the New South," was finalist for Georgia Author of the Year. She is also the author of five additional collections of poetry, including "Christmas in Bethlehem." Her newest collection of poems, "One Light," is a memoir in poetry. Dana has served as artist-in-residence for Grand Canyon National Park and Everglades National Park; as writer-in-residence for the Island Institute in Sitka, Alaska; and she is a fellow of the Hambidge Center for Creative Arts and Sciences. She teaches English Literacy thro...
About the John C. Campbell Folk School & Lessonface
For 95 years, the Folk School has transformed lives, and brought people together in a nurturing environment for experiences in learning and community life that spark self-discovery. Since 2013, Lessonface has connected more than 10,000 students with over 1800 great teachers for live music, language, and arts lessons online, delivering on our mission to help students achieve their goals while treating teachers equitably.