Help and FAQ
Contact Us
You can contact Lessonface using any of the methods below. We will respond as quickly as we are able.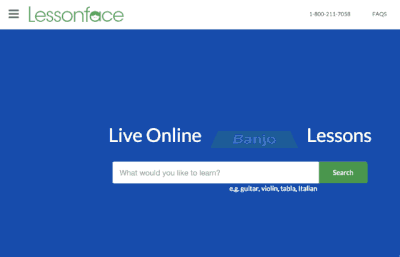 Leave a message using the blue question mark bubble on the green left-hand menu (see above).
Leave a voicemail at 800-211-7058 or 718-577-2100.
Send a text message (SMS) to one of the numbers above.
Send an email to support@lessonface.com
Report an issue here.
---
What to Expect from Lessonface
Since 2012, Lessonface has offered live online one-on-one lessons and group classes with the best teachers. We are now working with over 2,500 vetted teachers for music, languages, and arts, hosting bi-annual recitals and quarterly open-mics, and continuously adding more features that our students and teachers tell us they would like.
Find your ideal teacher using our search tools or by filling out a match request.
Lesson and class fees are clearly displayed, and include the other features mentioned here. Securely book and pay for your lessons with a credit card or Paypal.
Choose whether to book lessons one at a time, or in packages or subscriptions to save.
Schedule lessons in your own time zone. Times are converted automatically for your teacher to their region.
Get lesson reminders with links to join, or access your lessons from your Lessonface Dashboard.
Send and receive messages from your teacher(s) via your Dashboard and reply by email.
Meet securely via Zoom.
Keep Lesson Notes on your lessons, or, using our Beta, in your Journal.
Easily access portions of your lessons that are recorded from the Past Lessons or Journal.
Track Goals and Assignments (in Beta.)
View lesson reviews from verified students; write reviews of lessons you take.
Enjoy our guarantee. Let us know within two business days of an unsatisfactory lesson and we will refund it.
Why Choose Lessonface
Enjoy interacting with the best teachers around! A key aspect of our mission is to treat teachers equitably, but you don't have to take our word for it - see why the LA Times says Lessonface is the best site for teachers, and why the best teachers choose to host their lessons at Lessonface.
Lessonface provides a friendly platform that welcomes learners of all ages and levels, is easy to use, and has reliably operated for over 10 years, continuously improving with new features that make online lessons enjoyable and effective.
Lessonface is kid-friendly and COPPA compliant.
Lessonface has vigorously protected the privacy of our students, teachers, and other users since launch, and will continue to do so. We do not sell your personal information. We do not share your image, video, or audio without your express permission.
We are a lean team with an audacious dream: to connect curious students with their ideal instructor, wherever they are in the world, inspiring expertise, enrichment, and joy. We are staying lean so the vast majority of your tuition can go to your teacher. Read more about the story and staff.
Extra Features
Switch to our updated interface, Lessonface Beta, to set goals, create assignments, keep a lesson journal, and access the latest features on Lessonface.
The Recording Studio, where you can record duets or multi-part performances with your teacher during or beyond your live lessons.
Ask questions, search information, and share your knowledge with Lessonface peers and teachers in our discussion forum.
Group class discussions (new in 2023) enable the conversation to keep going outside of the live Zoom meetings.
---
Lessonface Frequently Asked Questions:
General
Community and Features
Students
Teachers
---
General
How do I coordinate my time zones to schedule through Lessonface?
Lessonface translates all the schedules you will see on the site into your local time. This is why it is important to check your time zone when you register as a Lessonface user. The times that you see in a teacher's calendar are their availability in your time zone. You do not need to convert those times further.
If you travel and want to view your schedule in a different time zone, go to Settings > Site, and you can adjust the time zone in your account.
---
How is payment handled through Lessonface?
Lessonface accepts major credit cards and Paypal for payment. Payment for lessons occurs at the time of booking. Many teachers offer discounts for booking multiple lessons and other promotions for loyal and new students. Lessonface also offers a subscription option for students who want to ensure they hold onto their regular booking time (further described below). In all cases, teachers receive payment after the lesson has occurred. 
We have a money-back guarantee for all lessons. If you are unhappy with your lesson, let us know within two days of attending the lesson, and we will fully refund the lesson fee.
---
How much does it cost to take lessons on Lessonface?
Lesson fees are set by teachers, and range from $10 per 30 minute lesson on up. Teachers' fees are displayed on their teaching page. Discounts may be available. The discounts available will be listed on the teacher's profile and checkout page. 
---
Can I book just one lesson?
Yes, though most students on Lessonface take many more than one! You can book lessons one at a time, or in bundles of 5, 10, 20, or by 'subscription.' It's your option as the student.
---
Is there a trial period?
Some teachers offer trial lessons and others do not. If the teacher does offer a trial lesson, there will be a button on his/her profile that says "Book Trial." To book a trial lesson, choose the duration that is listed as costing $0.00, choose a time and date that works for you, and confirm. Only one trial lesson per teacher, please, and remember that if you book a trial lesson, a real, live, experienced professional will be waiting for you on the platform at the scheduled time. Please respect the teacher's time, and only book a trial lesson if you are serious about attending it. If you accidentally book a trial and would like to cancel, you can do so from your Lesson Schedule.
---
What does it mean to subscribe to lessons on Lessonface?
When you book a private lesson on Lessonface, you will see options to book one lesson, multiple lessons (5, 10, 20), or to "subscribe." Subscribing enables you to keep your regular weekly or biweekly (every other week) lesson time on your teacher's schedule. When you first subscribe, you'll pay for the first month's set of lessons. While the subscription is ongoing, three months of lessons will be visible in your schedule (most of which are not yet paid), and those will be marked as "subscribed." Three days before the end of each month, you'll be charged for any lessons that are set up for the next month, less any credits that you have in your account. You will receive an email notification that will itemize the upcoming month's lessons. Subscribed lessons, like other lessons on Lessonface, may be rescheduled with at least 24 hours notice to the teacher. Manage individual lessons in your subscriptions from your lessons page. Check the upcoming payment amount or cancel the subscription by going to your Subscriptions page. Please note: Paypal payments are not an option for subscriptions. Learn more about subscriptions and booking options here.
---
Can I test out the video conference ahead of time?
Yes. Lessonface offers Zoom video conferencing, built into our platform for ease and security. You get a unique join link for each lesson by email and by logging into Lessonface and clicking the lesson on your dashboard. You can test ahead of time by registering as a student or teacher (totally free, and takes about 30 seconds) and going to your video test room, which can be found under the circle icon on the top right (highlighted in the screengrab to the right). Students who strongly prefer other video conference systems: let your teacher know your preference, and go for it. Read more about how to video chat.
---
Are group lessons available?
Yes, click here to see the schedule of group and master lessons that are currently taking enrollments.
---
How long is each lesson?
Teachers choose the durations that they want to offer. Most teachers offer 30, 45, and 60 minute lessons. Some also offer 15 and 90 min options. You can see the durations offered under "Lesson Duration (minutes)" on the teacher booking page. You can also use the filter to choose teachers who offer particular durations.
---
What is the cancellation and rescheduling policy for lessons?
Lessons must be canceled or rescheduled with at least 24 hours notice to the teacher prior to the lesson time. More notice is always appreciated. To reschedule a lesson, go to the Lessons column in the Dashboard and click View All. Your upcoming lessons will be displayed in chronological order, and can be rescheduled by clicking on the lesson. If you need to cancel a lesson, the teachers always appreciate a message from you with a brief explanation, if possible.
---
How does lesson unscheduling work?
Lessons on Lessonface can be unscheduled. When a lesson is unscheduled, it will show on your lesson schedule with a "Schedule Pending" banner next to it. Any user can click on a schedule pending lesson to schedule it at any time, with the exception of teachers that don't have open availability slots and are responsible for handling their lesson scheduling themselves.
Here are a couple of examples of when we recommend using the lesson unscheduling feature:
• You are a student and you are looking to take a short break from your lessons, but don't want to cancel them altogether;
• A previously scheduled lesson didn't take place for some reason and the teacher wants to let the student choose a new time for the lesson.
When a lesson is canceled, credits for the lesson go back automatically to the student's account. The student needs to go through the checkout process to reconfirm the lesson if they wish to do so. Unscheduling allows the lesson to remain confirmed, without the need for the student to go through check-out again.
As part of our 24-hour cancellation policy, students are only able to unschedule lessons up to 24 hours before the lesson time.
You can view your "Schedule Pending" lessons by clicking the dropdown menu on the lesson schedule and switching to "Schedule Pending". Check out the screenshot below.
---
How can I delete my account?
Send us a note to support@lessonface.com or message us in the chat field, and we will delete your Lessonface account within a day.
---
How does lesson recording work?
Lessons can be recorded for later review. Recording must be initiated by the teacher each time. If you want your lessons to be recorded, discuss this with your teacher. When recording is activated, you will see "Recording" on the screen with a blinking red circle.
Multiple segments of the lesson can be recorded by starting and stopping, or a whole lesson can be recorded by just clicking once in the beginning of the lesson.  The recording process automatically stops when the meeting ends, and the video file is automatically attached to the lesson after 2-3 hours. You can find the video file(s) by going to the individual lesson, under the "Recordings" 

tab. You will receive an email with the subject line "Lesson Updated" once the recording has been attached to your lesson and is ready to watch.
Recordings should attach to your lesson automatically. If an expected recording does not show up, or if a recording does not play properly, contact support@lessonface.com. We can only recover recordings that were initiated in the lesson, so make sure your teacher does click the record button and you see the red button pop up in your video stream if you would like a recording of the lesson.
We care about user privacy. Teachers and students can disable the recording feature entirely by going to Account (in the Profile submenu) on the green menu on the left-hand side. Once there, choose "Do not allow my lessons to be recorded for later review" on the "Site" tab. With that checkbox marked, the teacher won't have access to the "Record" button on the Zoom interface.
---
Are there gift certificates on Lessonface?
Yes, you can create a gift certificate of any amount on Lessonface here.

---
Community and Features
How can I get to know my fellow Lessonfacers?
There are lots of ways to get involved with the Lessonface community! Students of all ages are encouraged to play in recitals and open mics. Teachers are also welcome to play in open mics. Students, teachers, friends, and family of Lessonfacers may attend these events as audience members to encourage performers.
Social learners will enjoy meeting students around the world in our group classes. Ask questions and discuss topics of interest with your teachers and peers in the Lessonface forum. We also offer specialized group activities such as MET Orchestra Master Classes, classes in visual and other arts through the John C. Campbell Folk School, and Loog Guitar classes for young rockstars.

---
What other learning resources does Lessonface offer?
Lessonface offers a built-in recording studio (more below) where you can record yourself and collaborate on projects with your peers and teachers. You can find free sheet music, flash cards, and other useful features on our Free Learning Tools page. From your student dashboard, you can set goals, create assignments, and keep a journal of your progress in lessons. You can keep up with the latest Lessonface news and information for students here.

---
What is the Recording Studio?
The Lessonface Recording Studio enables teachers and students to collaborate to build multi-part mixes together. Students can create duet and trio mixes by themselves. Video mixes can be exported to share with friends or upload to YouTube. Teachers can record duets with their students live in lessons or create backing tracks for practice between lessons. Multiple students can be invited to a session to create virtual chamber ensembles. Access the recording studio here or on the left hand menu of your dashboard under the heading 'More'.
---
Can I use my camera in Zoom and the Recording Studio at the same time in Windows?
On computers with Windows, a camera device can only be used by one application at a time. If you use the camera in Zoom, it will prevent use of the camera in Recording Studio, and vice versa. To record video in Recording Studio while in a Zoom call, you can first turn off your camera in Zoom and then restart the Recording Studio application. To re-enable your camera in Zoom, first close the Recording Studio window and then turn on your camera in Zoom.
If you need to be able to use your camera in both applications at the same time, you can install a separate free application called SplitCam that acts as a virtual camera device. It works by first starting SplitCam so that SplitCam is the only application using the camera. Then in your other applications, you choose the SplitCam camera device instead of your normal camera device.
---
How does the timing slider for each track in the Recording Studio work?
When recording, there are always small delays involved between when our microphones pick up our sound and when that audio gets processed. If you find that your recordings always seem to play back early or late, you can adjust the timing slider to make the track play back Earlier or Later. When you make a change to your track, additional recordings you make will remember your setting and apply it.
---
Can videos made from the Recording Studio be converted to a different format?
The Recording Studio outputs video files using the WebM format. You may find that this format doesn't play in all players or browsers. The free cloudconvert web service can be used to convert the file to MP4.
---
Students
How do I start my lesson?
You will receive a reminder email 24 hours before your lesson start time that will contain a unique link to the session. You can use that link to join the lesson, or you can log into your Lessonface account and use the "Join" button that will appear 30 minutes before the lesson start time.
---
Will I get a refund if there was bad Internet connection and I was unable to have a successful lesson?
Yes, if it's your first lesson and you have a bad experience for any reason, we will refund your money. Let us know within two business days of attending the lesson unsuccessfully. We do encourage you to test your set-up before your first lesson, so that you won't spend lesson time addressing connectivity problems. When technical problems do arise during a lesson, teachers are typically very willing to reschedule and try again. The goal is to get you connected and learning, but if it's not possible, you will get your money back. 
---
How do I pay my teacher on Lessonface?
With a major credit card or Paypal account. Sign into Lessonface (or register if you have not already), go to the teacher's profile, choose the lesson booking options, and then go through the check-out process. The teacher is paid after the lesson has been successfully completed.
---
What equipment do I need to take a lesson on Lessonface?
You will need a computer or tablet with webcam that is connected to reliable high-speed Internet, and your instrument. It's a good idea to have a notebook and water handy as well so you don't have to spend lesson time getting them if they are needed. Click for more on how to video chat for your music lessons.
---
How do I choose a teacher on Lessonface?
Go to Find Your Teacher and use the search criteria to find the teachers best matched to your instrument, skill level, price range and availability. If you are interested in a particular teacher but would like to learn more about his/her approach prior to booking a lesson, feel free to send him/her a message. Furthermore, many teachers offer a free trial lesson—you will notice a "Book Trial" button on their profile page. Trial lessons are a great way to suss out your fit with a certain teacher without making a financial commitment. 
If you would prefer that teachers reach out to you instead of the other way around, describe what you are looking to learn here, and qualified teachers will be in touch.
---
How can I communicate with my teacher on Lessonface other than via video chat?
You can send any teacher on the site a message by going to their profile and entering a message in the message field on the bottom left hand side of the page.
---
How do I reschedule a lesson?
Log into your account and first go to Dashboard and then My Lessons. Next to your scheduled lessons, there will be a button that says "Scheduled." If you click on it, you will see the option "Reschedule." Choosing "Reschedule" will take you to the teacher's calendar where you can choose a time to reschedule. If you need to reschedule a lesson, please do so at least 24 hours before the scheduled lesson time so that your teacher will not be inconvenienced. It is also recommended that you send a short message to your teacher explaining the circumstances behind the rescheduling.
---
Teachers
How do I register as a teacher?
Click the "Sign Up" button at the top right hand side of the page, use your email address to register (not one of the social accounts options) and choose the "I'm a teacher" option to start the teacher application. 
---
More resources: