Lampworking Potpourri - Part Two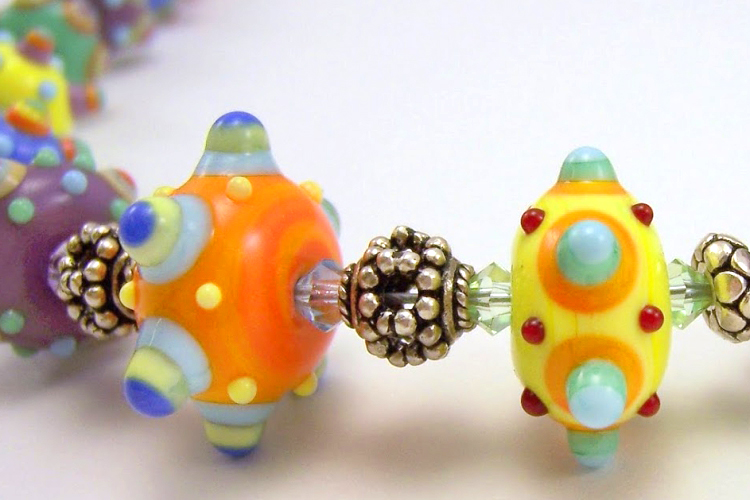 Lampworking Potpourri - Part Two with Terry Hale and Marjorie Langston
This 4-day class will focus heavily on enhancing and "jumpstarting" creativity and will also cover a variety of intermediate to advanced glass beadmaking and lampworking skills including refining bead shapes and tips for correcting common mistakes, making and using specialty cane, stringer and murrini, florals, encasing, several sculptural elements and lots more. Prior experience torch working glass is required. Class will meet daily Monday through Thursday from 10:00 a.m. - 12:30 p.m. Eastern time for demonstrations. During the afternoon students will go to their own studios to practice the skills demonstrated that morning. Instructors will be available for additional help and questions during the afternoon. Class will re-convene each evening from 6:00-7:00 p.m. to discuss and share their daily work. It is helpful, but not required, for students to have their own equipment (or access to a studio). Class and evening sessions will be recorded and available for viewing later.
The capacity for this class is 12 students. This class is presented in collaboration with the John C. Campbell Folk School. There will be an optional Orientation and Closing Ceremony hosted from the Folk School campus that students can attend online.
---
Class Materials Needed
An assortment of transparent and opaque glass rods. You might want to include ivory, intense black and carnelian. We will be using COE 104 but COE 90 or 96 will work also.
An assortment of frits compatible with your glass
3/32 " mandrels
At least six 1/4" hollow mandrels
At least six 3/32" or medium Puffy mandrels. These can be purchased from arrowsprings.com
Silver leaf or foil
Skill Level
Advanced beginner to intermediate (some torch experience preferred)
About the John C. Campbell Folk School & Lessonface
For 96 years, the John C. Campbell Folk School in Brasstown, North Carolina has transformed lives, and brought people together in a nurturing environment for experiences in learning and community life that spark self-discovery. Since 2012, Lessonface has connected more than 30,000 students with over 2,000 great teachers for live music, language, and arts lessons online, delivering on our mission to help students achieve their goals while treating teachers equitably.
---
When
The class will meet for four days on the dates below. Each day starts with a 2.5-hour live demonstration session at 10 am ET | 7 am PT | 14:00 UTC and meets again for a 60-min check in at 6 pm ET | 3 pm PT | 22:00 UTC. The first session is on May 22.
(Convert to my time zone)
Enrolled students receive 30-day access to the video recordings of the classes.
Lampworking Potpourri - Part Two
How It Works
Enroll above to save your spot in the class. Lessonface will send you a confirmation right away, and a Zoom link 24 hours before the class start time. You can log into your Lessonface dashboard to access class materials, communicate with your instructor, join the live Zoom session, and access the class recordings and chat transcript afterward. Class enrollments may be cancelled for full refund up to five days before the class start date, with the exception of the materials kit fees which are non-refundable.
In 2003, I took my first glass beadmaking class with Marjorie Langston, having no idea that it would change my life. I fell in love with the art form immediately, both the beauty of the work as well as the technical aspects. I was fortunate to be introduced to a huge circle of amazing glass artists and to have the chance to learn with them. In 2004 I was invited to assist Marjorie in teaching at John C. Campbell Folk School, later teach my own classes there, and eventually Marjorie and I began co-teaching regular classes. Since then, we've taught several times during the Craftsummer program at Miami University in Ohio, hosted bi-annual glass artist retreats, and have taught many times at E...
I am a long time educator with more than 40 years of teaching experience including  21 years teaching glass beadmaking.  The process of creating glass beads is magical and even after all these years, it is so satisfying to witness a student's "got it" moment.  After working with stained glass, some furnace glass blowing and years of creating handcrafted kaleidoscopes, I stumbled upon glass beadmaking in the early 1990's and have been addicted ever since.
I have taught more than 40 classes, on all skill levels, at the John C. Campbell Folk School.  In addition to teaching many classes in my private studio I have also taught for credit classes at Miami University in Ohio, the Appalac...
---
Students Say
⭐⭐⭐⭐⭐
Donna M. on August 20, 2021

absolutely awesome
---
⭐⭐⭐⭐⭐
Martha F.
on August 20, 2021
WOW! Marjorie and Terry are extraordinary teaching partners who offered us the opportunity to improve our artistic skills and expand our creativity. Class participants observed these two multitalented glass artists making fabulous beads by thinking "out of the box". We then had time to try out their many exciting glass techniques and tips in our own studios. It was fun to rejoin the class online for "show & tell" and share individual experiences melting glass. This is a class that may forever change the way you make glass beads!
---
⭐⭐⭐⭐⭐
Susan O.
on August 19, 2021
So much fun and taught me so many skills! Great pace, loved the morning demo and evening check in format. Having the supply list in advance was perfect. Terrific x 100
---
⭐⭐⭐⭐⭐
Lynn S.
on August 19, 2021
Fabulous, Awesome, Wonderful!!! I always learn SO much from Terry and Marjorie, and have a great time. Can't wait till the next class with them! And thank you all at Lessonface for all the work you do to make this possible.
---
⭐⭐⭐⭐⭐
Vicky T.
on August 19, 2021
Wonderful, Awesome and FUN!!!
---
⭐⭐⭐⭐⭐
Margo K.
on August 19, 2021
Awesome!
---
⭐⭐⭐⭐⭐
Jo B.
on August 18, 2021
Informative, fun, easy to rewatch videos, and a good mix of demonstrating , and analysis afterward. Terry and Marjorie are excellent ambassadors for lessonface.