Let's Look at Design for Fiber Art!
About Let's Look at Design for Fiber Art!
Do you find designing your next tapestry or other pictorial fiber techniques to be a challenge? Explore design basics through exercises with paper using elements of line, shape, texture, and color. Discover ways the elements can come together with balance, movement and emphasis, and variety.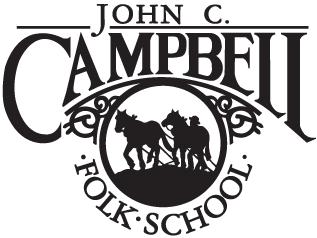 Discuss how these design ideas could be put to use with your future fiber artwork. Classes will meet at 10AM, for 2hrs with a 15 min break. Break out groups will be arranged with the instructor for 2PM each day.
This class is presented in collaboration with the John C. Campbell Folk School & is limited to 24 students. There will be an optional Orientation and Closing Ceremony hosted from the Folk School campus that students can attend online.
---
Class Materials Needed
Drawing paper, card stock in white, gray, and black, assorted colors of papers (scrapbooking papers are good for this), an assortment of colored photos torn from magazines or advertising flyers, scissors for cutting paper, brushes in two or three sizes (inexpensive ones are just fine), acrylic paint in black and white, watercolor pencils, glue stick or double-stick tape, ruler with metal edge, pencil, tracing paper, sharpie marker or micron pen, crayons. Also useful would be a cutting mat and X-Acto knife. If you want to try things on your loom, use any of your preferred warp and wefts. My suggestion would be to work small, maybe 4 or 5" in width so that you can quickly put some of the design explorations into use. Later you can plan and design something larger for your weaving.
Skill Level
Beginner to Intermediate.

---
When
The class will meet for five days on the dates below. Each day starts with a 120-minute live demonstration session at 10 am ET | 7 am PT | 15:00 UTC with a 15 minute break and will offer small group meetings starting at 2 pm ET. After the small group meetings, the class moves into a 60-min check-in at 3 pm ET | 12 pm PT | 20:00 UTC. The first session is on March 8.
(Convert to my time zone)
Enrolled students receive 30-day access to the video recordings of the classes.
How It Works
Students can connect to the online platform using a tablet or computer with reliable internet. To actively participate online students also need a webcam with microphone. Class enrollments may be cancelled for full refund up to five days before the class start date.
Professor emerita, University of North Georgia, Dahlonega, GA. In the past twenty years I've taught in many short workshops and classes for art/craft schools, including Arrowmont, John C. Campbell Folk School, and Penland.
About the John C. Campbell Folk School & Lessonface
For 95 years, the Folk School has transformed lives, and brought people together in a nurturing environment for experiences in learning and community life that spark self-discovery. Since 2013, Lessonface has connected more than 10,000 students with over 1800 great teachers for live music, language, and arts lessons online, delivering on our mission to help students achieve their goals while treating teachers equitably.