Playful Freeform Embroidery
About Playful Freeform Embroidery
Learn all the basic stitches you need, and discover freeform embroidery with thread and yarn. Be inspired by traditional styles and the world around you. Sample different techniques and materials, and learn tips for planning and transferring designs. Come ready to experiment, have fun, and begin to develop your own personal style. Leave with plenty of ideas to help you add unique stitching to your next project.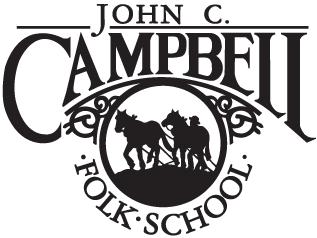 This class is presented in collaboration with the John C. Campbell Folk School & is limited to 10 students. There will be an optional Orientation and Closing Ceremony hosted from the Folk School campus that students can attend online.
---
Class Materials Needed
The materials for this class are flexible, and I hope that you can mostly use things you already have, or that are easy to find. You will need some yarn and/or embroidery floss, fabric to stitch on, hand sewing needles, and a few other notions. I will share specific suggestions with everyone who registers for the class.
Skill Level
All levels welcome

---
When
The class will meet on Saturday and Sunday for 90-min at 11 am ET | 8 am PT | 16:00 UTC with a 30 minute check in at 6 pm ET | 3 pm PT | 23:00 UTC on the dates below.
(Convert to my time zone)
Enrolled students receive 30-day access to the video recordings of the classes.
Playful Freeform Embroidery
How It Works
Students can connect to the online platform using a tablet or computer with reliable internet. To actively participate online students also need a webcam with microphone. Class enrollments may be cancelled for full refund up to five days before the class start date.
Tasha grew up in a family of makers and tinkerers and has been drawn to textiles of all kinds since she was very small. She is driven by the belief that making things by hand empowers people to live more joyfully and thoughtfully. In her classes, she works to build deep understanding through hands-on experimentation in a warm and inspiring environment. Tasha teaches at folk schools and fiber arts events nationally and writes for magazines including Taproot and PLY. She also shares free tutorials on her website.
About the John C. Campbell Folk School & Lessonface
For 95 years, the Folk School has transformed lives, and brought people together in a nurturing environment for experiences in learning and community life that spark self-discovery. Since 2013, Lessonface has connected more than 10,000 students with over 1800 great teachers for live music, language, and arts lessons online, delivering on our mission to help students achieve their goals while treating teachers equitably.