Tapestry Design Basics - Explore Inspiration, Ideas, and Methods for Weaving
Tapestry Design Basics - Explore Inspiration, Ideas, and Methods for Weaving with Tommye Scanlin
Explore avenues for using the principles of design as you plan tapestries. Learn how basic elements of line, shape, color, and texture are used in tapestry techniques. Delve into inspirations and ideas meaningful to you to develop cartoons for weaving.
Materials may be found a most hobby or art/craft shops. A list of suggested supplies will be provided after registration.
The capacity for this class is 15 students. This class is presented in collaboration with the John C. Campbell Folk School. There will be an optional Orientation and Closing Ceremony hosted from the Folk School campus that students can attend online.
Skill Level
Beginner/Intermediate
About the John C. Campbell Folk School & Lessonface
For 96 years, the John C. Campbell Folk School in Brasstown, North Carolina has transformed lives, and brought people together in a nurturing environment for experiences in learning and community life that spark self-discovery. Since 2012, Lessonface has connected more than 30,000 students with over 2,000 great teachers for live music, language, and arts lessons online, delivering on our mission to help students achieve their goals while treating teachers equitably.
---
When
The class will meet for two weekly 120-min live online sessions on Saturdays at 11 am ET | 8 am PT | 16:00 UTC on the schedule below. The first session is on February 11.
(Convert to my time zone)
Enrolled students receive 30-day access to the video recordings of the classes.
Tapestry Design Basics - Explore Inspiration, Ideas, and Methods for Weaving
How It Works
Enroll above to save your spot in the class. Lessonface will send you a confirmation right away, and a Zoom link 24 hours before the class start time. You can log into your Lessonface dashboard to access class materials, communicate with your instructor, join the live Zoom session, and access the class recordings and chat transcript afterward. Class enrollments may be cancelled for full refund up to five days before the class start date, with the exception of the materials kit fees which are non-refundable.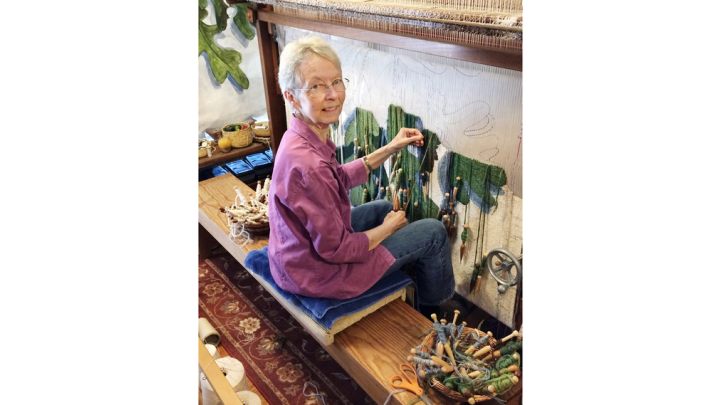 Professor emerita, University of North Georgia, Dahlonega, GA. In the past twenty years I've taught in many short workshops and classes for art/craft schools, including Arrowmont, John C. Campbell Folk School, and Penland.