Watercolors Made Easy!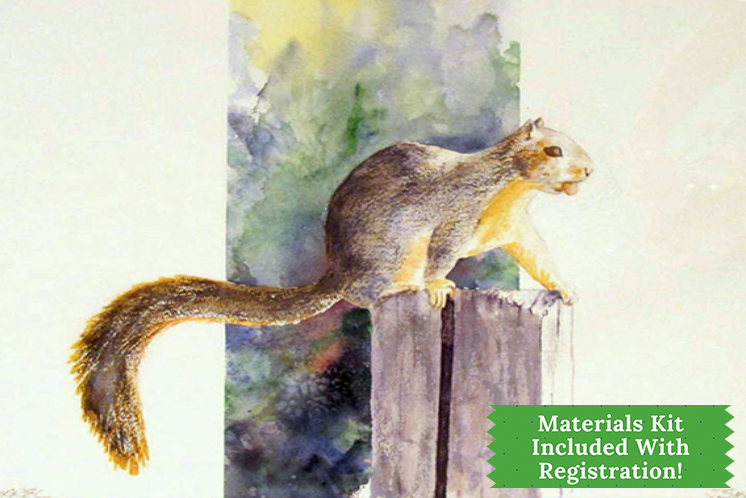 Watercolors Made Easy! with Joe Synan
Watercolors are not difficult!
This carefully designed class will allow all participants to become comfortable creating watercolor paintings of various subjects and sizes, using a variety of painting methods.
The class will explore background washes, color contrasts and complements, light and dark emphasis, masking, foreground and background structure, overall composition, and how the eye and mind see art.
Participants will produce many watercolor paintings to examine and refine their understanding of the "best practices" of watercolor painting.
This class is presented in collaboration with John C. Campbell Folk School and Lessonface. Class capacity is 18 students. Registration closes on November 24, 2023. Students are invited to attend a large group Orientation and Closing Ceremony to connect with various classes online.
---
Class Materials
Your class registration fee includes a materials kit with a value of $50 shipped to your door. Residents outside the USA will pay the difference in shipping.
The kit includes:
1. PAPER: It is important that students, especially beginners, start with high-quality paper.
-40 sheets 5X7 high quality watercolor paper (Arches 140 pounds)
-2 sheets 8X10 high quality watercolor paper (Arches 140 pounds)
2. MATS: After a painting is matted, it looks much more finished.
-20 white pre cut archival mats, 8X10 with opening 4.5X6.5
Students will also want to provide:
Watercolor paints (at least one red, one yellow, and one blue color). Almost any quality of watercolor paints will do.
A small number and variety of watercolor paint brushes. Almost any quality of paint brushes will do.
Household items: paper towels, facial tissue, masking tape, pen and pencil and eraser, drinking straws, credit card, plastic container for water.
A simple pallette for mixing the colors. A porcelain plate would be sufficient.
Skill Level
Beginner/Intermediate
About the John C. Campbell Folk School & Lessonface
Since 1925, the John C. Campbell Folk School in Brasstown, North Carolina has transformed lives, and brought people together in a nurturing environment for experiences in learning and community life that spark self-discovery. Since 2012, Lessonface has connected more than 30,000 students with over 2,000 great teachers for live music, language, and arts lessons online, delivering on our mission to help students achieve their goals while treating teachers equitably.
---
When
The class will meet for five days on the dates below. Each day starts with a 120-minute live demonstration session at 10 am ET | 7 am PT | 15:00 UTC and meets again for a 60-min check in at 6 pm ET | 3 pm PT | 23:00 UTC. The first session is on December 4.
One on one ZOOM sessions can be scheduled with instructor during each day.
Enrolled students receive 30-day access to the video recordings of the classes.
How It Works
Enroll above to save your spot in the class. Lessonface will send you a confirmation right away, and a Zoom link 24 hours before the class start time. You can log into your Lessonface dashboard to access class materials, communicate with your instructor, join the live Zoom session, and access the class recordings and chat transcript afterward.
Refund Policy: To cancel an enrollment or request a refund, contact support@lessonface.com. For 30+ days before, we refund 95%. Between 30 and 5 days, receive a 75% refund. No refunds within 5 days of class start date. Materials kit fees are non-refundable.
---
Students Say
⭐⭐⭐⭐⭐
Verified Student on March 2, 2021

It was so informative and fun.
---
⭐⭐⭐⭐⭐
Charlene H.
on March 9, 2021
Joe was a great teacher. The pace of the class was just right and there were plenty of ways to ask questions. The materials he sent each of us ahead of time were very helpful.
---
⭐⭐⭐⭐⭐
Rhona S.
on March 2, 2021
Very good.
---
⭐⭐⭐⭐½
Mary A.
on March 2, 2021
Great. Excellent content and demonstrations. Lots of positive reinforcement, encouragement by instructor.
---
⭐⭐⭐⭐
John L.
on March 4, 2021
I had fun during the week. If not for my other hobbies, I might continue on with watercolors.
---
Verified Student
on March 2, 2021
I enjoyed playing with paint and getting one on one time with instructor. If I can't be there in person, this is the next best thing.
---
⭐⭐⭐⭐⭐
Art S.
on March 2, 2021
It was more than I hoped for and I really enjoyed every minute. I was able to learn and practice so many new skills. Joe Synan's method and his patient demeanor made me feel very confident.
---
⭐⭐⭐⭐⭐
Debby M.
on March 2, 2021
Excellent. Instructor positive, available, knew his method, supportive in every way. Every effort was made by Lessonface to support the platform and help everyone to be a part of the experience. Can't say enough about the level of excellence in that way beyond just the technology.
---
⭐⭐⭐⭐⭐
Lynne H.
on March 3, 2021
Absolutely wonderful! Joe taught a great class and I learned a lot. He encouraged us to find our own creativity and also promoted a positive attitude.
---
⭐⭐⭐⭐½
susan e.
on March 2, 2021
---
⭐⭐⭐⭐⭐
Allene K.
on March 2, 2021
My instructor was knowledgeable and helpful. We accomplished much within our time. It was a rewarding experience!
---
Barb H.
on March 2, 2021
Fine
---
⭐⭐⭐⭐⭐
Mandy W.
on March 2, 2021
I work during the day so I cannot take another workshop. However, the class was fun and defintently worth the money. I loved it!
---