Hand Spun, Hand Knit: Fair Isle
About Hand Spun, Hand Knit: Fair Isle
Start with a naturally dyed fleece palette from common and historic renewable dye sources and combine with natural Shetland shades for blends to spin and knit. Produce an array of heather and multicolor yarns, then design Fair Isle-inspired, stranded knitting.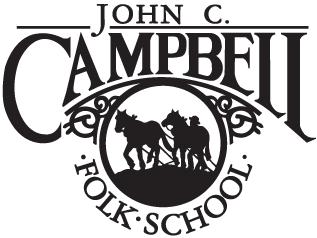 Study wheel adjustment, combing, carding, color blending, plying, and more! Compare ethnicities of stranded knitting and explore yarn design and fabric finishing to see how it changes fabric character. This class will be taught from the Folk School Campus, offering an opportunity for an immersive folk school experience. And all the fleece comes from Martha's Sheep! Registration for this class ends February 12th, 2021.
This class is presented in collaboration with the John C. Campbell Folk School & is limited to 12 students. There will be an optional Orientation and Closing Ceremony hosted from the Folk School campus that students can attend online. Class enrollment may be canceled for a full refund up to five days before the class start date, with the exception of the non-refundable materials kit fee.
---
Class Materials Needed
Materials fee is $55, which is included in the price of the class. Materials will be mailed prior to the class. Martha will provide: Home grown Shetland fleece shades and assorted naturally dyed colors, graph paper, handouts.
Students must have: A spinning wheel in workable condition, extra bobbins, maintenance tools and oil bottle. (Hand spindles work too.) Make sure your wheel likes to spin fine yarn. A Louet can also work. Your special spinning chair, hand cards and/or drum carder, nostepinne (ball winder), baby oil and small spray bottle, hand combs or a hair comb, card stock for wrapping samples, favorite photos or postcards for color inspiration, notebook for note taking, tape for securing samples, T pins, wet towel, iron and ironing board, Knitting needles for circular knitting (dpn or long enough for magic loop) sizes 3-8, Tea cup and favorite tea.
Skill Level
For ambitious spinsters able to happily spin a continuous yarn with any spinning style; beyond beginner to advanced skills in knitting requested. This class will not cover basic instruction in spinning or knitting.
---
When
The class will meet for five days on the dates below. Each day starts with a 90-minute live demonstration session at 10 am ET | 7 am PT | 15:00 UTC and meets again for a 30-min check in at 6 pm ET | 3 pm PT | 23:00 UTC. The first session is on February 22.
(Convert to my time zone)
Enrolled students receive 30-day access to the video recordings of the classes.
Hand Spun, Hand Knit: Fair Isle
How It Works
Students can connect to the online platform using a tablet or computer with reliable internet. To actively participate online students also need a webcam with microphone. Class enrollments may be cancelled for full refund up to five days before the class start date.
Martha Owen is an artisan/shepherd and resident artist at the John C Campbell Folkschool (www.folkschool.org) in Brasstown, NC. She oversees classes in spinning/knitting,crochet/feltmaking /surface design and dyeing. Her adventure in spinning began here in 1978.  By 1980 her extended family included sheep (mostly Corriedale, Shetland, Romney, Blue Faced Leicester), Great Pyrenees Guardians, Border Collies and Angora rabbits (French).  A banjo player known to tell a story or two, Martha's interest in sheep and wool, music and dance has carried her quite literally and joyfully around the world.   She reads historical fiction for knitting references and "steals" ideas and runs movies back to...
About the John C. Campbell Folk School & Lessonface
For 95 years, the Folk School has transformed lives, and brought people together in a nurturing environment for experiences in learning and community life that spark self-discovery. Since 2013, Lessonface has connected more than 10,000 students with over 1800 great teachers for live music, language, and arts lessons online, delivering on our mission to help students achieve their goals while treating teachers equitably.