Hand-Woven Chair Caning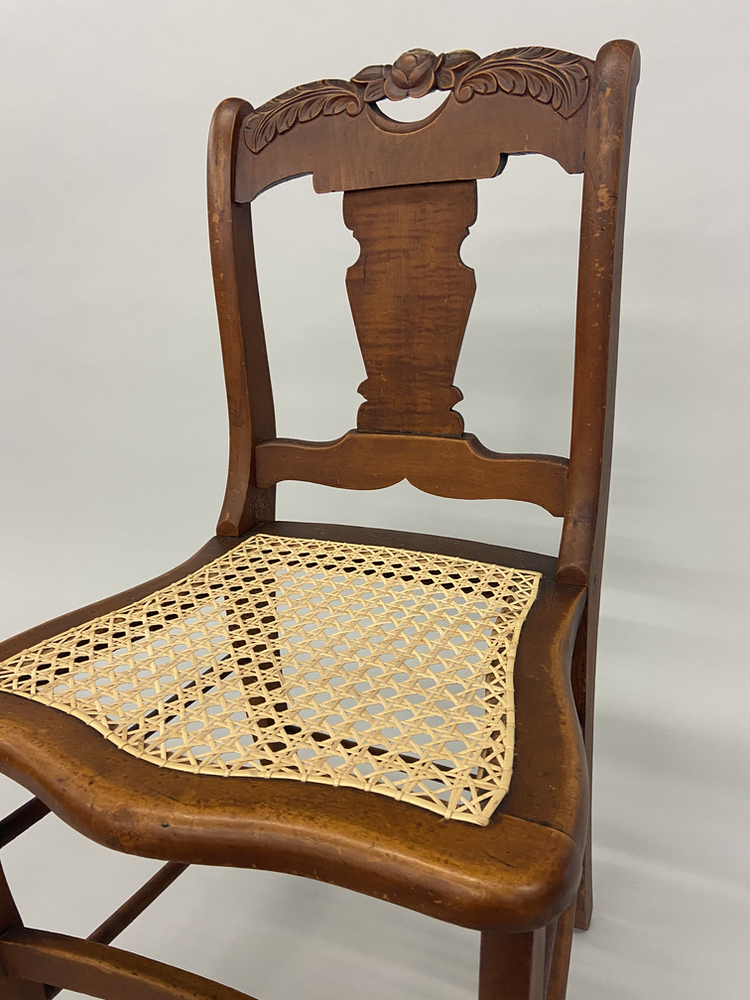 Hand-Woven Chair Caning with Brandy Clements and David Klingler
Learn traditional hand-woven chair caning, an ancient and global craft that is currently trending like crazy. Students will learn the 6-way pattern on chairs with holes drilled into the perimeter of the seat frame. With invaluable tips and tricks this class is great for beginners or those with experience who want to improve their skills. Common structural issues and how to repair them will be included. At the end of class, students will have a functional piece of art, a family heirloom restored, or a new skill for which to create a cottage business or a hobby. Information on other patterns, history of chair caning, and chair caning business practices are included. Tool kits are an optional purchase and include helpful specialized tools to enhance the weaving experience.
Watch these short videos before the first class for assistance with chair preparation, structural work, and measuring the chair for appropriate size:
Please email photos of the chair you wish to weave to the instructors for approval. SilverRiverChairs@gmail.com
The capacity for this class is 15 students. This class is presented in collaboration with the John C. Campbell Folk School. There will be an optional Orientation and Closing Ceremony hosted from the Folk School campus that students can attend online.
---
Class Materials Needed
Click here to access the class materials list.
Skill Level
All levels are welcome. Moderate hand strength and the ability to turn your chair over multiple times during the weaving process is important.
About the John C. Campbell Folk School & Lessonface
For 96 years, the John C. Campbell Folk School in Brasstown, North Carolina has transformed lives, and brought people together in a nurturing environment for experiences in learning and community life that spark self-discovery. Since 2012, Lessonface has connected more than 30,000 students with over 2,000 great teachers for live music, language, and arts lessons online, delivering on our mission to help students achieve their goals while treating teachers equitably.
---
When
The class will meet for four weekly 120-min live online sessions on Mondays at 10 am ET | 7 am PT | 15:00 UTC on the schedule below. The first session is on March 6.
(Convert to my time zone)
Enrolled students receive 30-day access to the video recordings of the classes.
How It Works
Enroll above to save your spot in the class. Lessonface will send you a confirmation right away, and a Zoom link 24 hours before the class start time. You can log into your Lessonface dashboard to access class materials, communicate with your instructor, join the live Zoom session, and access the class recordings and chat transcript afterward. Class enrollments may be cancelled for full refund up to five days before the class start date, with the exception of the materials kit fees which are non-refundable.
Brandy Clements and Dave Klingler run the nation's only chair caning school & museum, Silver River Center for Chair Caning, in Asheville, NC. With over 5,000 chairs woven between the two of them, they are considered experts in their field. They teach both in-person and online at the shop in the River Arts District, as well as on location at JCCFS, Arrowmont, and Penland. They travel the country spreading the love of chairs across the land, speaking at museums and craft shows, teaching kids, adults, and anyone who finds themselves in their presence. Silver River is an official education center of the Southern Highland Craft Guild. Find them on YouTube and Instagram @SilverRiverChairs or visit...
I grew up near Chattanooga, TN, nailing boards together from an early age in my grandfather's woodshop. An ample supply of Legos kept me curious about how the universe was assembled. The love of patterns and design brought me to college pursuing a Mechanical Engineering degree and a fledgling beard. My student years ended, my beard was full and corporate life was disappointing.
With the generous help of my loving parents, I turned back to woodworking. My brother and I outfitted a workshop in the backyard and started a two-man "habitat enhancement" business engaged in home repairs and landscaping. A move to Folly Beach, SC found me still searching for how the universe works and br...