Playing Lead Sheets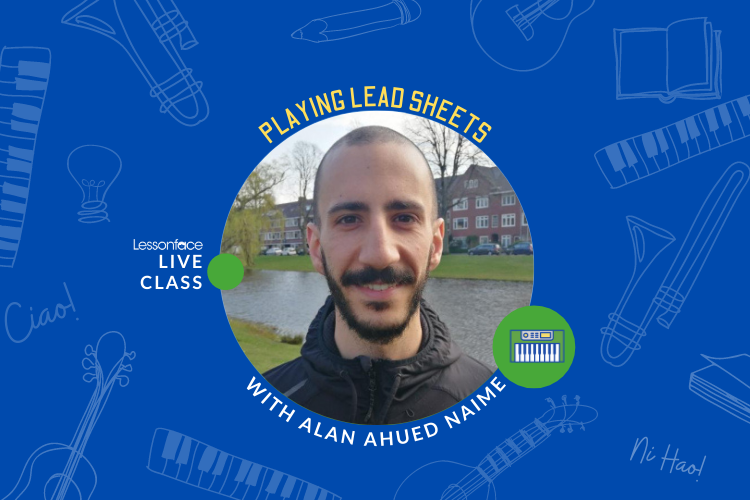 About Playing Lead Sheets
For any instrumentalist ready to learn, this practical class will show students how to read and play from lead sheet music. Lead sheets are the main notation format used in musical theatre, songbooks, and jazz standards. They also show you the basic harmonic and melodic ideas that can be interpreted with some freedom by a solo instrument or ensemble. This class is designed for all levels of reading and playing proficiency; advanced students can practice voicing and improvisation during the class. Take the lead in your musical journey – see you in class!
Class Goals
- The students will learn how to read and play lead sheets
- The students will learn how to play all chords
- The students will learn about chord extensions
Skill Level
Beginner, Intermediate, Advanced

---
Enroll for the Lessonface Pass to gain access to this live online class and hundreds of others, or use the dropdown menu to enroll in only this class.
---
When
Weekly 30-min sessions on Tuesdays, at 2 pm ET | 11 am PT | 19:00 UTC.
(Convert to my time zone)
Enrolled students receive lifetime access to the video recordings of the classes.
See the class schedule below.
---
How It Works
Enroll from this page and we will send you the Zoom link to join. Students can connect to the live session using a tablet or computer with reliable internet. To actively participate online students also need a webcam with microphone. The class recording will be available to enrolled students within 48 hours of the live session. The class is covered by the Lessonface Guarantee.
Join the Lessonface Master Pass for access to over 300 live interactive group online classes a month! Enroll for your trial month from this page for $10, then it's $35/month. It's easy to cancel anytime. Find more Lessonface Pass benefits and pricing options >>
Composer, music theorist and educator.  I teach how to play piano, write songs and everything on music theory and composition. I studied Music Theory and Composition and I hold a Masters in Composition as well. I also studied Music Pedagogy, Sound Art and Creativity and I am currently doing a Masters in Media, Art, Design and Technology.
All my lessons are tailor-made for each student, so we can talk about your needs and I'll try my best to help you.
If you are looking to have a diploma. I can help you to take the ARBSM theory examinations (Grades 1-8) and Associate and Licentiate diplomas.
I also teach composition, harmony and melody for popular styles. 
About Lessonface, PBC
Since 2013, Lessonface has connected more than 10,000 students with over 1000 great teachers for live music & language lessons online, delivering on our mission to help students achieve their goals while treating teachers equitably.