Weave a Twill Gamp with Color & Weave Effects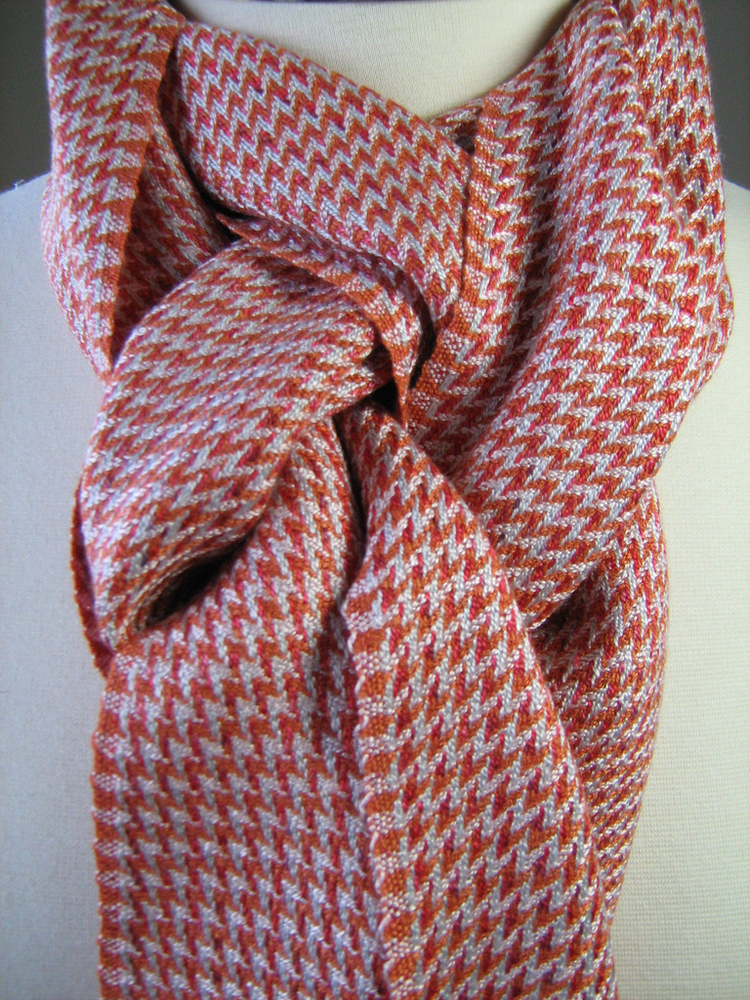 About Weave a Twill Gamp with Color & Weave Effects
Combining a twill threading and treadling with a specific contrasting color order in warp and weft yields a rich collection of patterns unachievable by color order or interlacement alone. This workshop combines color-and-weave effects with a twill gamp to explore how one color order impacts the look of five different twill threadings when woven as-drawn-in, with color-order variations in the weft, and with different tie-ups and/or treadling orders.
All participants will thread five-twill gamps, either for four or eight shafts. Each will be assigned one of several warp color orders to provide variety as we share images of their results. Over three weeks, we'll experiment with three gamps, making changes in color order, tie-up and/or treadling as we go. Weavers will come away with at least 75 different color-and-weave effects patterns to inspire future work.
Participants will be provided with either a four- or eight-shaft draft and warping instructions in advance, and digital handouts with weaving instructions/suggestions. Each two-hour live session will include lecture plus discussion and image sharing. For sessions 2 and 3, participants will post photos of results to a private image-sharing folder, and be invited to discuss them during the session. Draft for 20" wide warps will be provided, but adjustments can be made to accommodate narrower or wider looms if desired.
This class is limited to 20 students.
---
Class Materials Needed
• 4- or 8-shaft table or floor loom 15 - 20 inches wide, rigid heddle will work if weaver is proficient with 4 heddles
• Three boat or stick shuttles and several bobbins
• 5/2 cotton, or similar, in at least three contrasting colors (extra colors if you'd like to experiment)
• Usual weaving tools & supplies
• Camera
• 3 different colored pencils (erasable is helpful)
• Note-taking supplies
Age Range
Teens and Adults
When
The class will meet for three weekly 120-min live online sessions on Thursdays at 7 pm ET | 4 pm PT | 23:00 UTC on the schedule below. The first session is on March 16.
(Convert to my time zone)
Enrolled students receive 30-day access to the video recordings of the classes.
Weave a Twill Gamp with Color & Weave Effects (Recording accessible on class page)
How It Works
Enroll above to save your spot in the class. Lessonface will send you a confirmation right away, and a Zoom link 24 hours before each session's start time. You can log into your Lessonface dashboard to access class materials, communicate with your instructor, join the live Zoom session, and access the class recordings and chat transcript afterward. Contact us with any questions. This class, and all lessons and classes on Lessonface, are covered by the Lessonface Guarantee.
Karen Donde weaves garments, fashion accessories and home textiles for sale and teaches beginning-advanced weaving classes and assorted workshops for guilds and conferences. Teaching credits include HGA's Convergence 2012, 2014 and 2016 and 2022, Southeast Fiber Forum, the Mid-Atlantic Fiber Association's Workshop Weekend, Midwest Weavers Conference, Intermountain Weavers Guild Conference and Florida Tropical Weavers Conference. In Asheville, NC, she has taught at Sutherland Handweaving Studio, Friends & Fiberworks and Local Cloth.
Karen is a juried member of the Southern Highland Craft Guild and graduated in May 2013 from Haywood Community College's Professional Crafts-...
The MidAtlantic Fiber Association (MAFA) represents and supports a community of fiber arts guilds in the greater Mid-Atlantic region. Although MAFA is best known for its biennial conference - and now for virtual programs - the all-volunteer, not-for-profit organization also provides ongoing financial grants, fellowships and scholarships to promote education, development and public outreach in the fiber arts.  Find out more about MAFA at https://mafafiber.org/.
About Lessonface, PBC
Lessonface's mission is to help students achieve their goals while treating teachers equitably. Since 2012, we've hosted more than 30,000 students and 2,000 teachers for live music, language, and arts lessons and classes online.