Free Lessonface Learning Tools
Free Apps and Downloads
Lessonface is committed to helping teachers and students. This page lists a variety of free resources Lessonface has created for use in the classroom, in private lessons, or when learning independently. Bookmark this page and check back for new free content!
Chopin wrote many beautiful piano works during his lifetime, but as a piano student they can be difficult to master for many. Fortunately composer and Lessonface teacher Alan Ahued Naime arranged Chopin's Nocturne in Eb Major Opus 9 Number 2 to be more accessible for the intermediate piano player!

Learning to coordinate optimal breathing and phonation (producing vocal sound) is a large part of learning to sing well. In these exercises, Chantal guides you through the physiology of breath and syncing the breath with vocalization to form good habits as a singer!

Use your imagination on the piano! In this fun handout, kids explore fundamental piano techniques such as rhythm, note names, and finger numbers. With cues to be creative and encourage experimentation and improvisation, and challenges to tap the beat while playing one hand, kids are guided not only through playing through a whole new piece of included music, but playing creatively as well.

Teaching Kids How To Read Music
These fun downloadable PDFs make it easy for kids (and adults!) to get started with the basics of learning how to read music. With fun memory tricks for remembering treble and bass clef line and space note, and exercises to put your new knowledge to use, you'll get the hang of the how reading music works quickly!

This free resource from expert guitarist and Lessonface teacher Leah Kruszewski will start you off on the road to success. Learn the basics of reading and playing guitar tabs with ease, as well as arpeggios, melodies, chords, and fingerstyle techniques.

Expand your piano repertoire with free PDF sheet music and accompanying audio files prepared by Lessonface teacher and expert pianist Beverly Cashin. Download the sheet music for Mozart's Sonata in A, K. 331 (Played in G), or Mystery Man, an original composition by Beverly.

In this audio lesson, Lessonface teacher and expert vocalist Laura Llorens walks you through breathing techniques that will help you improve as a singer and keep your voice healthy.  You'll discover the relaxation techniques that she brings to the table in order to make the rest of the breathing work more comfortable. 

Improvising and jamming on the guitar may seem effortless by those who are good at it, but that takes tons of practice and technique. Luckily, Lessonface teacher and expert guitarist Ross James is here to help.

Walking bass lines use a combination of arpeggios, chromatic runs, and passing tones to outline the general chord progression of the song you want to create bass lines for. In this free tutorial, Bear Williams guides you through a four-step process to learn and create walking bass lines for every song.

If you're new to the piano or have a beginner student, download this free sheet music with an easy arrangement of Beethoven's Ode to Joy in C Position. This will help build a solid foundation of reading music while playing a classical piece.

A set of beautiful music flash cards. Ideal for all instrumental and voice students, these are the perfect aid for memorizing the music notes when learning to read music notation! All-instrument, piano, and guitar versions available. Free to download and print on a home printer, with easy guides to cut and fold into flashcards for a fun and fundamental offline activity.
Tap, clap or sing the correct rhythms for each exercise to move on to the next. Students are guided through a progressive set of exercises designed to reinforce the concepts they learn in their music classes and lessons. Free, and no registration required!

A set of beginner level exercises in PDF format for use in the classroom or in lessons. These match the exercises found in the Rhythm Challenge.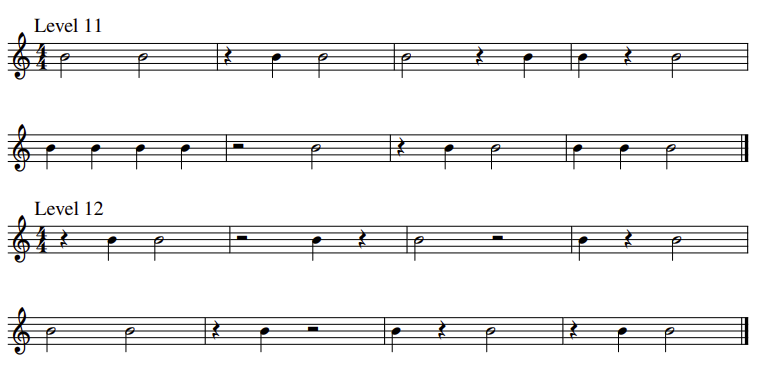 A sequence of technical exercises for the piano. This is Hanon's most famous work, designed to help students develop precision, speed, dexterity and agility in their playing. Free to download and print.
Two of Beethoven's most famous and beautiful works. Download these free PDFs to print or view on your computer or tablet.
Explore bow motion and other bow technique exercises with this fun warmup handout from cellist and Berklee College of Music teacher Catherine Bent! Different than a book of scales or etudes, these exercises help build an awareness of the motion of your arm with string crossings.