Review: Adam Audio T5V Active Studio Monitors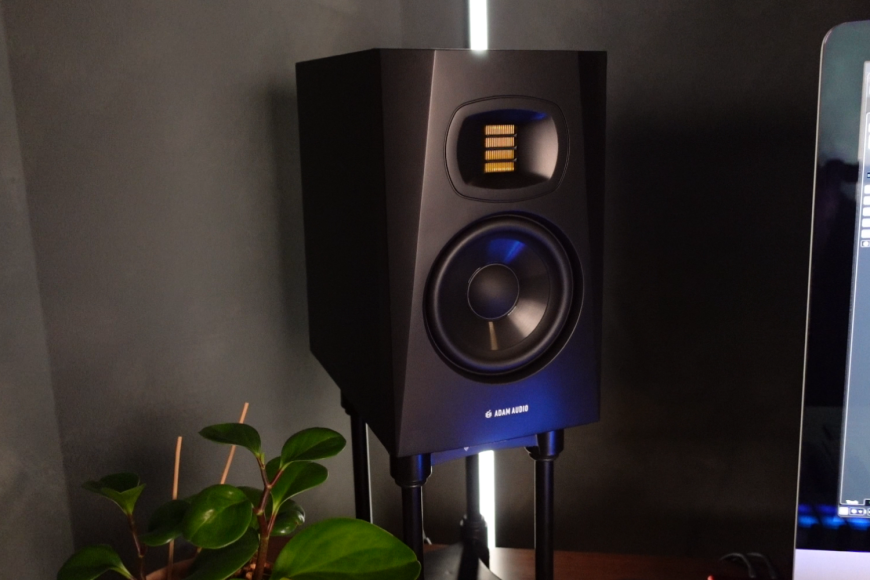 When picking a pair of studio monitors, it's easy to be overwhelmed by the variety of choice, and if music production is new to you, reading a spec sheet or looking at the response profile of a set of monitors may simply not be that helpful.
Fortunately, to make your choice easier, there are a number of considerations that should ultimately help guide your choice, such as as your budget, your room size and placement, and the information you learn from product reviews.
Gathering as much information as you can before making a decision will help make sure that you're making the right choice for you.
We had a chance to rest and review the Adam Audio T5V Active Studio Monitors to see what we thought.
Adam Audio T5V Studio Monitors
We earn a commission if you click this link and make a purchase at no additional cost to you.
The ADAM Audio T5Vs have a 5 inch woofer that extends down to 45Hz, a crossover point of 3kHz, and the tweeter's frequency response extends up to 25kHz. They are nearly a foot deep  at 11.7 inches, include the option of a high shelf EQ switch above 5kHz (-2 dB, 0 dB, +2 dB) and a low shelf EQ switch below 300Hz with the same -2 dB, 0 dB, +2 dB options.
They have a maximum sound pressure level of more than 106 dB when measured at 1 meter distant, which is plenty loud for the kind of smaller studio spaces we'd considering using these in. The tweeter and the woofer are powered separately by two Class D amplifiers, and your input options are XLR or RCA with a switch in the back based on which input you use. The Adam Audio T5V's come with a 2 year warranty out of the box, and an additional 3 year warranty with product registration, so be sure to register them for the full 5 year warranty offered.
What sets the Adam T5Vs apart from other monitors? You'll find more details to this in the video above, but the short answer is their tweeter design.
The number one thing mentioned about these monitors is probably their tweeter design. ADAM Audio took their X-ART tweeters and using that technology created the more affordable U-ART tweeters (which are handmade and tested in Berlin). Now while the X-ART tweeters go up to 50kHz, the U-ART tweeters only go up to 25kHz, which is still going to be more than you need.
You'll notice goes both the X-ART and the U-ART tweeters extend above the typical range of human hearing at 20kHz. Exceeding the range of human hearing is a deliberate choice so that the monitors capable of transparent audio reproduction with as little distortion as possible in their higher registers.
The refined ribbon tweeters used in these monitors are a lighter weight tweeter material compared to a piston with the goal of creating a much faster transient response. Listening to compression is an area where you'd probably notice a difference using these monitors compared a more typical piston design.
A note on their rear-firing bass ports:
One thing I did notice was that Adam Audio posits that "a rear-firing bass reflex port and a small footprint allows placement anywhere in your room".
Technically, you can place these anywhere in your room, but to prevent bass from building up with that rear port, you'd want these at least 16 inches from the wall behind them. If it's necessary to place them closer than that, you can always use the low filter switch on the back to cut -2dB starting at 300Hz and below to help prevent excess bass building up.
(It is pretty common for studio monitors within this price range to be ported to the rear.)
Final Thoughts
If you choose to get a pair of higher quality entry level monitors like these, please keep in mind that your cables matter as part of your entire signal chain. When investing in something like these, a good pair of balanced cables will help you send clean signal from your audio interface into your monitors. (I'm using 6 ft Mogami Gold Balanced 1/4-inch TRS Male to XLR Male patch cables in this setup.)
Overall, with between the response of their U-ART tweeter, their frequency response with a 5 inch woofer, and their controlled dispersion, these monitors a solid choice worth your consideration when looking at active studio monitors within this budget. 
 
---
The recommendations we provide are our well-tested and considered opinions. We may have received the equipment from the manufacturer that we tested for free, and we may earn a commission if you buy from the links here. We appreciate your support. Please reach out to gear@lessonface.com if you have questions or comments!