Cheesemaking - From Lemon Cheese to Brasstown Cheese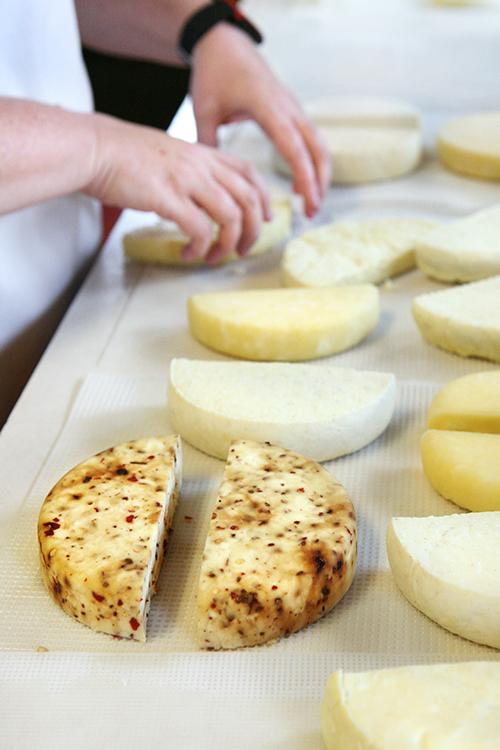 Cheesemaking - From Lemon Cheese to Brasstown Cheese with Gary Colles
Learn how to make 5 cheeses in 5 days! Each day will feature a new recipe, and we'll work our way from simpler cheese to more complex. Start with lemon cheese, followed by feta, cream cheese, and mozzarella. For a little taste of the Folk School at home, finish up your week with Brasstown cheese. Spend the mornings with demonstrations and instruction and bring your questions to our afternoon Q&A.
This class is presented in collaboration with John C. Campbell Folk School and Lessonface. Class capacity is 24 students. Registration closes on February 12, 2024. Students are invited to attend a large group Orientation and Closing Ceremony to connect with various classes online.
---
Class Materials
Click here for class materials.
About the John C. Campbell Folk School & Lessonface
For 96 years, the John C. Campbell Folk School in Brasstown, North Carolina has transformed lives, and brought people together in a nurturing environment for experiences in learning and community life that spark self-discovery. Since 2012, Lessonface has connected more than 30,000 students with over 2,500 great teachers for live music, language, and arts lessons online, delivering on our mission to help students achieve their goals while treating teachers equitably.
---
When
The class will meet for five days on the dates below. Each day starts with a 120-minute live demonstration session at 10 am ET | 7 am PT | 15:00 UTC and meets again for a 30-min check in at 6 pm ET | 3 pm PT | 23:00 UTC. The first session is on February 12.
Enrolled students receive 30-day access to the video recordings of the classes.
Cheesemaking - From Lemon Cheese to Brasstown Cheese
Cheesemaking - From Lemon Cheese to Brasstown Cheese
Cheesemaking - From Lemon Cheese to Brasstown Cheese
Cheesemaking - From Lemon Cheese to Brasstown Cheese
Cheesemaking - From Lemon Cheese to Brasstown Cheese
How It Works
Enroll above to save your spot in the class. Lessonface will send you a confirmation right away, and a Zoom link 24 hours before the class start time. You can log into your Lessonface dashboard to access class materials, communicate with your instructor, join the live Zoom session, and access the class recordings and chat transcript afterward.
Refund Policy: To cancel an enrollment or request a refund, contact support@lessonface.com. For 30+ days before, we refund 95%. Between 30 and 5 days, receive a 75% refund. No refunds within 5 days of class start date. Materials kit fees are non-refundable.
Gary, known as The Cheese Guy, began making artisan cheese at home after eating "half his weight" in Stilton cheese in pubs across England, Ireland, and Scotland while he and his wife toured castles and gardens on vacation years ago. Following training by noted experts in Michigan and Canada, he has been teaching cheesemaking classes for more than a decade now. Gary enjoys showing students how to use common kitchen equipment to turn milk into "cheese magic."
---
Students Say
⭐⭐⭐⭐½
Alice on February 24, 2021

Fantastic.
---
⭐⭐⭐⭐
Mary S.
on February 20, 2021
Very good
---
⭐⭐⭐⭐⭐
Kovell T.
on February 20, 2021
Great
---
⭐⭐⭐⭐⭐
Kathy M.
on February 19, 2021
The class was great and I am ready to add cheesemaking to my skill set with lots more practice. This was a good start to the skill as I have only made mozzarella before with mixed results. I feel much more confident in trying to make cheese again. The cheeses I made during this class turned out really yummy !
---
⭐⭐⭐⭐⭐
Verified Student
on February 19, 2021
GREAT! I feel comfortable making my own cheese now.
---
⭐⭐⭐⭐⭐
Richard B.
on February 19, 2021
Excellent and enjoyable. Mr. Colles covered all the necessary basics clearly, made sure that our questions and problems were fully answered, kept our interest with helpful background information and power points, and was a genial, engaging, and supportive host to the class.
---
⭐⭐⭐⭐⭐
Bettie M.
on February 19, 2021
Excellent. Exceeded expectations. Instructor very knowledgeable and personable. Loved the entire experience!