MET Orchestra Musicians Master Classes
Lessonface presents a series of free live online Master Classes with MET Orchestra Musicians.
In each of these upcoming Master Classes, members of the MET Orchestra will give performance feedback to selected advanced-level students. Musicians of all levels and classical music fans alike may view the live interaction of the panelists and performers in real time, over Zoom video conferencing. Viewers may also submit questions ahead of time for the panelists to address in the live sessions.
We are now accepting applications for advanced-level performers in the Master Classes for flute, horn, double bass, oboe, piccolo, and trombone. Find more information and apply here.
---
When
The Master Classes will be held on Sundays at 4 p.m. ET on the following dates with the panelists listed.
• December 6: OBOE: Elaine Douvas.
• December 20: PICCOLO: Stephanie Mortimore, Koren McCaffrey.
• January 3: TROMBONE (Tenor and Bass): Demian Austin, John Romero, Weston Sprott, Denson Paul Pollard.
• January 17: BASSOON and CONTRABASSOON: Evan Epifanio, Mark Romatz.
• January 31:VIOLA: Milan Milisavljević, Craig Mumm, Désirée Elsevier.
• February 14th: HARP: Mariko Anraku.
• February 28: PERCUSSION: Gregory Zuber, Rob Knopper, Steven White.
• March 14: TUBA: Christopher J. Hall.
• March 28: ENGLISH HORN: Pedro Díaz.
Master Classes are planned for the following dates and instruments, with panelists TBA.
2021 Master Classes:
VIOLIN: April 11
Past Master Classes:
• August 2: VIOLIN: Sylvia Danburg Volpe, Catherine Ro, Katherine Fong. 
• August 16: VIOLIN: Nancy Wu, Wen Qian, Sarah Crocker Vonsattel. 
• August 30: VIOLIN: Qianwen Shen, Ann Lehmann, Garrett Fischbach. 
• September 13: TRUMPET: David Krauss, Billy R. Hunter, Jr., Raymond Riccomini.
• September 27: CLARINET: Anton Rist, Dean LeBlanc.
• October 11: CELLO: Jerry Grossman, Joel Noyes, Kari Jane Docter, Julia Bruskin.
• October 25: FLUTE: Chelsea Knox, Maron Anis Khoury, Stephanie Mortimore.
• November 8: HORN: Eric Ralske, Brad Gemeinhardt, Anne Marie Scharer, Barbara Jöstlein Currie.
• November 22: DOUBLE BASS: Rex Surany, Leigh Mesh, Brendan Kane, Kingsley Wood.
---
It's free to watch live! Enroll above and we will send you the link to join.
---
How It Works
Viewers can join the live event using a computer or mobile device. The live sessions are also recorded and will be made available for later viewing on Lessonface. Applicants selected to perform in the Master Classes will be asked to test their internet connection, webcam, and microphone with Lessonface staff 48 hours prior to the scheduled start time. Learn more about applying to be a performer in the Master Classes here.
---
About Lessonface, PBC
Since 2013, Lessonface has connected more than 10,000 students with over 1000 great teachers for live music & language lessons online, delivering on our mission to help students achieve their goals while treating teachers equitably.
---
Signed up already? Click here.
---
OBOE: Dececmber 6
---
Elaine Douvas
Elaine Douvas has been Principal Oboe of the Metropolitan Opera since 1977, highlighted by her performance of the Strauss Oboe Concerto with Maestro Levine the MET Orchestra at Carnegie Hall in 2004 and many performances with the MET Chamber Ensemble. She has served on the oboe faculty of The Juilliard School since 1982 and was appointed Woodwind Department Chairman in 1997. She has given master classes at the Curtis and Cleveland Institutes of Music, the Eastman and Manhattan Schools of Music, the New World Symphony, and the Conservatories of Beijing, Shanghai, and London's Royal Academy of Music. In the summers, Ms. Douvas is an artist/faculty member of the Aspen Music Festival and School, and she is a past participant in the Marlboro, Grand Teton, Angel Fire, and Bravo! Colorado Festivals. Her solo CDs are issued by Boston Records, Oboe Classics, and Music Minus One. Having trained at the Cleveland Institute of Music and the Interlochen Arts Academy, her first job was Principal Oboe of the Atlanta Symphony under Robert Shaw. For the past 20 years she has devoted her spare time to figure skating and has passed eleven USFSA tests in free-style and "moves". This season's non-Met project is the Messiaen "Concerto a Quatre" with her quartet "Pleasure is the Law" and the New York Youth Symphony at Carnegie Hall on March 2, 2014.
---
PICCOLO: Dececmber 20
---
Stephanie Mortimore
Stephanie Mortimore has held the position of Principal Piccolo with the Metropolitan Opera Orchestra since 2000. During the 2008-09 season, she served as Acting Principal Flute. Ms. Mortimore has won numerous distinctions, including first prize in the Myrna Brown Competition, the James Pappoutsakis Competition and the Union League Civic and Arts Foundation Competition. She can be heard on three Grammy Award winning recordings with the Metropolitan Opera Orchestra. An active recitalist and sought-after teacher, Ms. Mortimore has given numerous concerts and masterclasses in New York, Chicago, Boston, Dallas, and in her native state of Wisconsin. She has performed as a soloist with the Dallas Chamber Orchestra and will be giving the world premiere of Daniel Felsenfeld's double piccolo concerto in Spring 2015 with Ensemble 212.
– Visit Stephanie Mortimore's profile on Lessonface.
---
Koren McCaffrey
Koren McCaffrey is an Associate Musician with the Metropolitan Opera Orchestra. Performing with the Met Opera since 2007, she appears regularly with both the Met Orchestra and Met Chamber Ensemble at Carnegie Hall, and on the Met Opera's Live in HD and radio broadcasts. In June 2011, Koren toured Japan with the Met Opera. In addition to the flute, Koren is an avid piccoloist, and can be heard on the Met's Grammy Award Winning recordings of Adams' Doctor Atomic and Wagner's Das Ring des Nibelungen. As a member of both the Verbier Festival Orchestra and Verbier Chamber Orchestra, Koren toured over fifteen countries on four continents. In addition to the Verbier Festival, she has also performed at the Spoleto (U.S.) and Aspen Music Festivals, and Festival Mosaic in San Luis Obispo. Koren is a graduate of the University of Michigan and the Manhattan School of Music.
---
TROMBONE (Tenor and Bass): January 3
---
Demian Austin
Demian Austin is principal trombonist of the Metropolitan Opera Orchestra. He is also a member of the MET Chamber Ensemble, which performs regularly at Carnegie's Weill and Zankel halls. He has performed with The Chamber Music Society of Lincoln Center, and in the Mostly Mozart festival at Lincoln Center. Mr. Austin has played on numerous recordings including the Metropolitan Opera Brass CDs, several movie soundtracks, Dialogues with Double Bass with Jeremy McCoy on Bridge Records, the GM Recordings issue of Beethoven's Fifth Symphony and Brahms' First Symphony conducted by Gunther Schuller, and many recordings with the Metropolitan Opera Orchestra, including Strauss' Tod und Verklarung. He can also be heard regularly on Sirius Satellite Radio's Live at the Met Broadcasts, the Saturday Matinee Broadcasts of the Met, and on The Met: Live in HD worldwide movie simulcasts. Mr. Austin is also on the faculty of Juilliard's precollege division. He received his Bachelor of Music degree in 1992 from Oberlin College, where he studied with Raymond Premru, and his Masters of Music degree in 1995 from The Juilliard School, where he studied with Per Brevig. Aside from his career in music, Mr. Austin has a keen interest in film and has attended several intensive seminars on screenwriting.
---
John Romero
John Romero is the Principal Trombonist of the Metropolitan Opera Orchestra, beginning in 2018, and is an S.E. Shires Performing Artist. He previously held the same position in the Fort Worth Symphony Orchestra. A local of Longview, Texas, he has a Bachelor's Degree in Music Performance from Baylor University studying with Brent Phillips and a Master of Music degree from Rice University studying under Allen Barnhill. Romero is an active soloist and clinician, presenting recitals and masterclasses at the International Trombone Festival, the Blast of Brass Festival, the Juilliard School, and other universities. As a student, he was a successful solo and chamber music competitor, winning the Larry Wiehe competition in 2012 at the annual International Trombone Festival in Paris, France, as well as ITF's Marstallar competition in 2013, the Big XII Trombone Conference Tenor Competition, Eastern Trombone Workshop's Division II Tenor Competition, the ETW Quartet competition, the TCU Quartet Competition, and Baylor University's Concerto competition.
---
Weston Sprott
Weston Sprott enjoys an exciting career that includes orchestral, chamber, and solo performances, as well as numerous educational and outreach efforts. He is Dean of the Preparatory Division at The Juilliard School and a trombonist in New York's Metropolitan Opera Orchestra, of which he has been a member since 2005. He has been recognized as "an excellent trombonist" with a "sense of style and phrasing [that] takes a backseat to no one". He is a recipient of the Sphinx Medal of Excellence and the Atlanta Symphony Talent Development Program Aspire Award. Sprott has performed frequently with the Philadelphia Orchestra, held a position with the Zurich Opera/Philharmonia, and has appeared with numerous other major orchestras, including the New York Philharmonic, Atlanta Symphony, and Oslo Philharmonic. He previously held principal positions with the Pennsylvania Ballet Orchestra and the Delaware Symphony Orchestra. His chamber music and festival engagements include the Stellenbosch International Chamber Music Fesitval (SICMF), Classical Tahoe, Festival Napa Valley, Walla Chamber Music Festival, Chineke!, PRIZM Ensemble, and numerous others.
---
Denson Paul Pollard
Denson Paul Pollard began as bass/tenor trombonist/bass trumpet player with the Metropolitan Opera Orchestra in September, 2007. Pollard was the bass trombonist of the Hong Kong Philharmonic from 2001-2007. He has also been bass trombonist of the Civic Orchestra of Chicago, the Cedar Rapids Symphony, the Illinois Symphony Orchestra, the Des Moines Metro Opera Orchestra, and the Principal Trombonist of the Waterloo/Cedar Falls Symphony Orchestra. Pollard has performed with the New York Philharmonic, the Chicago Symphony, the Philadelphia Orchestra, the Houston Symphony Orchestra and the Los Angeles Philharmonic. His teachers have included Dr. Jim Roberts, Dr. David Gier, George Krem, Charles Vernon and Joeseph Alessi. Pollard was awarded the Master of Musical Arts degree and the Doctorate of Musical Arts in performance and pedagogy from the University of Iowa, where he served as a teaching assistant in the areas of musicology, jazz and applied trombone. Pollard also holds a Bachelor of Science degree in music education from Jacksonville State University in Jacksonville, Alabama. Pollard is a member of the brass faculty at the Juilliard School, Mannes School of Music, and Bard College. He is a faculty member of the Pacific Music Festival in Sapporo, Japan during the summer.
 
---
BASSOON and CONTRABASSOON: January 17
---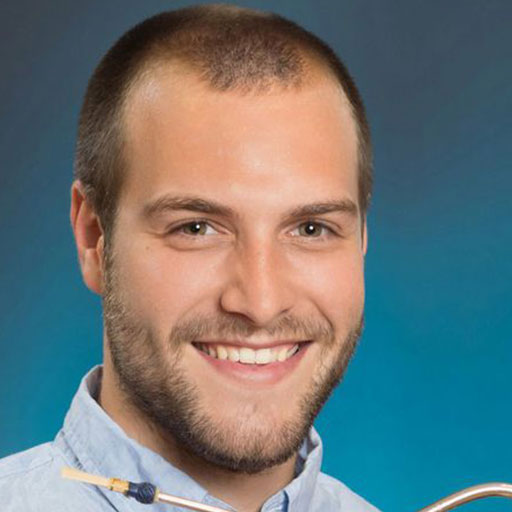 Evan Epifanio
Evan Epifanio holds degrees in music performance from DePaul University and Northwestern University. He was a member of the New World Symphony for three years, and was appointed Principal Bassoon of the MET Orchestra in 2018.
---
Mark Romatz
Mark L. Romatz, bassoon, is currently Second Bassoon and Contrabassoon of the Metropolitan Opera Orchestra. Prior to that appointment, the University of Michigan graduate held positions with the Montreal, Jacksonville, Savannah, Duluth and Flint Symphonies. He has been a member of the Bellingham, Grand Teton, Grant Park, Colorado, Spoleto, Lancaster, Sunflower and the Buzzard Bay Music Festivals. Mr. Romatz has been a faculty member at Mcgill University in Montreal, the University of Florida, St. Olaf College and the University of Minnesota-Duluth. He has served as Acting Second Bassoonist with the Minnesota Orchestra and has performed with the Chicago and Detroit Symphony Orchestras, the New York Philharmonic and the Saint Paul Chamber Orchestra. He studied with L. Hugh Cooper and John Miller.
---
VIOLA: January 31
---
Milan Milisavljević
Milan Milisavljević is Principal Viola with the MET Orchestra, having served as Assistant Principal of the MET for twelve seasons. He has also performed as guest Principal Viola of orchestras worldwide, such as the Toronto Symphony. Milan's solo album Sonata-Song, published by Delos Music, has been reviewed by the Strad magazine as "most recommendable" and "tonally alluring", with the recording of A. Khatchaturian's sonata on the album hailed as "definitive". He has won prizes at competitions such as ARD, Lionel Tertis and Aspen Lower Strings and has performed at Marlboro, Cascade Head and Aspen music festivals. Milan has appeared as soloist throughout the world, with orchestras such as the Munich Chamber Orchestra, the Belgrade Philharmonic, Aspen Sinfonia, Classical Tahoe, Orquesta Filarmónica de Boca del Río and many others. His teachers include James Dunham, Nobuko Imai and Atar Arad. In addition to his activities as a violist, Milan is increasingly in demand as a conductor and teacher worldwide.
---
Craig Mumm
Associate Principal violist, Craig Mumm grew up in Milwaukee where he studied violin with his father, Edward Mumm, Concertmaster of the Milwaukee Symphony Orchestra. In college, Craig studied violin and viola with Shmuel Ashkenasi, first violinist of the Vermeer String Quartet. Before joining the MET, Mumm performed in orchestras in Chicago and Germany. In addition to his work at the MET, Craig coaches the viola sections of the Youth Orchestra of the Americas, Filharmonica Joven de Colombia, and teaches and performs throughout Latin America. Craig is married to Mary Ann Mumm, instructor of violin at Montclair State University. The Mumm's two children are also musicians. Daniel is a cellist and Andrea a harpist. The Mumms live in an historic townhouse in Jersey City, New Jersey where they often host the legendary MET Orchestra poker game.
---
Désirée Elsevier
A New York native, Désirée Elsevier began her studies at the age of 5 on the violin and at the age of 12 on the viola, and she has been a regular member of the Metropolitan Opera Orchestra since 1987. In October 2013, she performed the Bartok concerto for viola with the Greeley Philharmonic in Greeley, Colorado. A champion of new music, she premiered Glen Cortese's Viola Concerto for viola and chamber orchestra in Buffalo, NY in February, 2013. An avid chamber musician, she appears frequently in the New York area among others with her quartet named IRIS, and at Weill recital hall at Carnegie Hall with the MET Chamber players. In addition, she teaches at Bennington College at the Chamber Music Conference and Composers' Forum of the East in Vermont since 2004. Since 1998 she has been a member of the World Orchestra for Peace (founded by Sir Georg Solti, now conducted by Valery Gergiev), which performs concerts in the name of world peace and harmony across the world, from Chicago all the way east to Beijing. Also a busy recording artist, she can be heard on many CDs and films. Her first job was as Assistant Principal Viola in the Orchestra di San Carlo in Naples, Italy. She holds a Bachelor of Science in Economics from Cornell University (where she also studied composition with Karl Husa and Stephen Stucky) and Bachelor's and Master's degrees in music from the Manhattan School of Music, studying with Lillian Fuchs and Karen Tuttle. In addition to being a full-time member of the orchestra, from 2001 to 2012 she held the additional position of Assistant Orchestra Manager. In her spare time she reads, writes essays and fiction, knits, swims/bikes/runs, gardens and is working on an animated film.
---
HARP: February 14
---
Mariko Anraku
Mariko Anraku has won attention as one of the world's outstanding harpists through numerous appearances as soloist and chamber musician. She has enchanted audiences with her virtuosity and "manifestation of grace and elegance" (Jerusalem Post). The New York Times has hailed her as a "masterful artist of intelligence and wit." Since 1995, she has held the position of Associate Principal Harpist of the Metropolitan Opera Orchestra. Since her debut as soloist with the Toronto Symphony led by Sir Andrew Davis, Ms. Anraku has appeared with the Vienna Chamber Orchestra, New Japan Philharmonic Orchestra, Yomiuri Symphony Orchestra, Tokyo Symphony, Israel Philharmonic Orchestra and Concerto Soloists of Philadelphia, among others. As a recitalist, she has performed in major concert halls on three continents, including Weill Recital Hall at Carnegie Hall and Merkin Concert Hall in New York, Jordan Hall in Boston, Bing Theater at the Los Angeles County Museum, Opera Comique in Paris, Palazzo dell'Esposizioni in Rome and the Casals, Kioi and Oji Halls in Tokyo. Ms. Anraku's impressive list of awards include the Pro Musicis International Award, First Prize at the First Nippon International Harp Competition, First Prize in the Channel Classics Recording Prize, and the ITT Corporation Prizes at the Concert Artists Guild Competition in New York. She was also awarded Third Prize and the Pearl Chertok Prize for the best performance of the required Israeli composition at the International Harp Contest in Israel. Ms. Anraku's strong commitment to contemporary music and the expansion of the boundaries of the harp repertoire has included an invitation to premiere works by Toshio Hosokawa in Germany collaborating with traditional Japanese musicians and monks. She also gave the USA premiere of Jean-Michel Damase's Concerto "Ballade" with the Cincinnati Chamber Orchestra at the American Harp Society Conference, and has collaborated in a tribute to Takemitsu at Merkin Concert Hall in New York. Mariko Anraku has recorded exclusively for EMI Classics, including three solo recordings and a CD with eminent flutist Emmanuel Pahud. A compilation from her solo CDs has also been released. She holds bachelor's and master's degrees from the Juilliard School and is a recipient of an Artist's Diploma from the Royal Conservatory of Music in Toronto. Her teachers have included Nancy Allen, Lanalee deKant, Judy Loman and her aunt, Kumiko Inoue. Ms. Anraku also studied Oriental Art History at Sophia University in Tokyo, Japan. She has been on the faculty of the Pacific Music Festival since 2011.
---
PERCUSSION: February 28
---
Gregory Zuber
Gregory Zuber is Principal Percussionist of the MET Orchestra and has been a member of the orchestra since 1986. He appeared with the orchestra as concerto soloist in Carnegie Hall in 2002 and performs regularly with the Met Chamber Ensemble. Mr. Zuber has been a coach at the Verbier Music Festival since 2000, where he also appears in recital and chamber music concerts. He has taught at The Juilliard School since 1993. Born in Boston, he grew up in Chicago. After two summers at The National Music Camp at Interlochen, he attended the Interlochen Arts Academy, then University of Illinois, and Temple University. Before joining the Met, he was Principal Percussionist with the Toledo Symphony Orchestra. His teachers include Tom Siwe (University of Illinois), James Ross (Chicago Symphony) and Alan Abel (Philadelphia Orchestra). Mr. Zuber often performs concerts with his wife, flutist Patricia Zuber. He has two wonderful daughters!
---
Rob Knopper
Rob Knopper is a percussionist with the Metropolitan Opera Orchestra. Since joining the orchestra in 2011, he has been featured on the Grammy-winning recording of Der ring des Nibelungen, 60 Minutes with the Met Orchestra, and in The Met: Live in HD movie theater presentations worldwide. Rob's debut album, delécluse: douze études for snare drum, to be released in October 2014, is the first recording of snare drum's most influential and elaborate composition, and was recorded in audio and HD video at The New World Center in Miami Beach, Florida, where Rob previously held a position with the New World Symphony. Rob has also performed with the All-Star Orchestra, the Detroit Symphony Orchestra, the Pacific Music Festival Orchestra, and as the timpanist of the National Repertory Orchestra. As an educator, he is faculty at the Stellenbosch International Chamber Music Festival, and he has taught clinics and masterclasses at the Juilliard Summer Percussion Seminar, Aspen Music Festival, Boston University Tanglewood Institute, National Repertory Orchestra, and the Interlochen Arts Academy. During the 2013-2014 season, Rob designed and created METOrchestraMusicians.org, which has been featured in the New York Times and the Wall Street Journal. Rob is an avid ragtime xylophonist, songwriter, drumset player, and guitarist. He plays in the band The Paisley Fields, based in Brooklyn. Rob graduated from The Juilliard School in 2009 where he studied with Greg Zuber, Joseph Pereira, and Daniel Druckman. Visit robknopper.com for video, lessons, and the blog percussion hacker
---
Steven White
Steven White joined the MET Orchestra as a percussionist and assistant timpanist in February 2017. Before moving to New York, Steven held a percussion position with the Civic Orchestra of Chicago for two seasons, where he worked closely with Chicago Symphony percussionists James Ross and Cynthia Yeh. During his time in Chicago, Steven was a regular substitute musician with the CSO, and he accompanied them on their tour to Carnegie Hall in 2015. Steven has spent his summers at Tanglewood Music Center, Music Academy of the West, and Aspen Music Festival. Equally passionate about orchestral and solo playing, Steven was second prize winner at the Percussive Arts Society's International Vibraphone Competition in 2013, as well as a competitor at the TROMP International Percussion Competition in Eindhoven, Netherlands in 2012. Steven holds a master's degree in orchestral performance from Manhattan School of Music, where he studied with Christopher Lamb, Duncan Patton, Kyle Zerna, and She-e Wu. He received his undergraduate degree from Northwestern University, where he studied with She-e Wu and James Ross.
---
TUBA: March 14
---
Christopher J. Hall
Christopher J. Hall has been Principal Tuba of the Metropolitan Opera Orchestra since 1996. Before joining the Met Orchestra, Chris was tubist with the Civic Orchestra of Chicago for two years. He was a fellow in the Tanglewood Music Center Orchestra in 1995. In 1993, Chris was the winner of the United Musical Instruments International Solo Competition at the Rafael Mendez Brass Institute, Tempe, AZ, and in 1992, he was the winner of the International Tuba and Euphonium Conference Solo Competition, Open Division, in Lexington, KY. Aside from the Metropolitan Opera Brass recordings, Chris premiered and recorded Charles Wourinen's "Never again The Same" for Bass Voice and Tuba. He can also be heard on the Saving Private Ryan soundtrack by John Williams, and Sever Tipei's "Cuniculi for Five Tubas", on Centaur CD. Chris has studied with Arnold Jacobs, Eugene Pokorny, Daniel Perantoni and Fritz Kaenzig.
---
ENGLISH HORN: March 28
---
Pedro Díaz
Before being named Solo English Horn with the Orchestra of the Metropolitan Opera in 2005, Pedro Díaz had performed extensively on five continents. He has served extended tenures as oboe and/or English horn with the Filarmonica Jalisco (Mexico), the Orquesta Sinfonica de Galicia (Spain), the Natal Philharmonic (South Africa) and the Pittsburgh Opera. His appearances as soloist include those at the Spoleto (Italy) Festival, with the New York Symphonic Ensemble (Japan tour), The Orquesta Sinfónica de Xalapa and with the Puerto Rico Symphony. Two solo appearences at the International Double Reed Society's conventions, one of them the performance of Michael Daugherty's "Spaghetti Western."
Related