ABRSM Prep with Simon Mulligan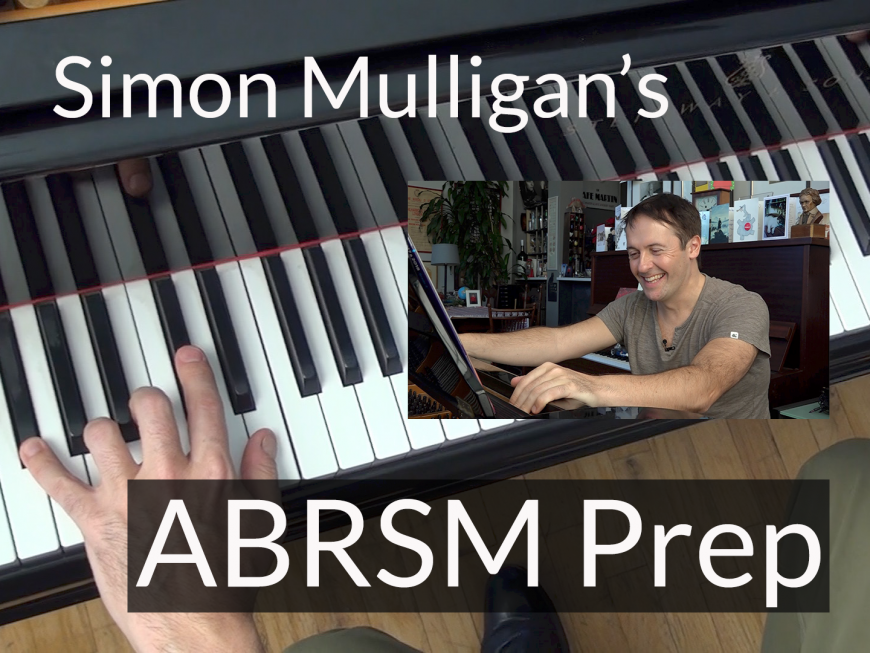 Three songs are available now from grades 1, 4, and 8.
Are you preparing for the
ABRSM piano grades exams
? If so, we have a real treat in store -- you can now prep with
Steinway artist Simon Mulligan
. Expect to be charmed while being educated by the British pianist as he describes the pieces, performs, and gives tips and insights to his approach from his delightful home, on his gorgeous Steinway concert grand -- the same piano upon which
Chariots of Fire
was composed by Vangelis. 
Sometime after passing all eight of the ABRSM grades with distinction, Simon performed for Barack Obama and Her Majesty the Queen, as well as collaborated with Sting, Van Morrison, Branford Marsalis and Liza Minelli, and many others. Simon was described by Yehudi Menuhin as "one of the finest pianists I have ever had the pleasure of performing with," by Herbie Hancock as "phenomenal," and by the Times of London as "the most abundantly gifted of pianists." Even if you are not preparing for these exams I recommend giving this playlist a listen. His interpretations of these simple to increasingly complex pieces are quite a pleasure to listen to even if -- perhaps especially if -- one is not preparing for an exam.
 
---
Simon also answered some questions about the ABRSM for us.
Lessonface: Do you recommend that students take the ABRSM exams? If so, why?
Simon: The fact that the ABRSM exam method has changed very little over the many decades is proof of how well structured and thought-out the parts of the exam and choice of pieces on offer continue to be.
I have always enjoyed many styles of piano music, but recognise the importance of a solid grounding in technical exercises, particularly scales and arpeggios, aural training and sight reading. The ABRSM exam focuses on each of these, while introducing the pianist to a very wide array of piano compositions composed over the centuries.
Lessonface: How should students (and their teachers) choose which pieces to prepare and perform?
Simon: I feel that playing from memory for these exams is important.  Within each set of the varied works to choose from, you the student and your teacher should choose three different works that you feel you would most enjoy - I always find it more difficult to memorise music that I don't like! Choose pieces that contrast well with regard to the composers in the list. 
So, choose pieces that are:
1. Fun to learn, you will memorise them more quickly
2. Contrasting: two faster pieces and one slower piece, is better than two slower, one faster.
3. Tailored for you: make sure your 3 pieces allow you to use a full range of dynamics from fortissimo to pianissimo, while showing variety in how your hands play the notes; staccato, legato, elegant phrasing - the exam is YOUR performance moment! 
In regard to point 3, I often tell students that it doesn't matter how many times the examiner has heard the piece you're about to play; put yourself into the mind of the composer of the work and offer every ounce of musicality you can muster into playing it for the examiner. As I was often told by one of my very important teachers, Alex Kelly at the Royal Academy of Music: "Make it YOUR PERFORMANCE!"
---
More videos in this series will be released shortly, so subscribe to the Youtube playlist, or just check back at here to catch them all. Let us know in the comments if you would like help preparing for any of the other pieces, or have questions about the exams! You can also ask Simon questions
from his teaching page
.
---
Want to learn more about ABRSM?
---
More About the ABRSM
Founded over 100 years ago, the Associated Board of the Royal Schools of Music (ABRSM) has had many years to develop their examinations in order to concentrate on how to achieve their mission to inspire achievement in music and have become recognized globally. They administer these examinations to over 600,000 individuals in nearly 100 countries each year. 
The exams occur during two sessions a year. The registration period for the examinations from April through June has already ended, but musicians interested in the examinations that take place from October through December have the opportunity to register from August 1-15. 
They are designed to evaluate students on a wide variety of musical skills and techniques. There are 4 principal types of exams including music theory, practical musicianship, and jazz, but the most common is the practical exam. This assessment is divided into multiple sections. The first of these is the performance of 3-4 pieces the performer selects from a previously designed collection, which highlight various techniques and styles, and is meant to cater to a broad range of interests that allows for musicians to showcase their individual talent. 
Along with this, the performer is assessed in scales and arpeggios, sight-reading, and an aural test. Each portion of the exam is conducted on a one-on-one basis and graded separately with the total points adding up to 150. 
This expansive examination is designed to assess musicians on all levels of musicianship. Although the ABRSMs are not required, they can be remarkably beneficial. They provide musicians with a definitive goal, which propels them towards personal growth. The examination material encourages performers to broaden their skill-sets and incorporate a variety of techniques to their repertoire. 
While the exams are divided from grades 1-8, musicians at any age can participate and have the opportunity to begin at any grade level and skip grades as desired.