On Achieving Your Goals in 2018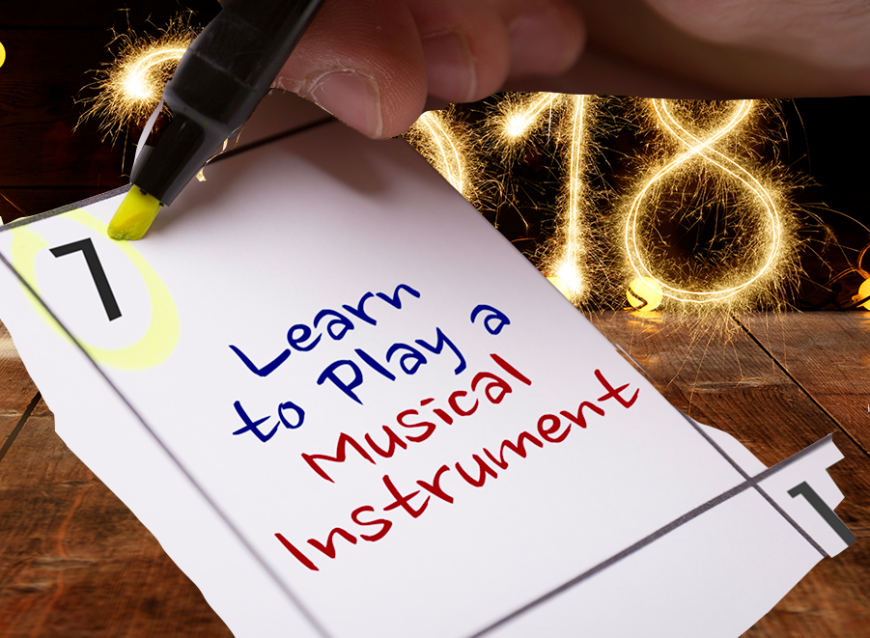 Want to make some real progress musically in 2018? Now that the holidays are over, the new year is here, and winter is REALLY settling in (especially for those of us on the east coast of the US), it's the perfect time to cozy up to your instrument and think about what you want to accomplish this year — and how you're going to do it.
Set Good Goals
Goals should be specific and achievable. 
The "learn an instrument" goal in the image above, written on a single day in a calendar, is ludicrous, and clearly comes from a stock photo. Maybe you could learn the triangle or tambourine in a day, but I'm sure there are even subtleties of those that could be difficult to get super-quickly. Be fair with yourself! Set a goal (or even better, a series of goals) that you will be able to accomplish. 
You're much more likely to feel successful (and therefore encouraged to keep at it) when you set a goal like "Play Humoresque by March" rather than "Play violin better." 
Write Them Down
Write your goals down to help make them stick and to further clarify them. Lessonface has a goal setting tool that's absolutely free for anyone to use. Register or sign in (also free) and go to the "Goals" option in the green menu, under Profile. With our simple goal-setter, you can make a written record of your goals, set a start date, and keep track of your accomplishments. 
Teachers can help with goal setting if you aren't sure.
Measure Progress
Seeing your improvement is a huge help in getting better, as you will feel encouraged to keep at it.
First Step: Record Yourself Playing
The first step of this to measuring progress is to mark your starting point. Record yourself playing today. This will be the "before" in your before-and-after. 
Once you start working hard on your goal, it is easy to forget what you sounded like in the beginning, and to feel discouraged because you don't sound like your musical hero quite yet. Instead, make sure you are able to celebrate your progress. You can easily achieve this by recording yourself playing now. As guitar teacher, guitarist, and drummer Sara Landeau says, if you practice, you will get better. So make a quick recording of the where you are today, and you will later be able to return to it and marvel at how far you've come.
You could make a recording with your phone, if you have one that does video / audio. If you're using Lessonface for lessons, you can arrange with your teacher to do a quick recording directly in a lesson. Then it will be saved by date for you, too, so it's easy to find and review again later.
Share It
Sharing your goals with others enforces your feeling of commitment, and hopefully your friends and family will be supportive! On the other hand, your style might be to be less public about your private goals, and that's cool too.
If you're up for it, tell a pal.
The Hard Part
Of course the goal setting, setting your starting point, and sharing, while quite helpful to making progress, are ultimately the easy parts. Actually putting the time in to learn, polish and master new skills is the hard part, and beyond the scope of this discussion! 
Get Help
If you are not sure which next steps to take, want some expertise and info on specific questions and exercises, or just want accountability and encouragement, finding a teacher will put you on the right path -- and keep you on it.
If you'd like to learn online with a great teacher, check out the phenomenal teachers available for booking here at Lessonface.com. Lessons are at varying rates, depending on the teachers. There are typically deals for booking multiple lessons at once, or you can just book as you go. Some but not all teachers also offer trial lessons. Your first lesson is guaranteed.
Here are some reviews of Lessonface from students who have just started their lessons in 2018:
I have never used a platform like Lessonface before. Truthfully, I thought it might not be as conducive to learning as a live lesson. I was very mistaken. I'm so glad my teacher, Chris Novak, suggested this platform to me. I might have actually learned more online than I would have if I had to travel, set up, etc... Fantastic service. Keep it up! I can't believe I waited this long. I'm looking forward to doing it again....
Ron, after his Jan 2, 2018 improvisation lesson with
Chris Novak
, of whom he wrote:
Chris Novak was my instructor. I asked him about piano improvisation (On the spot, by the way. He didn't know what I was looking for.) He taught me left hand and right hand options for jazz improv, popular song improv, scales to use in different genres, and gave me great practice tips. I am a drummer, so Chris explained his theory to me in which I could easily understand, even though the content was extremely complex. You can tell that Chris has been playing and teaching for many years. He is very intuitive about the student's needs. I learned more in 15 minutes than I have in a long time. Very pleased with Lessonface and my teacher. I will be back. Thanks! Ron
And 
Very simple platform to use for those not so technical savvy ppl. Click on Lessonface link, they send email for program download which simple joins you to the lesson at scheduled time. SUPER SIMPLE!!
Jennifer, regarding her first flute lesson with
Ligia Silva
, Jan 2, 2018.
Get started by registering
here
.