A Big Thanks to the LA Times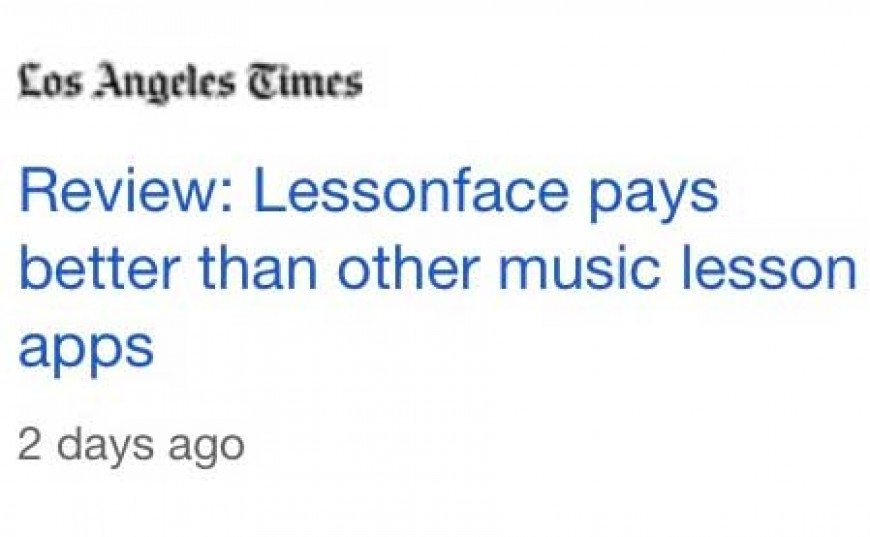 In this recent unprecedented time, we on team Lessonface have been more proud than ever of the phenomenal teacher community here, who have been taking on wave after wave of new students with their usual grace, style, and professionalism, not to mention teaching acumen. Since our launch in 2013, our approach at Lessonface has always been treating great teachers equitably, which to us means that they keep the vast majority of the lesson fees, as well as having their time valued and respected in other ways, like the enforcement of cancellation policies, and ensured payment for lessons. Pretty basic, really, but unfortunately not the norm, or at least, not yet.
This approach is how we have the phenomenal teacher roster that we do: On Lessonface you'll find Grammy winners, members of major orchestras, professors from top music conservatories, as well as conservatory graduates, major touring and recording artists, and many, many wonderful professional educators, available for easy-to-book one-on-one lessons and group classes, all face-to-face, albeit online over video conference (hence the name).
We have also worked on increasing our student access, rolling out over a hundred group class programs in the past three months that enroll on sliding scale, starting at free. The results of these efforts, with huge thanks to the generosity of other students, teachers, partners, and community programs, have enabled us to bring thousands of new students to Lessonface at very low or no direct cost to those students. We anticipate continuing to increase our access with more phenomenal programming partners over the next few months. 
As a result of our very lean model, we tend to be very organic about our advertising and marketing efforts. We are not a venture-backed company. So articles like this review from the LA Times, screengrabbed above, are extremely welcome. Lessonface has been honored in a few media mentions in the past few months, from Parade Magazine and the BBC, to TMZ (!), and now three separate articles in the LA Times. We really appreciate the recognition, as it helps keep our platform growing, and we are able to find more great teachers, and connect them with more eager students, and so on, and I hope the reader can excuse my crowing about it in this post.
If you're looking for a music, theater, or language teacher, you're in the right place! We have a truly wonderful teacher roster here, and you can feel assured that the teachers are getting treated right - that's why there are so many truly excellent teachers in our pages. Start your search for a teacher on our home page by entering the lesson subject you would like to learn more about in the big search field and going from there.
If you are a music, theater, or language teacher, you are also in the right place! Read more about how to set up a teaching profile, and our teaching qualifications and process here.