Celebrating Student Success: Steve and All About the ABRSM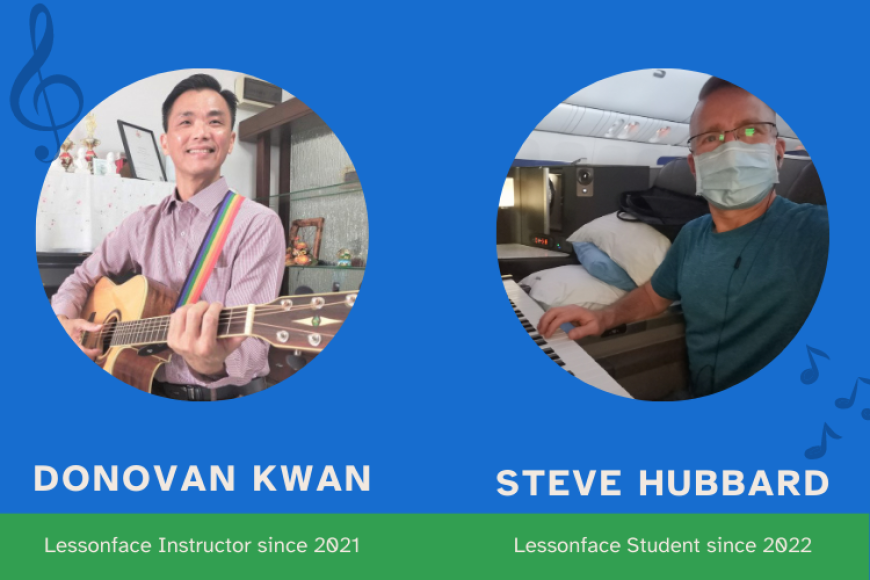 Recently, one of Donovan Kwan's current piano students of Lessonface, Steve Hubbard, passed his fourth, ABRSM Grade 3 Piano Exam with distinction. Donovan has been teaching Steve the piano since March 2022, from the beginner level onwards. From then, Donovan has coached & helped Steve to pass all of his four ABRSM Piano Exams with flying colours! In addition, they are now working towards the fifth ABRSM Piano Exam Award, Grade 4!
Here is what Steve had to say about his experience with Lessonface: 
"In October 2017, I was looking for an additional hobby to share with my son, and there was an upright piano in our house, so I downloaded the Simply Piano app. I was instantly captivated by its teaching method. After four years of using that app, I was stuck and looking for a teacher to help me.
"I found Lessonface.com at the beginning of 2022. After messaging several teachers, I took trial lessons with a few of them, and when I found Donovan, it was clear that he had the type of personality that would allow me to do things my way first and then realize that he was correct after all. I suggested taking exams to add structure to our lessons, and Donovan introduced me to ABRSM. Because I am learning piano for fun, I wanted to start at the beginning, so we started with the ABRSM Initial. We gradually moved through the grades, and this has been my progress.
ABRSM Initial - April 2022 -  Distinction
ABRSM Grade 1 - June 2022 - Pass
ABRSM Grade 2 - August 2022 - Merit
Lessonface Recital - August 2022
Lessonface Recital - December 2022
ABRSM Grade 3 - February 2023 - Distinction
Lessonface Recital - June 2023
ABRSM Grade 4 - In Progress
"Donovan has been instrumental in each of these accomplishments.  It is a pleasure meeting with him each week.  He has a deep knowledge of piano techniques and adjusts the lessons to suit me.  He allows me to proceed at my own pace and makes this fun. I look forward to sharing my progress with Donovan each week. Thank you for creating Lessonface.com, which allows teachers like Donovan and me to meet and cooperate."
Lessonface instructor Donovan Kwan is a prolific educator who possesses 3 decades of teaching  experiences in the education sector, these include teaching individual piano & keyboard instructions, classroom music at international schools, private schools, colleges, music schools and his own private studio. 
Donovan graduated with a UK Music Degree, alongside two UK music diplomas. He majored in piano & keyboard performance and was formally trained in classical, pop and jazz piano. He teaches the piano and keyboard from beginner to diploma levels. His students range from children to adults.
Besides teaching the piano to students for leisure & entertainment purposes, Donovan is also a specialist in coaching & training them to gaining music qualifications from the world's various renowned music examination boards, such as the Associated Board of the Royal Schools of Music (ABRSM) London, Trinity College of Music (London), Rock School (London), London College of Music (LCM) and the Australian Guild of Music Education (AGME).
We also asked Donovan a few questions about the ABRSM and everything you need to know:
What is the ABRSM?
ABRSM (The Associated Board of the Royal Schools of Music) is the UK's largest music education body, one of its largest music publishers and the world's leading provider of music exams, holding over 650,000 assessments in more than 90 countries every year. As a registered charity, ABRSM also makes significant donations towards music education initiatives around the world.
Founded in 1889, ABRSM has a long and storied history. But it has stayed the same: to nurture a love for music, and to inspire achievement in it. At ABRSM, it believes that everyone, wherever they're from, should have access to high-quality music-learning.
In partnership with four Royal Schools of Music, namely the Royal Academy of Music, the Royal College of Music, the Royal Conservatoire of Scotland and the Royal Northern College of Music, of all are from the UK; ABRSM supports music-making and learning across the globe. It offers pathways and resources for learners and teachers that help build musical skills and encourage progress.
Its activity is providing graded music exams, assessments and diplomas. An ABRSM grade has a worldwide currency and its exams are designed to motivate learners at all levels and ages, providing realistic goals and tangible rewards for their achievements.
ABRSM supports teachers and learners with a range of award-winning digital resources and publications, as well as host events and offer professional qualifications.
As a charity, ABRSM invests more than £6 million in music education every year, all across the globe. It also works with organisations around the world, providing donations, scholarships and sponsorship.
ABRSM's partnership work is never one-off - It builds long-lasting relationships and support ongoing projects. It advocates for music, playing its part to ensure the future of music education and its place in society. Working towards this goal for over a century means that ABRSM is a trusted voice at a boardroom table as well as on a concert stage.
Led by its Strategic Leadership Team and Governing Body, ABRSM's staff members, examiners and volunteers work with passion and dedication to make learning music what it should always be: a joyous and life-enriching experience.
How many levels of ABRSM Exams are  there? What are ABRSM Exams? What are required to prepare for the ABRSM Exams?
The ABRSM has systematic and progressive 13 learning levels in total, ranging from the Initial Grade, then to Grade 1 till Grade 8, in order of ascending difficulty.
After Grade 8, learners may proceed to professional learning/qualifications, namely the:
- ARSM (Associate of the Royal Schools of Music)
- DipABRSM (Diploma of The Associated Board of the Royal Schools of 
  Music)
- LRSM (Licentiate of the Royal Schools of Music)
- FRSM (Fellowship of the Royal Schools of Music)
The ABRSM offers exams in: 
(A) Performance Grades – Pure recitals without any supporting tests (Initial 
      Grade to Grade 8 – Online only) for most western musical instruments, 
      including voice.
(B) Music Theory (Grade 1 to 5 – Online only;  Grade 6-8 – Face to face only)
(C) Practical Grades – Recitals with supporting tests (Initial Grade to Grade 8 
      – Face to face only) for most western musical instruments, including voice.
(D) Diplomas at 4 different levels, in ascending levels of difficulty, namely:
(i)   ARSM (online or face to face)
(ii)  DipABRSM (face to face only)
(iii) LRSM (face to face only)
(iv) FRSM (face to face only).
The ARSM Diploma Exam is only available in Music Performance  whereas the DipABRSM, LRSM and FRSM Diploma Exams are available in 3 different branches – (1) Music Performance (2) Instrumental/Vocal Teaching and (3) Music Direction (Conducting).
Why do people take the ABRSM? Why is the ABRSM important?
ABRSM offers internationally-recognized benchmark in music learning and music qualifications, in which music learners/candidates can achieve specific music skills systematically and progressively with prescribed music learning outcome measurements.  
What are some applications of ABRSM? Is the ABRSM used in the US?
The holders of ABRSM music qualifications in Grade 6, 7 & 8 (practical & music theory) will gain Universities and Colleges Admissions Service (UCAS) credit points in the UK when they apply for admissions to higher education in the UK, disregard of what the disciplines/subjects that they are going to study for.
The ABRSM music qualification holders also receive overseas academic recognition/accreditation/acceptance outside the UK, for which ABRSM has partnership agreements with. Notably, these countries include Europe, Australia, Canada, Malta, New Zealand, Trinidad & Tobago and the USA. 
A large part of Asia also recognizes ABRSM music qualifications when their holders apply for music courses in higher education, whereby these course applicants may receive credit exemptions or module exemptions.
Specifically in the USA, Lipscomb University adopted ABRSM exams as part of their Music Major degree program from 2006. Students are required to complete Grade 8 by the end of their sophomore year (second year) and DipABRSM performing or directing by the end of their senior year (fourth year) so that all music majors graduate with both a bachelor degree and a DipABRSM.
Students who enter already holding an ABRSM Grade 8 are encouraged to enter for the DipABRSM earlier and aim for an LRSM by the end of the degree course. The university also waive the live audition section of the application process for any prospective students who already hold ABRSM Grade 8 and award music majors who already hold ABRSM Grade 8 scholarships towards tuition fees.
Many major and world-renowned orchestras also note the values of the ABRSM music qualifications, especially from the diplomas onwards (i.e. professional music qualifications), particularly in the UK. And they may even specifically prescribe the ABSRM music qualifications as pre-requisites for candidates applying to play in their orchestras.
Apart from that, those orchestras may also consider ABRSM music qualifications that the applicants hold, as additional plus points, when applying to play in their orchestras, besides auditioning them to play/sing live.
ABRSM Practical Grade 8 with Grade 5 music theory holders can teach  beginners of the same instruments/voice that the holders play or sing. 
Moreover, ABRSM diploma holders, namely the DipABRSM, the LRSM and FRSM can teach from intermediate till advanced levels.
Interested in preparing for the ABRSM? Learn more with Donovan Kwan or check out more ABRSM Exam Prep teachers on Lessonface.