Get To Know Guitar Teacher Leticia Filizzola!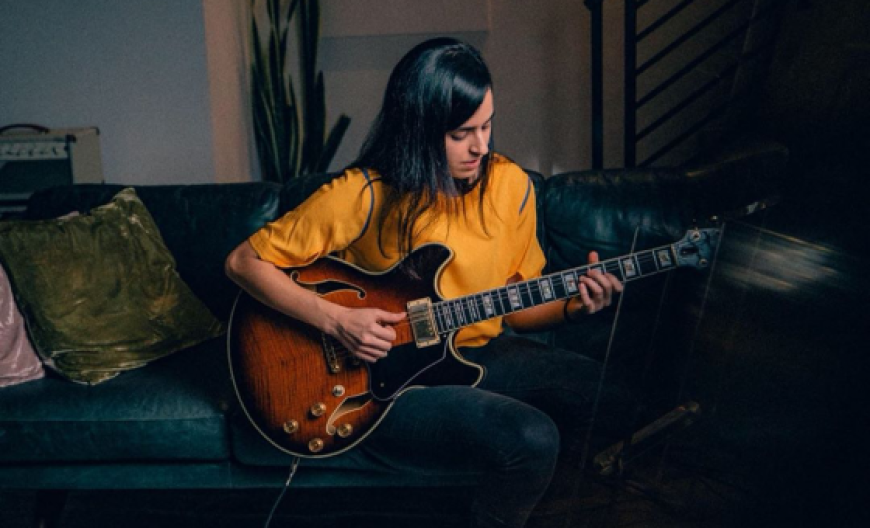 Leticia Filizzola grew up around musicians but didn't start her own musical journey until she was 17. She was accepted to Berklee with a scholarship in 2015 and since then she has accumulated a growing fanbase all across her social media platforms. While living in Boston she joined the Indie-Rock band Los Elk and played multiple sold-out bills around the country.
She has also partnered up with some of the biggest guitar brands in the world like Fender and D'Angelico. She recently became an Ibanez artist. Since moving back to Brazil she has played with the acclaimed Italian pop singer Laura Pausini and now Leticia is working as a session musician for different artists while focusing on her instrumental project. She is also an accomplished teacher on Lessonface, teaching over 400 lessons in Electric Guitar, Acoustic Guitar, and Neo Soul Guitar. For these reasons, she is this month's Teacher Spotlight! We caught up with her via email in between her very busy touring schedule. 
1. What was the first instrument you played?
 The first instrument I really dove into was the guitar and my older brother was my first teacher. 
2. Who are some of your musical influences?
I think my influences are definitely changing. It started out with those typical "guitar heroes" like Steve Vai, Satriani, and Petrucci. But now I listen to a lot more music that isn't so catered towards guitarists. I feel really inspired by Bon Iver, Maro, Polyphia - artists that are really fresh and bringing new stuff to the table. 
3. Any advice for someone trying to learn guitar online?
My advice to anyone who's trying to learn guitar online is to have a couple goals in mind to hold you accountable and for you to be able to keep track of your progress.
4. What is your favorite medium for performance? Live, audio or video? Why?
For a really long time I was a "bedroom guitarist" because I only recorded videos for social media and rarely played live, but now that I'm getting the chance to gig and go on tour, it has definitely become my favorite medium for performance. Nothing beats the deep feeling of playing with real musicians and connecting with an audience. 
5. What makes a good guitar player?
A good guitarist is one who listens and thinks melodically and thinks "what does this song need? What is this song asking for?" - I used to think that being able to solo was the most important thing, but rhythm guitar playing has proven to be a very important element to me. 
6. Describe your favorite and least favorite part about being a musician. 
I love music and how cathartic it is, to be able to convey feelings and emotions, in my case through a guitar, without saying a word. It's crazy how music isn't a tangible thing, we can't touch it, it's just a wave and yet it makes us feel so many things. And I think my least favorite thing about being a musician is sometimes dealing with the business side of it, putting a deadline on creativity, thinking we have to conform to a certain style to be able to survive. 
7. What's next for you?
I'm currently touring and teaching. I hope to continue doing both and getting invited to more gigs. But I'm also really focused and planning on releasing some original music that I've loved making with a friend of mine. We're getting very experimental and mixing a couple of genres and the process has been very inspiring and rewarding.
Reviews:
"Excellent teacher and an excellent guitarist! I'm glad to be learning from her! She has a true mastery of the guitar and you can tell she really cares about her students. I'm very lucky to have her as my teacher."- Leo F.
"This was A+ instruction. After all the decades of lessons, she's the best music instructor I've had the fortune of learning from."- Bryan W.
"Leticia is a great teacher. She is very knowledgeable on guitar theory. This is exactly what I was looking for! I'll be back for more lessons with her. Highly recommend!"- Charlie I.
To learn more about Leticia or to take one-on-one lessons with her, check out her Lessonface profile!