How To Choose Your Drum Heads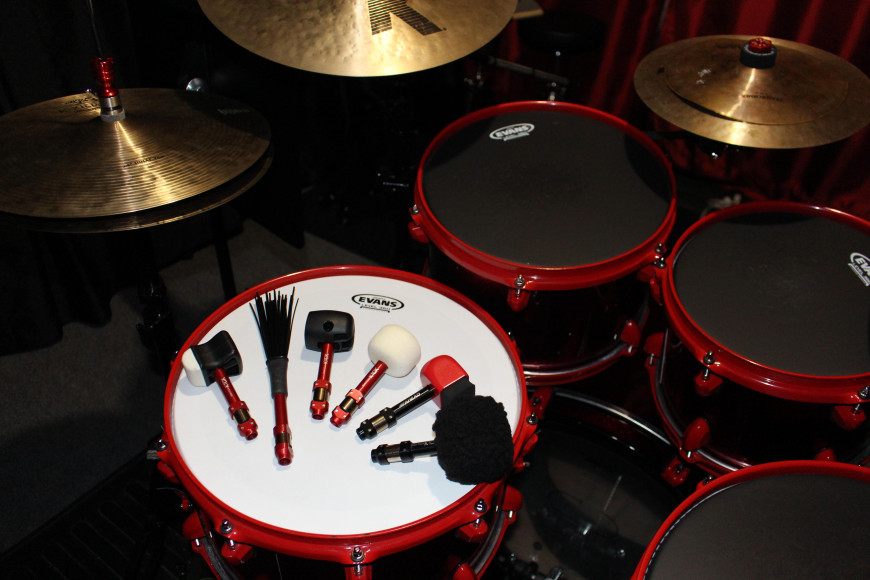 Drum heads can make a world of difference in how your drum set sounds.
 
You can make an average kit sound really great, or make a great kit sound even better with the correct head and tuning choices. Elements like coating and feel, Plys, built in dampenings and thickness are what make a drum head resonate the way it does. Here is a breakdown of how these things characterize drum heads, and some examples of heads and accessories that might help you achieve your best drum sound. 
 
There are two heads on most drums - a batter head and a resonant head. The batter side is the one you strike with your sticks. The reso side is the bottom head. 
 
Coated heads are warmer and more dull sounding. The coating acts as a built-in sound deadener, which cuts down on the high frequencies being pulled out of the drum. They sit further back in the mix, and produce sound at a slightly lower volume. The sustain is shorter, and the overtones are lessened, because the coating is dampening the head a bit. Clear heads have no coating on them, allowing the head to resonate fully. This results in a sharp and punchy attack. Clear heads on toms are great when you really want them to shine and cut through the mix. They also have more sustain and overtones.
 
Plys are the sheets of material that drum heads are made out of. They can vary in thickness and materialistic makeup. Single-ply heads are thinner and can vibrate more, which results in a bright, responsive tone with more sustain and overtones. The Evans G1 Coated Snare Batter is a great example of a single ply head that features a shiny tone, sustain, and sensitivity. Double-ply heads are warmer, more controlled, and more muffled. This is because the piling of two plies together thickens the heads, which lessens the vibrations. The Evans Onyx Tom Batter is made of two plies of 7.5mil film that raise the low-end response and add attack.
 
A "wet" sound is defined by more sustain and overtones. In general, the thinner the head, the wetter it will sound, and the thicker the head, the dryer it will sound. Dampening can be accomplished by adding plies and coating, but there are also built-in dampening systems within specific heads, and extra dampening products that can be combined with your drumheads. 
 
The Hydraulic line from Evans places oil between the plies of the heads to cut down on vibrations. It produces a dead muffled sound. This is a great option for beginner players, because the reduction in overtones make it easy to tune. Power center or control dots are extra padding that increase durability and focus in the center of the drum. Control rings can be placed over the head that hugs the circumference of the hoop, reducing the sustain and overtones, resulting in a warmer sound. The EC Reverse Dot Snare head from Evans combines an edge control ring and a dot for muffling and durability. 
 
There are also smaller spot treatments available, such as moongel, drumtacs, and drum dots. These options are popular because you can experiment with their placement on the head, and they're easy to travel with.
 
The sound of a drum head is largely defined by its overall thickness. Thin heads emphasize higher frequencies and have a more sensitive response. Most Jazz drummers prefer thin heads because of these characteristics. Thicker heads emphasize mid and low frequencies, and provide durability and a bigger sound. That is why many rock drummers prefer thicker heads. There is a whole spectrum of options between these extremes. 
 
Choosing the heads you like most will be determined by the genres you play, your own preferences that develop over time, and your individual playing style. Tuning, and the makeup of your specific drums are also factors that determine how the head resonates on your set up.
 
Experiment often with a variety of drum heads, and you will find the products that work for you! 
ABOUT LINDSAY

Lindsay graduated from Berklee College of Music in May 2016 with a B.A in Professional Music, and was a featured drummer in the annual commencement ceremony concert. In May 2015, Lindsay won 1st place in Hit Like a Girl, an international competition for female drummers. Judges included Kim Thompson (Beyoncé, Late Night with Seth Meyers), Venzella Joy (Beynoncé), Didi Negron (Cirque De Soleil), Hannah Welton (Prince) and more. Lindsay is now based in Los Angeles, California. She's performed with artists of Pop, Rock, Fusion and Jazz Genres at filled arenas as well as intimate venues. She also has extensive filming experience, having played drums for TV commercials, TV Show Pilots and music videos. 
Lindsay's lessons are rated five stars in 14 verified student reviews, like this one:
Well prepared instructor with very relevant material. Thanks!
-Verified Student, review from January 3, 2019