Jason DePue's Glass Is Always Half Full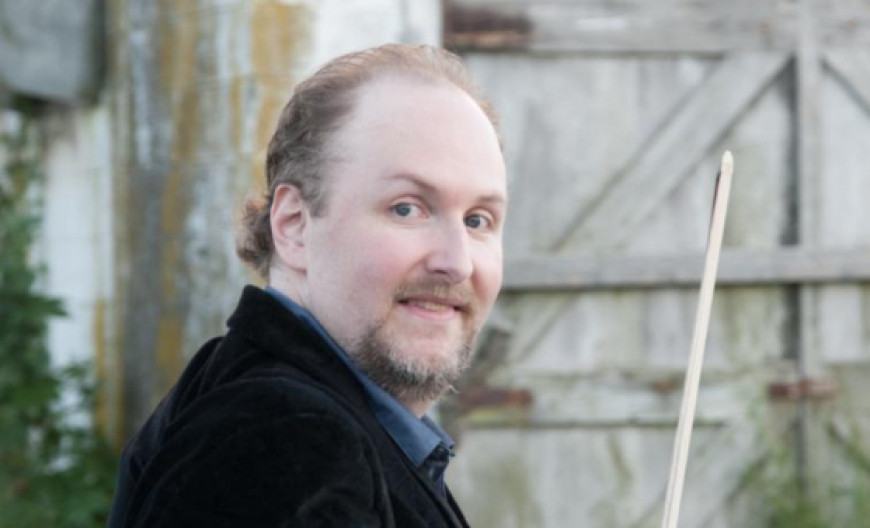 Jason DePue is a member of the Philadelphia Orchestra and a graduate of the Curtis Institute of Music. He has been teaching violin since 1998 and joined Lessonface in 2020 and has quickly become a top teacher. His students have enjoyed full tuition scholarships to top music schools such as Juilliard, Starling Scholarship opportunities, and many enjoy successful careers as independent performing musicians/teachers in their own right. For these reasons and so many more, Jason is this month's teacher spotlight. We caught up with him via email from his home in Philadelphia.
1. What was the first instrument you played?
The violin. I began at age five, following in the footsteps of my two older brothers Wallace Jr. and Alex, which eventually would include my younger brother Zach. Subsequently, I began playing viola at age 21 and the mandolin ten years ago. One of the first things I remember in life was, as a baby, seeing silhouettes of my two older brothers playing duo violin pieces in the living room next to the rosewood piano while I was crawling on the floor. Meanwhile, I pause to humbly acknowledge the passing of my brother Alex this last January due to a car accident; may he Rest In Peace.  
2. Who are some of your musical influences?
There's not enough room to list! My favorite influence remains Jamie Laredo; my main violin teachers whom I'm grateful for studying with, Boris Brant, Vasile Beluska, William de Pasquale, and David Cerone. While I was growing up, the influence of my brothers, Wallace Jr., Alex, and Zach was like being part of a Conservatory with love, moments of abuse, and frank verbal assessments of one another. Provoking each other was a constant. Other memorable summer venues include Chautauqua studying with Yair Kless who is a wonderful violin teacher; and Encore School for Strings with David Cerone. Listening to many recordings of the early masters of the 20th century, Kreisler, Heifetz, Milstein, Szerynng, Francescatti, Grumiaux, Menuhin, Stern. More recent, Julia Fischer, Hillary Hahn, Joshua Bell, Leila Josefowicz, Gil Shaham, Leonidas Kavakos, Miriam Fried, Isabelle Faust, Lisa Batiashvili, the list goes on! Members of Guarneri, Emerson, Cleveland, and a whole host of other chamber ensembles. Ida Kavafian, Steven Tenenbom, Peter Wiley. All incredible influences. Perhaps most influential would be those whom I was in school with at Curtis from Sept of 1995-May of 2000. I can't really describe all the countless interactions; there are many moments I wish I could "relive". I have deep respect and admiration for those whom I was in school with. Last but not least, the "musical glue" that has kept me together as a violinist for the last 20 years: The Philadelphia Orchestra. 
3. Any advice for someone trying to learn violin online?  
Yes. My first general comment would be: Do what your teacher tells you to do! Students would find it amazing how well they develop if they simply do what their teacher asks. One basic piece of advice: Record yourself *at least* once a week if not twice a week, and review. One audio. The other audio/visual. I don't think I know of another fellow teacher who would disagree with me. Whatever you're working on with your teacher, record yourself. You'll learn tons. You'll improve much more than you would normally. And btw, use earbuds when reviewing!
Also, there is *no such thing as a "dumb" question. There's only such thing as potentially a "dumb" answer. Never be afraid to ask questions. As for understanding an answer, there are many times that I have to rephrase or reword an answer, but frankly, being creative brings forth a steady flow of a type of communication that's healthy. Amidst those whom I teach so far on Lessonface, perhaps 25% of them I've also taught in person. This has also been useful and helps with communication from a different perspective. 
Specifically for students, I'd suggest:
1) Work at your own pace. You'll learn more efficiently than trying to "keep up with the Jones's". 
2) Never try to play the violin perfectly. You'll enjoy yourself and your development more by accepting the fact that we are all human; that you'll never play perfectly; the result of which would be that you'll play unconsciously more naturally (and perfectly) than normal.
3) Accept yourself for who you are as well as your relation with the violin and with your teacher (presuming the relationship is healthy...though there's never a "perfect mix", it's always a challenge, but a wise student is a student that *sticks with one specific teacher* for a decent period of time…ie "teacher hopping" isn't cool, and what ends up happening is the student always thinks there's something wrong with each teacher rather than simply owning up to doing their best to improve on basis of what the individual teacher requests.)
4. What is your favorite medium for performance? Live, audio or video? Why?
Tho all three are great, live events still remain the most influential……understanding what "lineage" means in music is similar to family: It starts *daily at the dinner table with family; with music, it starts consistently with the right teachers, the right influences, and once in a professional environment, that that sense of lineage and tradition continues while progress grows as well. (ie especially true in orchestral contexts where "the old" "the in between" and "the new", should always at some point sit together……if especially a violinist. It breeds a sense of healthy interaction between colleagues, and more important, an understanding of mixing sound and sense of "tradition").  In short, I'm a major supporter of wisdom from "older people". I'm always *two ears and one mouth* when in the presence of anyone who is wise.
5. What makes a good violin player?
A good violinist is someone who can recognize that every performance, lesson/masterclass, or *mainly practicing by themself*, is similar to that of a foul shot in basketball: Regardless if it's the last game of the NBA Finals, the score is 100-99, and the time is 0:00 on the clock, your two foul shots could either tie the game or win the game…shouldn't feel any different than simply practicing at home. (Meaning, the dimensions of a foul shot and the violin/bow remain precisely the same, the only difference is: Context. And hopefully, context shouldn't influence a good violin player's level of quality of playing). 
Additionally, what makes a good violin player is one who is able to recognize that having one or two hobbies outside of music is always healthy! Swimming, Golf, Tennis, Chess, Jogging, Cycling, Yoga; basic awareness of health and healthy eating; and yet enjoying additional social enjoyments; kindling friendships that can last a lifetime if one chooses one or a combination of these hobbies. 
6. Describe your favorite and least favorite part about being a musician.
My favorite part of being a musician is once it's time to do a concert, either sitting in my chair, or being on stage for special concert events/tours, once the music begins, *nothing else matters*…..I get "lost" in the music as long as it's good music making. 
My least favorite is: Logistics prior to or after a concert; traveling, dressing up, etc. Also, there are some rehearsals that can be really very enjoyable…that of course depends on whom one is collaborating with……some level of maintaining a sense of humor always helps. 
7. Any reading materials you recommend for violin students? 
Yes. 
Basically in this order (though there's no perfect book and/or order of books, I endorse all these books/methods for their practical and/or useful means as resources to help students develop from beginners' beginners, to advance):
-Myanna & Cassia Harvey Sisters Method Books, any and *all of them. 
-Suzuki Method, 
-Mark OConnor Method,
-Sassmanshaus Method, 
-Charles Martin Loeffler "Violin Studies for the Left Hand"
-Sevcik Op. 2 No. 7 in G Major with variations; 
-Wohlfahrt, Kayser, Kreutzer, Schradiack, Fiorello, Rode Etudes; Dounis "Daily Dozen", Gavanies, Dont, Paganini, Ysaye Sonatas
Scale Books:
-Barbara Barber Scales for advance students; 
-Roland Vamos The Violinist's Daily Warmups and Scale System; 
-Roland Vamos "Exercises for the Violin In Various Combinations of Double-Stops; 
-Carl Flesch Scale System
-Bach Six Cello Suites, transcription for violin (*please listen to the recent thoughtful and great recording of violinist Johnny Gandelsman! it's a fresh musical "epiphany") Meanwhile, these are *great pieces of music for use to bridge the gap in terms of *quality repertoire for students ages 7-12, before learning more challenging repertoire such as:
-Bach Sonatas and Partitas. I encourage Henryk Szeryng's Edition. (Further editions include: Joachim/Moser, Barenreiter, Henle, Galamian and Peters Editions; all are useful).
Invaluable Reading Material:
"Principles of Violin Playing and Teaching" by Ivan Galamian
"Practice" by Simon Fischer, as well as many of his other books
8. What's next for you?
I'd say practicing mindfulness and awareness of all things big and small. Constantly striving to be a better violinist and teacher. Always searching for reasons and non reasons to help guide a student the right way. Learning to be healthier; cooking healthy meals. Whats next for me is remaining more grateful than ever for all the wonderful things under the sun; friends and family; hope for a good day today, and a better day tomorrow; and perhaps more important, wishing for cures for the coronavirus among other illnesses our world deals with today. 
...as for me, the glass will always remain half full 
Salut friends!
Reviews:
"Jason is friendly, knowledgeable, and easy to work with."- Sabrine
"Mr.DePue has very clear beautiful sound and his technique is always exemplary. Despite being well known performer, he is approachable, patient, engaging, and persistent with our 6yo violinist, who waits impatiently for her every next session with this talented teacher. We feel very lucky to find this amazing teacher here."- Marina
To learn more about Jason or take one on one lessons with him, check out his Lessonface profile.