Live Performance Audio in Zoom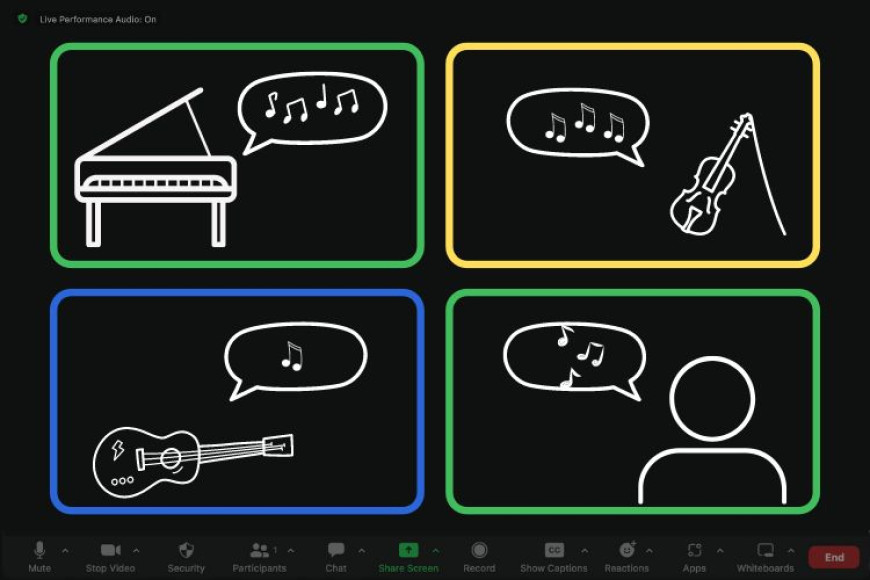 Hi Lessonface Students and Teachers!
A recent Zoom update added a feature called Live Performance Audio that enables musicians to play together online. It works for private lessons and larger groups. We're excited about it and think you'll enjoy using it in lessons! Here's how to make the most of this new option.
---
Quick Overview of Live Performance Audio
Enable by checking "Live Performance Audio" in audio settings, then clicking "Live Performance Audio: On" in the upper left corner of your Zoom meeting.
All meeting participants must enable Live Performance Audio.
All users must wear headphones.
Beware of latency, playing strictly in rhythm is complicated.
---
More Details on Live Performance Audio
Live Performance Audio enables students, teachers, and larger groups to play together in certain contexts. However, latency is still a limitation. Latency is the delay due to audio signals traveling from one point to another. It means that instruments will sound out of sync if they try to play together in strict rhythm.
Here are some situations where Live Performance Audio could be useful:
Free or open time playing
Learning by rote (student copying teacher)
Intonation practice with a drone
Playing a ballad as a duo
Interval practice
Live Performance Audio works when all meeting participants are able to:
Use Zoom on a computer. The feature is not available on phones and tablets.
Enable the feature in Zoom's audio settings. We explain how below.
Wear headphones or earbuds. The feature does not work without headphones, as you'd hear a constant echo. We make some headphone recommendations below.
Note on Lesson Recording
Recording is currently unavailable when Live Performance Audio is turned on. However, you can easily switch it back off during the lesson in order to record. For optimal sound, go back to Audio Settings and enable Original Sound.
How to to enable Live Performance Audio
1. Check that you are using the latest version of Zoom (5.14 or higher) and update if needed.
2. Enter your Zoom meeting as usual for your lesson.
3. Open Audio Settings by clicking the up arrow next to the mic icon, then selecting "Audio Settings".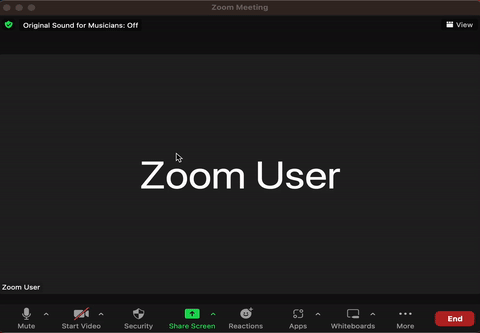 4. Under the "Audio Profile" heading, check the box labeled "Live Performance Audio".
5. Close Audio Settings and return to your Zoom meeting window. Find the box "Live Performance Audio: Off" in the upper left corner, and click it so it reads "Live Performance Audio: On".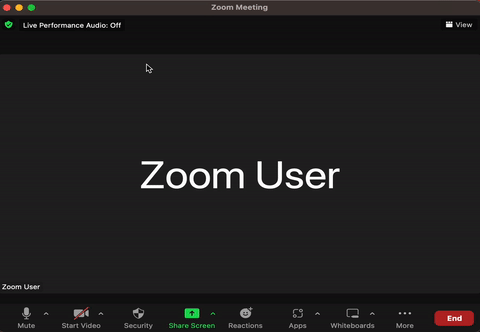 Headphone FAQ
All users of Live Performance Audio must use headphones. If you already have headphones or earbuds that work great with your lessons, no need to buy new ones.
If you're in the market, consider these questions first:
1. Open back or closed?
Open back headphones enable you to hear yourself well while you play. This is usually the best option for Zoom music lessons. However, if you're a vocalist who sings close to your mic, the sound could leak from the open back and reach the mic, causing an echo. In this case closed back headphones are the better option.
Starting prices for open back headphones tend to be higher than for closed back. We think they're worth it, particularly for teachers who wear headphones for many hours at a time. But students on a tight budget can make do with closed back if needed.
2. Headphones or earbuds?
Generally headphones will give you better quality audio. But if you play an instrument like violin that is awkward with headphones, earbuds should work.
3. Wired or bluetooth?
Wired! Bluetooth signals take time to travel and will cause even more latency. If the wire on your headphones is not quite long enough to reach your computer and be comfortably out of your way, there are many headphone extension cords for $10 or less. If buying an extension cord, make sure the connectors on both ends are the appropriate size for your equipment (usually 3.5mm, but in some cases ¼-inch).
4. Mic or no mic?
The mics on headphones and earbuds don't usually pick up musical instruments well. If your headset has a mic, you'll almost certainly want to turn it off. Click the up arrow to the right of the mic icon in Zoom. Go to "Select a Microphone" and choose your preferred mic (built-in or external).
If you have trouble finding these settings, check out the Zoom Test page for detailed instructions.
Headphone Recommendations
Comfort and audio quality are matters of personal preference. Your safest bet is to buy from a retailer with a generous return policy, and stick to big brands such as AKG, Audio Technica, Shure, and Sennheiser.
If you'd like some specific recommendations to start with, here are some examples of brands and models at different price ranges:
Under $60
AKG K72 (closed back)
AKG K92 (closed back)
Audio-Technica ATH-M20X (closed back)
Samson SR850 (semi open back)
Sennheiser HD206 (closed back)
Sennheiser HD300 (closed back)
Sennheiser 400S (closed back)
Shure SRH240A (closed back)
$70-$100
AKG 245 (open back)
Samson SR 880 (closed back)
Sennheiser HD559 (open back)
AKG K240 Studio (semi open back)
Audio-Technica ATH-M30X (closed back)
Shure SRH440A (closed back)
Sennheiser HD280 Pro (closed back)
over $100
AKG K612 Pro (open back)
Samson SR 990 (closed back)
Sennheiser HD599 (open back)
Sennheiser HD560S (open back)
Sennheiser HD 600 (open back)
Shure SRH1440 (open back)
Audio-Technica ATH-M50x (closed back)
Shure SRH840A (closed back)
Sennheiser HD569 (closed back)
Share Your Experience with Live Performance Audio
Have you already tried Zoom's Live Performance Audio? What situations is it most useful for? Do you have any tips or tricks for handling the latency? Any headphone recommendations that we missed? Please comment below.