Pierre Luc Lalonde Talks About Falling in Love with The Drums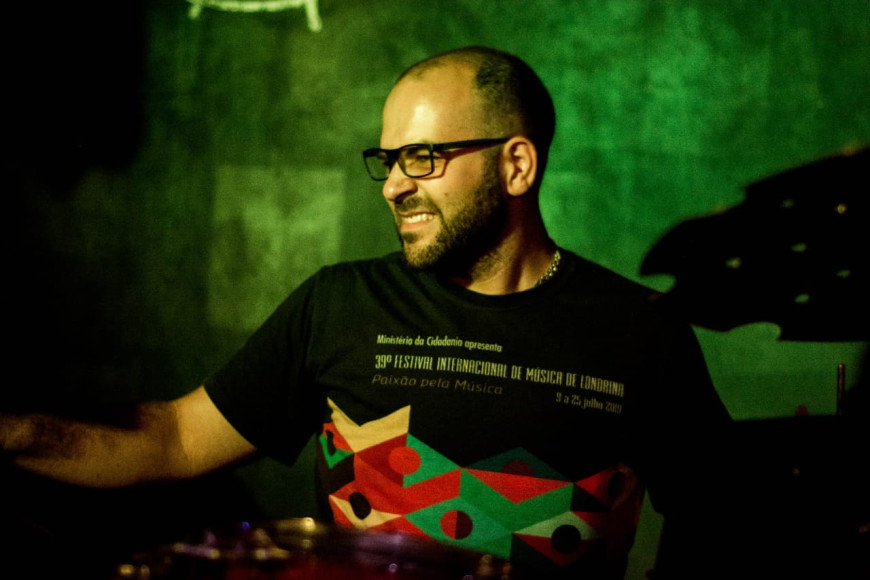 Pierre Luc Lalonde is a versatile musician specializing in funk, blues, pop/rock, and jazz/instrumental music. Pierre Luc is recognized for his heavy playing style and the consistent performances he gives. He's been a teacher on Lessonface since 2019 and a student favorite!
After working as a drummer and music manager for the world's biggest cruise line company, Carnival Cruise Line,  and being a session musician in Brazil, Pierre is currently dedicated to his teaching practice and developing exciting new projects in L'Orignal, Ontario, Canada. He is performing with multiple acts from duos, jazz trios to cover bands all the way to rock bands as well as teaching students all around the world.
For all these reasons and more, Pierre Luc Lalonde is this month's teacher spotlight. We asked him some questions about how he got started on drums, teaching online, and what his early influences were.
1. What was the first instrument you played?
I fell in love with the drums when I was singing in a choir at the age of 6 years old. My parents, after 2 years, for my 8th birthday decided I could finally have my own drum set and from there I started taking drum lessons.
2. Who are some of your musical influences?
I grew up listening to a lot of 80's rock. My favorite rock drummers are Tico Torres (Bon Jovi) and Tommy Lee (Motley Crüe). As my musical taste expanded, so did my influences. My 2 biggest influences today are David Garibaldi (Tower of Power), and Steve Gadd (Session Musician).
3.  What do you like most about teaching? How long have you been teaching online?
I like the impact I can have on my student's learning, and general abilities but also on their life path. My life wouldn't be remotely the same without music, so I know how big of an impact learning a musical instrument can have. I have been teaching online since 2019 and I think it's the best way to learn an instrument today. People from all over the world have access to great teachers, regardless of the city they live in and without any traveling costs.
4. Any advice for someone trying to learn drums online?
I think online lessons are what I wish I could have had when I was learning. It doesn't require you to be in a specific geographical location, you can take them independent of weather challenges (I grew in a snowy area in Canada), on your drums, which allows the teacher to see your set up weekly, and you get access to some of the best teachers with very competitive prices. From a learning perspective, other than having the chance to choose your teacher for your specific needs, record your lesson and listen back, reach out very easily to your teacher to receive some tips as the week goes, I don't think there is a better way to take lessons. As for teaching online, there is nothing I feel I could best teach in a physical room; from brushes to metal to fine technique.
My initial thoughts about online drum lessons were all wrong. My best advice is to try it. From a technical perspective, showing up with headphones will help you hear a little more nuance from your teacher's playing. Visually, make sure you can show your drum teacher your drumset and hands during the lesson. And lastly, make sure you won't be distracted by your brother playing video games.
5. What is your favorite medium? Live, audio or video? Why?
I think each medium or art has its own characteristics, I love to see bands playing live. I love the nostalgia element that videos allow us to freeze, relive and rethink performances and I love the focus on the musical art form that audio allows us to have. My favorite would have to be LIVE. 
6. Describe your favorite and least favorite part about being a musician. 
My favorite part about being a musician is the chance I've had to travel the world while doing what I love most; performing, I don't think it gets much better than that.
My least favorite part is.... being a musician is a lifestyle and we do lose quite a bit of sleep with our busy schedules of late night shows, traveling and early morning lessons or rehearsals.
7. If you magically had the power to learn one musical instrument you don't already play and be great at it, what would it be?
I really wish I could be a great singer, my dream would be to sing like Chris Cornell or one of these rock singers with voices made out of stones.
REVIEWS: 
"Pierre is not only an amazing musician but a great person that is understanding and accommodating. He is able to guide my music without telling me exactly what to do which allows me to use my creativity to produce my own music."- Tanguy, Verified Student
"Pierre has been working with my 10 year old daughter for nearly 10 months and I'm very pleased with how much she has improved her drumming. He makes the lessons fun and engaging while challenging her to grow in her abilities. I highly recommend Pierre."- Karen, Verified Student
Pierre teaches 1:1 lessons in drums, Sibelius, Ableton Live, Apple Garageband, and more.
Categories:
Percussion
Drums
Percussion