Quick Tips from MET Orchestra Percussionists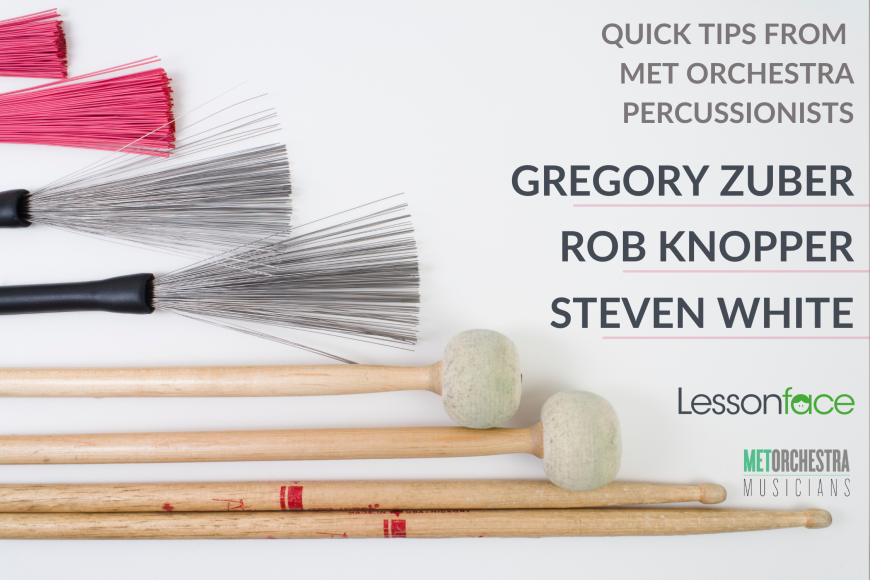 We had the opportunity to ask percussionists of the MET Orchestra for their quick tips for students who are serious in their percussion studies. Read on for details.
Gregory Zuber, Principal Percussionist
Member of the MET Orchestra since 1986 
"Becoming a professional percussionist at the highest level is a daunting and complicated goal. The first challenge is to be aware of all of the genres percussion is a vital component of, from renaissance to rap music! Then comes years of study learning about all of the instruments in the percussion family and the mechanics and technique of playing them. Along the way, one must learn to read music, have a keen sense of pitch, rhythm, and pulse, and begin learning about expression and performance practice of various styles of music."
ADVICE TO STUDENTS
"Students striving to achieve these goals would do well to find a good teacher to guide them on the path, access to instruments to play on (no small thing if your goal includes playing marimba and timpani!), and opportunities to play with other musicians."
PRACTICE TIPS
"There are lots of standard text books, pieces, and chamber and orchestral repertoire to become acquainted with and all of this will take regular and thoughtful practice. The dirty little secret about practicing is … it works! But it works better if one is thoughtful with time management and clear goals, small and large, as well as short term and long term. The better organized and focused on the end game one is, the more quickly one will get there!"
---
Rob Knopper
Member of the MET Orchestra since 2011 
"I heard a quote recently by John Riley, a jazz drummer, that was something to the effect of, 'If you love music enough, you'll be able to push through the parts of it that you don't like.' There are so many amazingly fun parts about playing percussion, but the greatest players are able to perservere even when they get frustrated, when they feel they've reached a plateau, or when they get a disappointing audition rejection. To become a professional it takes a balance of work ethic, passion, perserverance, and time."
ADVICE TO STUDENTS
"Find your favorite teachers and players, and learn everything you can from them."
PRACTICE TIPS
"I love the Don Greene and Annie Bosler video about practice, which states that, 'Effective practice is consistent, intensely focused, and targets content or weaknesses that lie at the edge of one's current abilities.' That's how literally every one of my skills has developed through the years."
---
Steven White
Member of the MET Orchestra since 2017 

"Spend time exploring every different musical situation you can find, especially while you are in high school and college. I found it extremely important personally to try out every musical opportunity that I could (including solo recitals/competitions, orchestra, jazz band, wind ensemble, percussion ensemble, contemporary and chamber music ensembles). By exploring all of these, it will ensure that you become the most well-rounded, marketable percussionist you can be. Try to keep an open mind about what your career in music will look like...even if you end up deciding to pursue a job playing in a professional orchestra, there will still be many opportunities to teach, play chamber music, and play concertos or recitals as well!"
PRACTICE TIPS
"I'm a big proponent of practicing with music that you enjoy (mostly for non-pitched percussion instruments like snare drum, triangle, and tambourine). I've found that practicing along with music (could be pop music, hip-hop, rnb..) really helps instill a sense of bounce, groove, and feel in one's playing. As far as practice habits, I always recommend that students carve out time during each practice session for accessory instruments. Instruments such as cymbals, tambourine, triangle, and bass drum become so important as you get further along in your career, as these are the most likely instruments you will be playing if you are asked to play as a substitute in a professional orchestra. It helps to have the instruments set out and close by during your practice sessions, so that you can take a five minute break from learning a marimba or snare drum solo to play a few cymbal crashes or work on your tambourine shake roll."
If you'd like to hear more wisdom from these and other MET Orchestra Musicians or audition for an upcoming Master Classes, be sure to check out the upcoming and recorded MET Orchestra Musicians Master Classes.